Good to know....
"ROME is a city made for the summer. The sun shines, the classical, medieval and Baroque settings are sublime and the balmy evenings offer a long, languorous round of warm cobbled streets, candlelit trattorias and fountain-splashed piazzas"… this is how an interesting article by Tim Jepson starts…and we totally agree!
Many visitors are worried about the heat but it's just a matter of good planning and scheduling activities smartly.
Wake up early and explore the city in the cool hours at dawn: galleries, churches, museums and ruins will be flooded  by a magical light. After a fresh light lunch, relax in your air-conditioned hotel, in a park, on the beach or next to a nice pool and "resist the temptation to sightsee in the heat of the day". At night you will discover a city full of events, terraced restaurants, open-air concerts…you can enjoy the breeze of the night during a scooter tour, have a romantic walk with your sweetheart or simply enjoy the bars under the stars with your friends and find more!
And, as Tim Jepson rightly underlines, "don't be tempted to tackle too much: a single visit, even one that lasts all of a long Roman summer, is not enough to do justice to a city with an eternal past".
Nightlife along the Tiber during summertime…
Did you know a large number of Roman masterpieces remain tentalizingly behind the gates of private palaces? Of all European cities, Rome has most of historical palaces and villas still in private hands, due to the papacy tradition. Every time a new Pope was elected, another family came to power and was able to commission wonderful buildings and collect major works of art.
Some of these palazzos were acquired by the governement, some others are still owned by the illustrious families, but in any case most of them can be visited now. Some examples?
Palazzo Barberini, which houses the exceptional "Galleria Nazionale di Arte Antica", but it would be a treasure even completely empty with its wonderful ceiling by Pietro da Cortona, the gardens, the staircases by Bernini e Borromini, the magical atmosphere of bygone days.
Or Palazzo Doria Pamphilj, preserving major works by Velasquez, Caravaggio and Raphael, but not only (it is one of the major private collections in Europe!)
Not to forget  Palazzo Colonna dating back to the XV century when the pope of the family, Martino V, started it.
A world of splendor and opulence will be revealed in front of your eyes while you enjoy incredible masterpieces far from the tourist crowd. If you wish to feel like home in a a palace, do not forget to include a visit to one of this sites during your next trip to Rome!
"It's no longer automatic that a vacation with the kids means a week in Waikiki or four days at Disney. Increasingly, parents are figuring out how to bring the family along on trips to explore the world in all its complex glory"… this is  the incipit of  an article from Conde Nast Traveller published in March 2006.
We encourage you to plan a trip in Rome with your family and we'll help you through  blog posts, special tours and tips ready for your children !
Here some interesting  passages of the article:
Families that feel at home abroad raise children to have a global outlook.
A bored child is never a fun traveling companion. So, from a purely selfish point of view, you want to make sure you have an endless supply of age-appropriate tricks up your sleeve (or more likely in your bag or their backpacks) to keep the dreaded boredom at bay.
In the end, children are not very different from the rest of us. They appreciate lovely food and beautiful hotels, they prefer not to be bored and they like to be treated as reasonable human beings.
When you travel with your kids, you have the added delight of introducing them to all the places you love and watching as they, too, enjoy the ride.
Kids just wanna have fun. Ever notice that when a child is having fun, he/she doesn't get cold or hungry or tired? The moment the fun stops, the whining starts. Forget the goal-oriented adult approach.
The trick is to figure out not just where and when to go but also how to travel and what age the children should be. (…) make sure the destination and the activity are appropriate for your child's character and interests.
Street markets and grocery stores are good places to introduce kids to local culture, to find out what people eat, wear, make. When we hire a guide, we make it a habit to ask friendly questions about his or her family (…) Navigating a foreign subway system, eating at a restaurant where you can't read the menu, and calculating a strange currency all constitute adventures for kids, especially if you get them involved.
And finally…our favorite statement: "It goes without saying that travel feeds a child's curiosity and contributes to good citizenship by encouraging human contact and tolerance of cultural differences."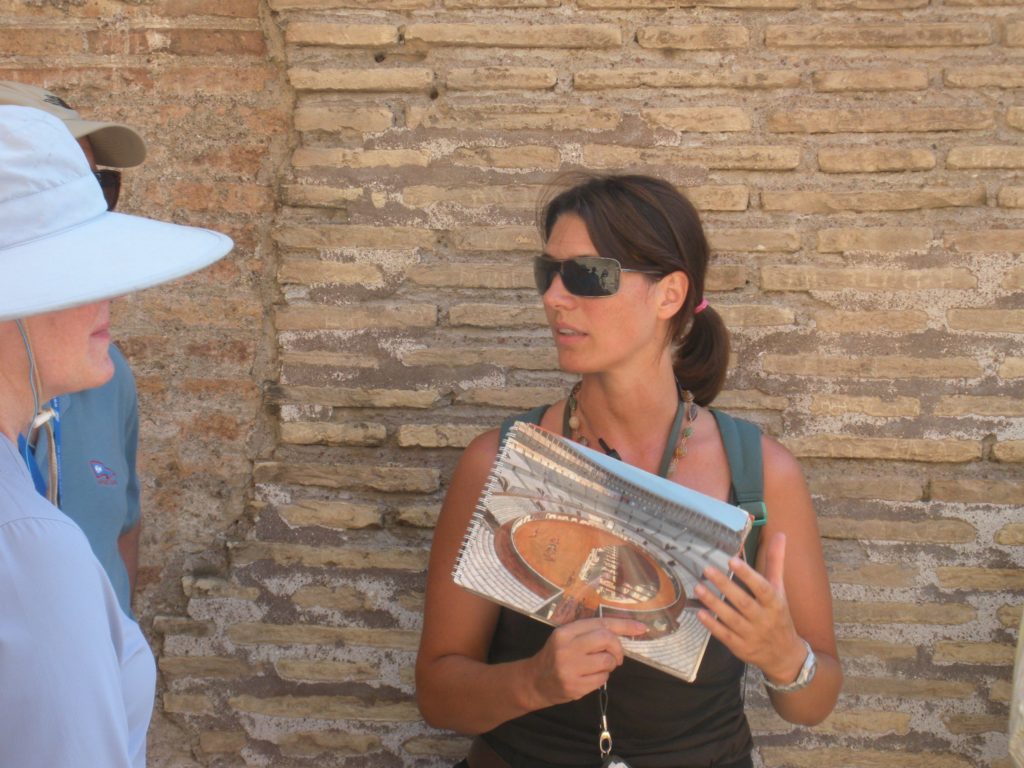 I found this article about tour guides interesting: our job is wonderful, but not so easy as it might seem!
From the list of 10 major qualities you can read in the article, we expecially believe in interaction and flexibility…a tour guide is not a teacher, but is someone who helps you to understand and appreciate the city, the site, the museum you are visiting… *you* are the leading actor, not the tour guide!
On top of that, the tour guide is a "local", someone living in the city you are visiting, maybe he (or she) was born there and has experienced this place since his (or her) childhood, therefore is able to tell you how the city changed and "where it is going"…
The tour guide is a "sieve", someone screening for you everything which might be interesting  in town, from the main attractions to the temporary exhibits, from ice-cream shops to the good music festivals: commercials always show the best side of everything, but we have tested everything for you and we can tell what is worth its reputation and why.
Trust us… a local nice tour guide can add a lot to your travel experience!
The best souvenir you can take back home with you is a good "made in Italy" article: a dress for your parties, an elegant bag or pair of shoes, a silk tie, a little piece of art (a waterpainting for instance), a design furniture for your house…
Good shops selling nice manifactured products are quite everywhere and we would not know where to start in listing some of them, we just give you a short list of streets where you can find good shops:
the elegant Via Condotti for deluxe brands and stylist ateliers (but also the nearby Via delle Carrozze, Via Borgognona, Via Bocca di Leone, Via del Babbuino…)

Via del Corso for those who cannot spend 500 euros for a pair of shoes! (but also Via Frattina and Via della Croce)

Via dei Giubbonari near Campo dei Fiori where the atmosphere is cooler (and in little side streets you can still find handicraftsmen working in front of your eyes), or the Via del Governo Vecchio for emerging designers and vintage shops

Via Cola di Rienzo if you are staying in the Vatican area

Via Giulia, Via dei Coronari, Via dei Banchi Nuovi (all around Navona area) if you are looking for antiques

a nice venue to check is

Le Artigiane 

near the Pantheon: it is a store where you can find several temporary shops, they always change and you can find there from organic food to a new unique jewel produced just in 10 copies by a (still!) unknown Tuscan artisan girl
Many films were shooted in Rome, offering a great set to directors and a long tradition in the movie industry. Therefore a good way to prepare your trip to Rome or to remember the sites you just visited is simply watching one of those immortal movies:
Rome Open City by Rossellini: about the nazi occupation during IIWW, a masterpiece of Italian neo-realism
A Roman Holiday by Wyler: simply unforgettable, delicious, brilliant and funny. You can feel like Audrey Hepburn booking our Vespa tour!
Three Coins in the Fountain by Negulesco: the movie that made famous the Trevi fountain worldwide (and – by the way – the title is about 3 coins because there are 3 girls involved in the plot, but you just have to toss one coin in the fountain!)
La Dolce Vita by Fellini: nothing to add, who doesn't know this one? An insight on the Sixties in Rome – now the city is very different, do not expect "paparazzi" along Via Veneto anymore.
Ben Hur by Wyler: you have to watch at least the famous scene of the race of the chariots in the Circo Massimo! And now the archaeological site opened finally to the visitors, so do not miss it!
The Gladiator by Scott: an accurate reconstruction of the life of gladiators in ancient Rome
Angels and Demons by Howard: little  history here, and less memorable than the above movies,  but an occasion to get to know some less famous corners of the city and Bernini's masterpieces.
Eat, Pray, Love by Murphy: in the first section Julia Roberts eats in Rome,  in the little alleys of the Renaissance district between Piazza Navona and Campo dei Fiori. And we can do the same while you are here!
Caro Diario by Moretti: signed by a famous italian film director. The first section is just focusing on images of several neighborhoods of the "real Rome", while the director/actor Nanni Moretti is driving his Vespa along a deserted Rome in the month of August.
The Great Beauty by Sorrentino: this movie was awarded as "Best Foreign Language Film" in 2014. The main character is Jep Gambardella, who once wrote a famous novel only to retire into a comfortable life writing cultural columns and throwing parties in Rome. After his 65th birthday party, he walks through the ruins and city streets, encountering the various characters, reflecting on his life, his first love, and sense of unfulfillment.