Planning Your Trip
Please scroll down for further information you might find very useful!
In time of Covid-19 and waiting for phase two to start after a long lockdown, we are clearly aware international travel will not start very soon. We will be more than ready to welcome you in Rome as soon as it will be safe and pleasant to move around again, but in the meantime we have to wait and dream.
Ever heard of the "Grand Tour"?  It was a "travel habit" of the bygone days, just reserved to upper classes (and mostly male travellers!), an educational rite of passage before starting the proper adult life, a journey through the main "attractions" of Europe for the sake of curiosity and learning, but especially to touch with hands what have been learnt for years only on books and prints.
In these days we have to go back to this idea of  "tourism" (the modern concept of tourism comes in fact from this ancient European custom) when the learning phase comes first, followed by a long planning phase and finally the journey is a crowning achievement! It might be a good exercise to start traveling with more awareness and appreciation, following our deep interests and enjoying the planning moment a lot more. 
So here is a series of tips to start preparing your trip to Rome (I know you have no idea when this will happen, but you can start planning any moment. And BTW, here is our post about planning which might be interesting to read on the subject):
When you are ready to plan your trip, have a look also at our posts about "the perfect Roman Holiday" and the churches of Rome… they can help you to make a list of priorities.
And now our gift to you (or any of your friends you want to recommend us to): from now until July 2020, we are available for a free planning session by video call (or any other practical means you prefer), with no commitment to book a tour with us. We just like our city and wish to see "her" full of people from all over the word again soon, as it has always been!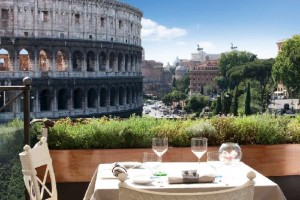 There is such a wide choice of places and options to eat in Rome: street food? A gelato? A fancy restaurant with a view? A traditional trattoria? A wine-bar for fine tastings? Midnight cornetto?)… It's impossible to list them all… We are "out there" everyday and we constantly ask for feedbacks from our guests (and we also do "quality checks" ourselves, ehehehe!), so here you find the links to our blogposts about food and drinks to let you plan your gourmet breaks in Rome!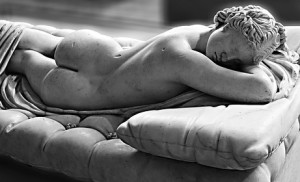 There are thousands of different options for your accommodation in Rome and it is quite impossible to have a full updated list of all the hotels, B&Bs, hostels, religious institutions, campings, apartments… we simply recommend caution in the choice of location, especially if you are visiting Rome for the first time: lodgings' websites are often "deliberately fuzzy" about locations.
We are at your disposal to suggest or assist you in booking your accommodation in Rome and we enclose here a short list of hotels, B&Bs and apartments that we personally know and have "inspected" for you: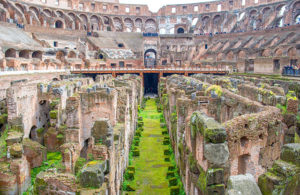 In the last years, the visit of the Colosseum has been enriched of new areas, i.e. the underground layer, the arena, the third tier and the "belvedere". Unfortunately the people interested in this kind of visit are more numerous than the available slots and the way these tickets are put on sale is not exactly "user friendly"!   We have tried in the past to assist our guests in securing these tickets, but every year it gets more difficult and frustrating. We understand the fascination of the dungeons and the attraction of exclusiveness,  but there are few things you should be aware of:
you can see the whole structure of the Colosseum even without this special access, from the ground level or second tier which are open to everybody with a standard ticket. It is mainly a matter of perspective.
right now (2019/2020) a major restoration campaign is going on in the underground areas, therefore this view is not so spectacular as usually is.
private slots are almost impossible to get and even a shared access is becoming more and more hard to buy: few tickets are on sale  and they are only released  once a  trimester.
There are several big companies which invest a lot of time and money (hiring staff only for this selling day and keeping them online and over the phones all day long) to buy the largest amount of tickets they can. They will resell  these tickets at higher price in conjunction with their tours. Of course this practice results into a lack of availability after few hours of the opening of sales. Finding a slot now is as hard as buying a ticket for the U2 concert!!!
Conclusions:
you can decide a standard tour of the Colosseum is enough, you will learn everything about the Colosseum in any case and we can combine the standard visit to an "Underground Rome" tour, including other sites nearby in order to  understand the stratification of Rome.
you can check the official website of the company managing the tickets of the Colosseum here:  www.coopculture.it. And you can try to secure the tickets on your own. They sell the simple access (in this case, if you wish to have a private guide with you, buy a 2 euro reservation with no ticket for your guide as well)  or you can buy the internal guided tour of the Colosseum (approx 75' long). If you are interested in a visit of the Forum/Palatine area (these sites are included in the ticket you buy for the Colosseum)  we can meet you later outside the Colosseum and tour these areas with you.
this internal company (Coopculture) has several guides at disposal, we know some of them, most are archaeologists and well prepared tour guides. It has to be said they reiterate this tour more than once a day and some days in a row. They know their stuff, but sometimes they lose freshness and enthusiasm.
Be informed and chose what's best for you!
A couple of extra notes: 
a little trick if you really want to "be there" even without an explanation, is to check the guided tours in Italian, they usually have more slots available. 
for the arena only we can be more helpful: as licensed guides we get some slots  to enter from there. We buy those tickets for you, but there will be a fee of 5 euro per persone on top of the admission cost.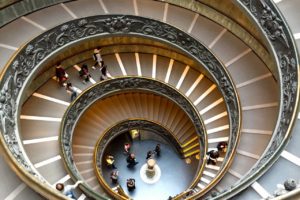 A tour at the Vatican is probably the first line in your "to do list" for a trip to Rome (which is ironical, in fact, as the Vatican is not in Rome, neither in Italy… It's a foreign country! But you know that, right?)
There is a lot to know about Vatican tours, as this site is overwhelming and you need guidance, at least to chose the right tour for you and your traveling companions (especially if they have special needs, like children, seniors or disabled visitors). Some general info:
first of all, you DO NOT necessarily need a guide to skip lines. You can simply book ahead your ticket on the official website of the Vatican Museums, where you can also reserve a group tour or a private tour led by internal guides.
but you DO have to reserve your ticket, always. It's an extra 4 euros on your ticket, but there might be unexpected long lines even in low season and you do not want to spend your holiday queueing.
best of worst days? After 10 years of tour guiding I would say it's totally unpredictable. Generally speaking Tuesday is better than Monday (as on Sundays the museum is closed) and Friday is better than Saturday for the same reason. Wednesday mornings are usually a quiet moment if you are not interested in visiting the basilica of St. Peter's as the latter is closed for the weekly Papal Audience, while Wednesday afternoons are a bad idea, since the audience ends and most of the pilgrims flock inside the museum…. But there might always be exceptions to these rules,  every period has its own events/ceremonies, so the rule is #trustyourguide and we can suggest the best timing for you, according to the circumstances.
best or worst times? Many people ask about the "early entrance" because this is largely advertised. But our reply is always the same: the early entrance is no longer so convenient as there are a lot of group companies buying slots for the  special admissions of 7.30 and 8 a.m. which results in galleries almost as crowded as in the rest of the day, having paid a higher price. We only recommend this early entrance if you need to leave Rome early on the same day (maybe for a cruise). An alternative is the ticket called "breakfast at the Vatican", at least this still is a good option. You are allowed to enter the museum at 7.15 a.m. and have a nice buffet breakfast served in the courtyard of the Pinecone (the ticket is 64 euros instead of 21). We do not recommend this option in the cold months, as breakfast is served in the cafeteria and this is not scenic at all. When you buy this ticket, the guide can meet you inside the museum at 8.00 a.m. (not earlier) and you can start visiting the galleries. Otherwise, if you do not plan to spend a long time in the museum, but just want to hit the "must sees", an entrance at 3.00 or 3.30 p.m. is probably the smarter idea.
night openings: from April to October every Friday the museum opens for the evening tours. We like this option a lot, as it is atmospheric, less crowded, less hot in summer and the price of the ticket is the standard one. The only problem is you cannot visit the basilica of St. Peter's during this tour, only the Papal collections and the Sistine Chapel. We can include an explanation of the basilica in the tour and you can then visit this basilica on own during the following days (recommended times:  before 9 a.m. or  after 5.30 p.m.). You do not need tickets nor a reservation for the basilica, just pass security check from St. Peter's square, our recommended timing is important to avoid long lines.
you cannot see it all: let us know in advance what you really do not want to miss and we'll make sure we cover that or inform you if it is not possible for any reason. For instance, keep in mind the Basilica of St Peter's is a "functioning" church and can be closed to visitors for any liturgical reason, even without pre-notice  (for the funeral of a Cardinal, for example)
short or long tour? Our basic tour at the Vatican lasts approx 2,5 hr. This is enough to see the main masterpieces, Sistine Chapel and St. Peter's basilica. This is recommended with children and teens. The Vatican tour is tiring for everybody, so do not expect your children to have a longer attention span than this. If you are all adults and  fit (or, on the other side, if you need resting time during the tour) we can plan a longer tour from 3,5 hr onwards. Book this option if you are deeply interested in artistic and religious subjects, if you wish to include the Painting Gallery or the Egyptian Section or the Chambers of Raphael. If you are a party of 10 or more, you need the long tour.
Kids tour: we can arrange kids tours at the Vatican. These tours are led by guides with a special attitude and preparation with children and  are only focused on the Sistine Chapel and the basilica of St. Peter's. We lighten the tour with little games, quizzes, questions. Remember that, if you book this tour, the attention of the guides will be mostly on your kids, they can surely answer adults questions as well, but they will always give priority to the little ones. A good way to prepare your children to the Vatican tour is booking our fresco lab before: they learn about the art technique and can appreciate the Sistine Chapel much better.
If you have any special interest (history of the Church, Renaissance art, Raphael and Michelangelo…) let us know and we can prepare a special tour for you from this angle.
The Vatican Gardens: are really interesting, but cannot be visited in a standard tour, only a limited number of visitors per day can drive across them onboard of a "safari minibus" which allows guests to enjoy the landscape and take pictures. This bus tour lasts approx 1 hr and it is an occasion to see the most significant buildings of the Vatican City State. It costs 36 euros per person including audioguide in your language on the bus and the Vatican Museum ticket (with  skip the line reservation included). It can be a perfect introduction to your Vatican tour and we can meet you inside the museum, at the drop-off station. If you wish to book this tour, follow this link and if you want to combine it with a private tour with us in the museum, please get in touch with us first and we can agree the best timing together. Not available for kids under the age of 6.
The Vatican undergrounds: there are two underground sites in the Vatican City. The most famous is the so called "excavations" (offered by the Vatican "ufficio scavi") i.e. where the tomb of St. Peter's is located and you find all infos  and the form to reserve this tour here. Important to know is that you need to book well in advance (6 months ahead are recommended), children under the age of 15 are not allowed and the visit is not available on Sundays and religious holidays. Not expensive at all, 13 euros per person.  Much easier is the access to the necropolis of the Via Triumphalis discovered in 2003 during the construction of the new parking lot of Santa Rosa in the Vatican City State. This tour is led by internal Vatican guides only (approx 90′) and the ticket also enables the visitors to continue, on their own, a tour of the Vatican Museums and Sistine Chapel. We can meet you inside the museums for your private tour. You can book  this visit here and if you want to combine it with a private tour with us in the museum, please get in touch with us first and we can agree the best timing together.
radio headsets  are mandatory if a group is larger than 9 people in the museums, sometimes we can recommend radios even with smaller groups as the museums can be crowded and it might be difficult to hear your guide. In St. Peter's basilica they require this device when you are more than 5 people. There is no exception, so allocate an extra 3 euro per person in these occasions.
pass for St. Peter's basilica: since July 2019 a 1,5 euro per person (not for children under the age of 6) is due to get straight from Sistine chapel into St. Peter's basilica and skipping line for the security check of the basilica itself. only with a guided tour you can use this "shortcut" and will give you instruction to pay this fee in advance by card.
Seeing the Pope: some agencies sell tours for this request, we find it a robbery as you can book and go on own and the Vatican doesn't require any money for this "ticket": they only ask for a reservation for audiences and masses with the  Pope. You find the calendar and infos here. For the Papal blessing on Sundays at noon in St. Peter's square no reservation is needed. Just go there. It lasts usually 15 minutes.
If you have any other query about the Vatican, let us know and we will be happy to make researches and improve this post for everybody's benefit!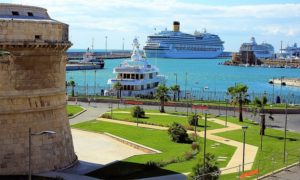 Many of our visitors are here on a cruise (or before/after a cruise) and need infos on how to reach the city from the harbour of Rome which is pretty far (approx 1,5 hr away form the city centre). Instead of creating a new blogpost, we are happy to share  here the useful infos provided by Linda of The Beehive Hostel & Hotel   on her page "Cross pollinate" about this subject.
With regards to our tours, we can meet you at the arrival of the train (two possible stations: Roma San Pietro or Roma Termini, depending on the itinerary we plan) or we can book a private transfer for you and coordinate with the driver to meet you in town at the first venue of our tour.
A good compromise to save some money is to take the train on the way into Rome and leave by private van. This is especially true in summer: in the morning is not hot and you still have plenty of energy to manage the port and the train, on the way back you are tired of the long day touring, the day temperature can reach 100 F and an air-conditioned transfer can be a good treat. Not to forget you cannot allow yourself being late and miss the train. And the ship!
Now that you have infos and tips, it's up to you to decide, according to your needs and budget.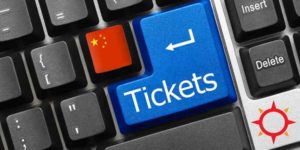 Everybody is well aware by now the most famous tourist attractions need pre-booking in order to avoid long lines. And we will not even consider touring the Colosseum or the Vatican with you without "skip the line" reservations.
What you need to know is:
non only Colosseum and Vatican need pre-booking: Borghese Gallery is only accessible upon reservation and you need to buy those tickets  well in advance (and your guide too needs a reservation, so consider this and get in touch with us before reserving those tickets)
skip-the-line tickets do not exclude security check lines. It usually doesn't take long (an average of 5 to 10 minutes, but every day is different and we cannot fasten this part)
a new regulation at the Colosseum does not allow more than 3000 visitors at the time inside the monument, so access can be blocked at any moment. An early start or a late afternoon tour are usually the solution, but we will suggest you the best option for your party and your time of travel.
How does it work with pre-booking in connection with our tours?
We borrow  the motto of the famous IKEA company : "Together we save money. You can do it yourself – but you do not have to". Dealing with tickets takes time, no doubt about this. And talking with many of you during these last 10 years, we understood you appreciate us taking care of the tickets on your behalf to save time and to  be sure they are done properly (tickets are not refundable, if you issue wrong tickets, you have to book them again and you lose money)
We are always concerned about granting you the best possible rate for your tours, so we are still available to give you instructions to buy tickets online by yourself, if you want to.
But we agree it's becoming more and more complicated with a lot of options, menus, card security codes  and so on…. So if you prefer we take care of the tickets, we can do that with an extra charge of 5 euros per person per ticket and we need the full amount for tickets to be sent in advance through PayPal together with the confirmation deposit. Just let us know your preference.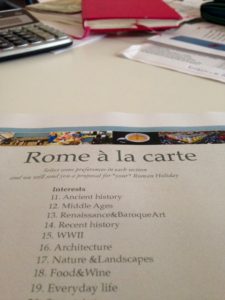 Planning a trip is not easy: you always want to make the most of your time, you feel compelled to cover some "must sees" and you do not have time to dedicate to the planning because… well, generally you have a job, a family and some errands everyday…. That's why we are here for you! We can let you save a lot of time and worries about details such as booking everything at the right moment and spend only what is really needed for what you  wish to do and see.
In order to help you planning your perfect "Roman holiday" (not only Princess Anne deserved that!) we created a short menu to give you some ideas and a bit of inspiration. In Rome there is more than what you expect and we are here to assist you and transform a dream into a real experience.
In more than 10 years we helped parents to spend quality fun time with their children of any age, honeymooners to flash up together, husbands or wives to prepare a special moment for their life partners… we love to help you build a lifetime memory and  "go the extra mile" with you.
Ergo… when you contact us, we will send you this "Rome à la carte menu" and you will indicate some of  your preferences by numbers (like ordering from a Chinese take away!) : this will facilitate our job in sending you the right proposal. Always useful to know if you have already been to Rome, if there are children, teens or seniors in your party and how many days at disposal do you have. And of course, give us enough time to plan together: better to contact us from two months to two  weeks ahead of your trip (even earlier if you prefer, we like advance bookings). And happy planning to everybody!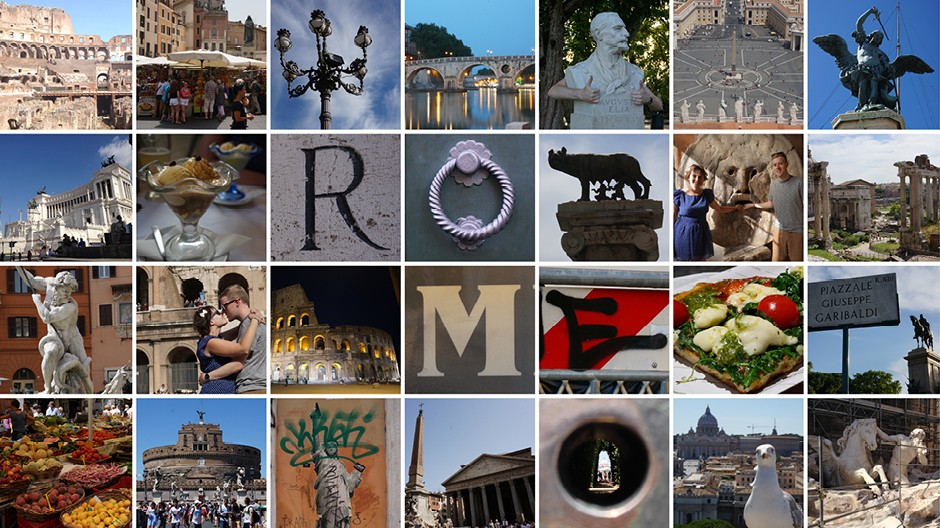 We love to give suggestions to our guests and when they ask "how long should we stay in Rome?" it is a bit embarrassing to reply what the proverb says,  "…a lifetime is not enough!"  I still have my list of not-yet-seen-spots which I'm planning to visit soon, during my days off. The list is in fact growing!
We understand you have limited time and want to focus on highlights. Ideally – and in order to keep a relaxing pace –  to  have a hint of all the ages that made Rome a three-millennia-old city, you need a full week and this might be your plan:
Ancient Rome : not only the Colosseum, but a nice walk including the Velabro (the crib of Rome), Circus Maximus, Forum and Palatine, Capitoline Hill,  Trajan's Markets and Column, Pantheon and one archaeological museum (chose between Palazzo Massimo and the Capitoline Museums)
Ancient Rome outside the walls : the Appian Way (and the catacombs or the aqueducts) and/or Ancient Ostia, the harbour of Imperial Rome.
The Middle Ages through some of the most intriguing churches of the city (San Clemente, SS. Quattro Coronati, the cathedral of Rome S. Giovanni with the Sancta Sanctorum chapel, Santa Maria Maggiore and its sparkling mosaics, S. Prassede and S. Pudenziana, the whole district of Trastevere and its churches: S.Cecilia and S. Maria in Trastevere)
Renaissance Rome: the frescoed Villa Farnesina, Piazza Farnese, the lively Campo dei Fiori and its market, the Jewish Ghetto and the alleys of the "Tiber bend" district, Castel Sant'Angelo (with a wonderful panoramic terrace)
The Vatican: let's devote half day to the museums, Sistine Chapel, the breathtaking basilica of St. Peter and its piazza.
Barocco & the city! This was the second Golden Age of Rome and it's all around: Piazza Barberini and the Painting Gallery of Palazzo Barberini, San Carlino church and S.Andrea to compare the great artists Borromini  and Bernini, Piazza del Quirinale, the iconic Trevi fountain, the Spanish Steps, Piazza Navona ending the day with a baroque concert.
Contemporary Rome: we suggest to rent a Vespa and feel like a local exploring EUR fascist architecture, "LA Galleria Nazionale" of Modern Art, Renzo Piano's Auditorium, the MAXXI or the street art in Quadraro and Ostiense districts.
If you still have some time the program could be completed with a first day dedicated to the Etruscans (on the way from the airport you could stop at the fascinating necropolis of Cerveteri and then spend a couple of hours in Villa Giulia Etruscan museum in Rome). And several day trips around Rome might be interesting too: lakes (Bracciano, Nemi….), sanctuaries (Subiaco or San Nilo in Grottaferrata….), hilly towns (Castelli, Tivoli….).
All that said, we know it is unlikely you'll have all these days at disposal just for Rome, but you can get ideas and advices from the above list to turn your Roman days into your "perfect" Roman days!
Do not feel compelled to rooted itineraries, Rome is a many-sided city, explore the facets you like the most!
We believe the guidance of a local expert will make a big difference in your Roman Holiday, of course!
But we also believe  you need your *own* time to explore the city, to wander and wonder, to feel lost and find your way….
Moreover, there are some sites where you will have an internal guide or audioguide service  included in your admission ticket and we are here also to help you  save some money and rather have an extra bottle of wine for dinner!
Here is the list of some palaces, museums and attractions where you do not need us and the link to reserve a visit or receive informations:
Enjoy Rome, with your Friend in Rome and on your own!