Children
Following our post dedicated to families travelling to Rome, and our tips to enjoy your spare time with your children on own, here is the final section dedicated to what we can do for you: we offer tours and activities especially planned for family.
Up to 6 year old.
Very young travellers manage following short "theme tours" according to the special interests : animals, knights, ghosts… but also gladiators (there's no better place than Rome!!). Kids with an artistic bent, enjoy our art labs and everybody is in for a gelato tour!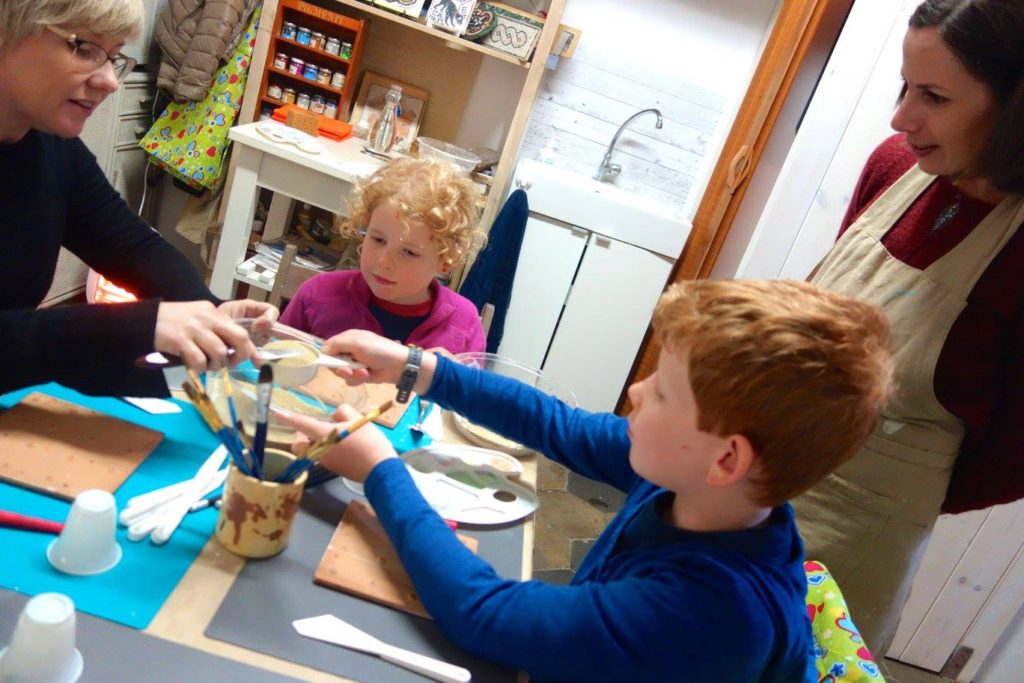 7 to 12 year old.
Theme tours and gelato tours still work very well at this age. But we can also add:
kids friendly orientation walks in the city centre (the gelato tour is one of those)
dedicated history and art tours : "Gladiators and games in ancient Rome", "Every day life in ancient Ostia", "Mythology at the Borghese Gallery" are some examples.
kids friendly visits at the Capitoline Museums, Villa Giulia and Centrale Montemartini: these museums are very quiet and it is easier for our guides to play with you and your kids when there is space at disposal and no confusion.
kids friendly Vatican and Ancient Rome tours
VR tours (with the support of devices for virtual reality)
easy bike tours or more challenging depending on their age
a horse back ride along the Appian Way
art labs (fresco, mosaic, oil painting and watercolours) combined with special tours dedicated to the same technique (for instance our "best seller" of this section is "Michelangelo for a day)
food experiences: from walking tours with food tastings to cooking classes (pizza class and gelato lab make them thrilled!),
underground Rome tours
"orienteering tour" in ancient Ostia, if they like maps
Teens.
Several of the above proposals can suit your teens, at this stage they grow up fast and differently one from another, so we need your help more than ever to know what they might still like of the above proposals. About this age frame, we also recommend our article here.
What surely makes them feel "grown up" is a Vespa Tour: if you are able to ride a scooter, you can take your teens with you and – we bet – they will never forget it! Of course you need a good scooter experience! Otherwise just reserve our drivers in addition to the guide. We know that teenagers can lose attention quickly during a sightseeing, but this general overview onboard of a Vespa with short stops can help a lot to keep them interested for the whole tour.
We also arrange "Street art tours" in several suburban areas of Rome: teens usually like the off-the-beaten-path itineraries, the adventurous feeling and this contemporary form of art. Moreover, we can reach these areas by Vespas or bikes, making the whole day an exciting experience.
A tour we especially designed for teens is Angels & Demons tour: inspired by the 2009 American mystery-thriller film directed by Ron Howard and based on Dan Brown's novel. It is the sequel to the 2006 film The Da Vinci Code. Angels & Demons takes place in Rome and this gave us the idea of following the footsteps of the main character, Robert Langdon, in his thrilling chase through the city. We suggest you watch this movie before your trip to Rome with your teenage travelling companions and then explore Rome and its "Altars of Science" with us!
Following our post about how to best arrange a family trip in Rome when young travellers are involved, here we collected several suggestion on how to spend your spare time with kids in Rome, divided by age groups:
Up to 6 year old.
Casina di Raffaello (indoor): it is a game room located in the Borghese Park. It's open everyday except Mondays. It's free for babies up to 3 y.o. (a ticket applies to older children). Check their website for workshops, special events and updated infos. A nice playground area is just outdoors
Borghese Park (outdoor): apart from the "Casina di Raffaello", the park is a perfect location for young children: you can rent bikes and rickshaws, even a boat to row on the small lake. A light train service is offered and drives across the whole garden. You can arrange a picnic and spend the warmest hours of summer days under the shady trees.
Gianicolo Hill (outdoor): on top of this beautiful terrace overlooking Rome (which will delight grown-ups!) you can still enjoy a traditional puppet show on Sunday mornings: it's in Italian, but usually young kids like it anyway! And – at noon sharp (every day, rain or shine!) – a cannon shots a ball to mark the time: you will be surrounded by several Italian children with their grandparents!
EXPLORA (indoor): check the website for the updated activities, opening times, prices and services of the "Museum of the Children". It is within walking distance from Piazza del Popolo (Flaminio stop on metro line A or tram line).
Swimming pool (outdoor): during summertime many hotels open their pools to external guests (Parco dei Principi, Aldrovandi, ES, Exedra, Hotel del Gianicolo, Hotel Villa Pamphili, Waldorf Cavalieri…) and this could be a refreshing break for your children. There are also public pools such as the Piscina delle Rose in EUR district (B line of the Metro, Palasport stop) or the amusing water park Hydromania leaving the city.
Public playgrounds (outdoors): apart from the public parks (Villa Pamphili, Parco degli Acquedotti, Villa Ada, Villa Glori, Villa Torlonia…) there are several nice playgrounds around the city. We like the one at the back of the Auditorium (tram line n° 2 from Piazza Risorgimento to the end in Piazza Mancini)
Libraries and bookshops (indoor): usually young kids like relaxing in the quiet atmosphere of a library or a bookshop. In the city centre we recommend the children public library "Biblioteca Centrale dei Ragazzi" closed on Saturday p.m., Sundays and Mondays and located within walking distance of Campo dei fiori (Via San Paolo alla Regola 15-18).
From 7 to 12.
All the above activities can still be interesting to older children and we also add the following:
Teens.
Chose the suitable activities of the previous lists (for instance, the school of the gladiator usually appeals at any age, including dads!) and here you have some extra ideas:
Capuchin Friars Crypt (indoor): not far from the Spanish Steps and Trevi fountain there is a creepy ghostly crypt that teenagers usually find fascinating: five little rooms used as a cemetery and praying chapels by the Franciscan monks are completely decorated with the real bones of the deceased friars! The surreal atmosphere should not distract from the miraculous preservation of the bones and the spiritual significance of this unusual decoration.
Technotown (indoor): nothing compared to huge Science Museums in other major capitals of the world, but if your children like technology, this might be a suitable break from main visits. It is located in a beautiful park (Villa Torlonia) along the Nomentana (and we offer an off the beaten path tour over there, even by bike) and it is open every day except Mondays, for children over 8.
The Museum of Video Games: Vigamus is a small museum, but the selection of vintage video games is amazing and you can try them all. Video games are part of contemporary culture and art, therefore learning their evolution can be a break from all the "ancient stuff" and "church stuff" your kids will be exposed to during a trip in Italy…
A day at the beach (outdoor): if your teens love the seaside, you can treat themselves to a day at the beach. The sea around Rome is not spectacular, but beaches are fun! You can eat fresh fish, play beach volley, meet new friends and wait for a sunset drink or a night of dancing! As I've often been told by foreign friends, no trip to Italy is complete without a day on the beach, such is its unique atmosphere! The closest beach is Ostia Lido, which might be a nice relaxing time after a visit to the excavations in Ancient Ostia. Otherwise you can pick from Santa Marinella, Fregene, Anzio, Nettuno or the clean waters in Circeo National Park.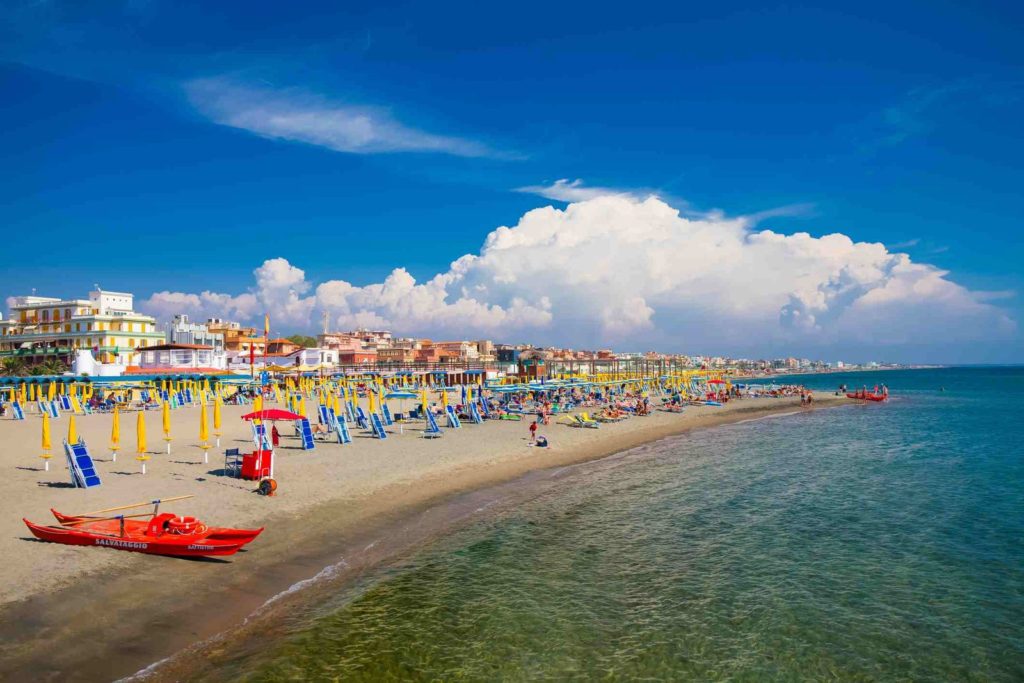 Last part of this blog post is what we can do for you during your stay in Rome with young travellers: tours, activities and experiences tailored on these age ranges are collected here.
Rome offers a lot to families with children: many open air attractions, the food every child loves, curiosities for any interest or age, and professional guides with a special attitude with kids (yes, thats us!)
At A FRIEND IN ROME we do not offer standard kids tours, but a selection of itineraries and well prepared tour guides who have the experience and good will to manage a tour for a whole family, keeping the youngest involved.
We rely on your help, you know your children better than anyone else and we need your support to interact and keep them interested. Before coming to Rome, let us know if there are special need and interest in your family, so we can be prepared. And we recommend reading this other post, with suggestions on family trips from Conde Nast Traveller magazine
It's important to prepare your children with books, stories, cartoons or movies about our city, our artworks and history: they will be curious to see what they have been introduced to and eager to learn more.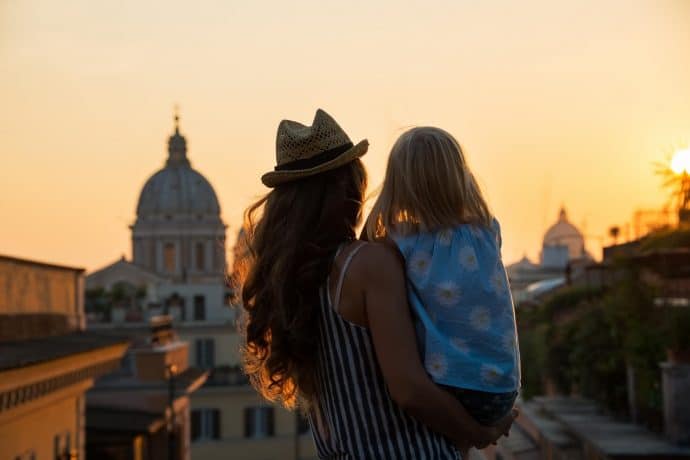 This is what we can do for you:
we help you planning: we know how much every activity/visit requires, we know distances, best accommodations and restaurants for families, how to celebrate a birthday during the trip or any special day… Just contact us at info@afriendinrome.it , we are here to help!
we can give you several suggestions on how to spend your spare time with kids in Rome, see this special post divided by age groups 
we offer here a list of tours and activities especially planned for families with children or teens, divided by age groups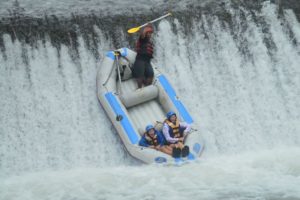 Last "meditation" about travelling (see n° 1 and n° 2)  is coming from my personal experience as a  mother of a 14 year old boy and as a tour guide meeting a lot of families with children: when your travel companion is a teenager  you just have to keep in mind they do not have the same urge of "seeing it all". You are travelling across the planet, you know how much this costs to you in terms of money and time and you are aware you might not have the chance to be there again soon. Of course this feeling is not shared by your children, they have their life ahead and they just want to enjoy their holiday (despite the presence of their parents, eheheheh!)
What I learnt about this specific situation is the following:
the program of the day should not be packed, plan just one main activity and be sure there will be enough time to relax in the hotel or at the beach/pool… (of course there must be free wifi signal there!)
better to plan the main activity in the morning, otherwise they will never get out of bed (but – if possible – do not plan a very early start, it is physically harder for them than for adults to wake up)
teens get easily bored if they just have to stand in front of something or slowly walk and listen, listen, listen to a guide. They need to *do* something in order to feel involved: plan a trekking, a rafting (BTW the picture above is my rafting in Bali with my son, summer 2017), a bike tour, an art lab, a food tour or a cooking class if they like eating and are curious about food …whatever keeps them active. In any case this would not be a waste of time for you: it is a chance to see a country from a different prospective, meet more people (both local and other travellers), going places you haven't considered which might turn out to be wonderful
check if there are interactive museums, virtual reality experiences and everything exploiting modern technologies (check our blog post  about what Rome offers): teens generally appreciate these venues and it can be  a good break during a sightseeing day
Do you have any other tips? Let's transform this post into a Decalogue, send  a mail to info@afriendinrome.it and I'll be glad to update this post.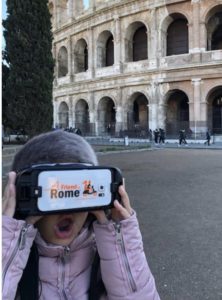 (Updated Jan. 2020)
It is becoming more and more common to have a technological support during an archaeological tour to better understand the site: we have always exploited the power of images to give you an immediate view of the aspect of the Colosseum, the Forum, the Circus Maximus in the Imperial Age.  Recently  immersive and multimedia experiences reached an incredible quality and we do recommend to book one of those "shows" during your stay to enjoy the brilliance of  marble floors, bright frescoes and glittering mosaic tiles of the luxurious interiors of the bygone days. According to us, this is not substituting the importance of a traditional guided tour, when you have an expert at your disposal to explain details in front of each monument and – above all – to interpret the historical, political and social importance of the buildings, which represent an "age" and a (lost) society with its vision of mankind.
In main archaeological museums of Rome you find now videos of virtual reconstructions, also on YouTube you find a lot (we have a dedicated playlist of good videos here), but if you are looking for the immersive experience, simply enquire us and we can offer you special tours "with goggles" in the city centre, at the Baths of Caracalla or Diocletian,  and we especially recommend the experience in ancient Ostia. If you are travelling with children/teens this is definitely a good idea (and by the way, there is a videogame museum in Rome, not too far from the Vatican, which might be a good break for them: it is called Vigamus and our 13 year old "tester" approved it…He also approved all the following list for you!)
If you wish to experience virtual reality independently, book one of the following:
We appreciate your help to update this list as soon as new experiences will appear and if you have a comment on these shows, we will be curious to know your opinion and feedback!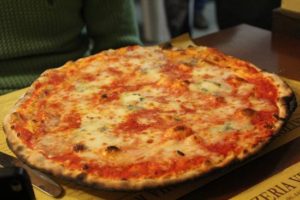 When in Rome….. eat at least a pizza a week!
And if you want to keep up with the locals, remember to order fritti as a starter – from supplì (the roman rice ball hors d'oeuvre) to fillets of baccalà (salt cod) to fiori di zucca (zucchini flowers stuffed with an anchovy and mozzarella). Here is a non-exhaustive list of my favorite pizza places:
Any great discovery you wish to add? Let us know by mail to info@afriendinrome.it . And if you wish to learn the difference between Roman pizza and Neapolitan pizza, watch this video!
To go back to the eating options, click here.
(revised August 2020) Well, we know gelato is a great attraction, but we have many alternatives in the "dessert field" and here are some good addresses for every sweet tooth coming to Rome:
And to conclude… if you wish to satisfy your gluttony and your hunger late at night, maybe after a long walk or a bit of clubbing, you can join the young Romans in this little ritual, the "night cornetto"! Bakeries (or better said cornetterie, which only bake cornetti, not bread) work all night to prepare cornetti for the following day and you can buy them hot, when they are just out of the oven and filled in many different ways (Nutella filling is the most popular, but try also the wholemeal cornetto with honey!) You will surely meet young "urban tribes" chatting and indulging in this whim out of those places:
Go back to  "Eating in Rome" section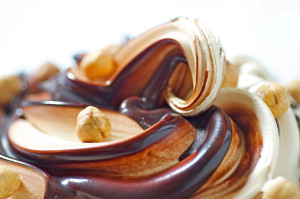 Shall we explain why gelato is good? I don't think so… Gelato is part of our culture, like pizza or pasta, fashion, soccer, wine… These are not commonplaces, but  statements about our everyday life. In Italy there are more than 35.000 gelateria and Italians eat an average of 75 cups of gelato each year (6 kilos!). This implies we know how to judge a good gelato and how to skip tourist traps. Here is our selection divided by areas, but suggest your discoveries!
In any case, do not line for a gelato longer than 5 minutes! We have so many gelato shops and no one can be considered " the best in town"… Gelato is a pleasure, if you have to queue too long, part of the pleasure is lost already!
And do not forget our local tradition in Rome, the "grattachecca"!!! It is the best relief for the hot summer days and if you have to queue for that, well, this is an experience and you'll feel like a real Roman! My favorite is "Sora Maria", the kiosk along Via Trionfale, near the Vatican, but you have several other opportunities (Piazzale Ponte Milvio, where the summer movida is! Or Piazza del Porto di Ripetta near the Spanish Steps, or "Fonte D'Oro" and "Sora Mirella" near Trastevere and finally, Porta Cavalleggeri just next to St. Peter's square).
Remember… "You can't buy happiness, but you can buy ice cream. And that's kind of the same thing!"
PS. Do not forget we offer the Gelato Tasting Tour in the centre (children love to evaluate best gelato while sightseeing!) and we can arrange a "Gelato Making Class" for you! 
To go back to eating options, click here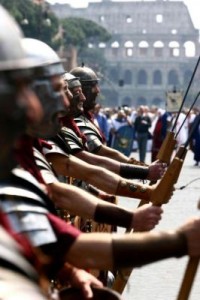 Every April 21st the "Eternal city" gets older!
Even this year there will be the historical parade along Via dei Fori Imperiali, just in front of the Colosseum, ending at Circus Maximus (the ancient chariot race track) where the ritual ceremony of the "digging of the trench", a ri-evocation of the foundation of Rome, will take place: Romulus, Remus, the Vestal Virgins, the she-wolf…the whole tale will be much clearer afterwards!
PS. The historical group arranging the parade is also offering our activity-tour "Gladiator for a day", a fun way to learn about ancient history!
There are so many  parks in Rome, it would be a pity not to enjoy one, at least!
Buy a ball, rent a bike and "live" the cheerful atmosphere of the gardens next to the Roman families.
Why not to buy some freshly baked bread or "white pizza" (we do not say focaccia in Rome, but pizza bianca), mortadella, salumi or your favorite cheese, a bottle of wine, a good  crostata or the unforgettable Pompi tiramisu'  and go to Villa Borghese? After your pic-nic and a nap under the trees, you have several cultural options. You are in the "Park of the Museums" and you can chose among the important Borghese Painting Gallery (but remember to book it), the interesting Etruscan Museum housed in the Renaissance Villa Giulia, the Modern Art museum La Galleria Nazionale  or just a pleasant quick look at the House of the artist-workshop-museum Pietro Canonica dedicated to an Italian sculptor of the XIX century.
And remember… Relax, you are on holiday!