Good to know....
[revised November 2021]
Following our post dedicated to families travelling to Rome, and our tips to enjoy your spare time with your children on own, here is the final section dedicated to what we can do for you: we offer tours and activities especially planned for families.
Up to 6 year old.
Very young travellers manage following short "theme tours" according to  special interests : animals, knights, ghosts… but also gladiators (there's no better place than Rome!). Kids with an artistic bent, enjoy our art labs and everybody is in for a gelato tour!
7 to 12 year old.
Theme tours and gelato tours still work very well at this age. But we can also add:
kids friendly orientation walks in the city centre (the gelato tour is one of those)
dedicated history and art tours: "Gladiators and games in ancient Rome", "Everyday life in ancient Ostia", "Mythology  at the Borghese Gallery" are some examples.
kids friendly visits at the Capitoline Museums, Villa Giulia and Centrale Montemartini: these museums are very quiet  and it is easier for our guides to play with you and your kids when there is space at disposal and no confusion. 
kids friendly Vatican and Ancient Rome tours (but the usual confusion there makes everything a bit more stressful)
VR tours (with the support of devices for virtual reality)
easy bike tours (or more challenging, depending on their age)
a horse back ride along the Appian Way
art labs (fresco, mosaic, oil painting and watercolours) combined with special tours dedicated to the same technique (for instance our "best seller" of this section is "Michelangelo for a day")
food experiences: from walking tours with food tastings to cooking classes (pizza class and gelato lab make them thrilled!), 
underground Rome tours
"orienteering tour" in ancient Ostia, if they like maps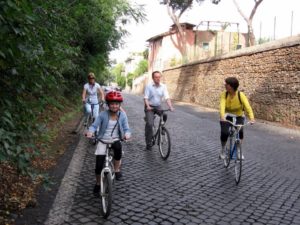 Teens.
Several of the above proposals can suit your teens, at this stage they grow up fast and differently one from another, so we need your help more than ever to know what they might still like of the above proposals. About this age frame, we also recommend our article here.
What surely makes them feel "grown up" is a Vespa Tour: if you are able to ride a scooter, you can take your teens with you and – we bet – they will never forget it! Of course you need a good driving experience on two wheels. Otherwise just reserve our drivers in addition to the guide. We know that teenagers can lose attention quickly during a sightseeing, but this general overview onboard of a Vespa with short stops can help a lot to keep them interested for the whole time. 
We also arrange "Street art tours" in several suburban areas of Rome: teens usually like the off-the-beaten-path itineraries, the adventurous feeling and this contemporary form of art. Moreover, we can reach these areas by Vespas or bikes, making the whole day an exciting experience.
A tour we especially designed for teens is Angels & Demons tour: inspired by the 2009 American mystery-thriller film directed by Ron Howard and based on Dan Brown's novel, it is the sequel to the 2006 film The Da Vinci Code. Angels & Demons takes  place in Rome and this gave us the idea of following the footsteps of the main character, Robert Langdon, in his thrilling chase through the city. We suggest you watch this movie before your trip to Rome with your teenage travelling companions and then explore Rome and its "Altars of Science" with us!