Good to know....
[revised November 2021]
Following our post about how to best arrange a family trip in Rome when young travellers are involved, here we collected several suggestions on how to spend your spare time with kids in Rome, divided by age groups:
Up to 6 year old.
Casina di Raffaello (indoor): it is a game room located in the Borghese Park. It's open everyday except Mondays. It's free for babies up to 3 year old (a ticket applies to older children). Check their website for workshops, special events and updated infos. A nice playground area is just outdoors 
Borghese Park (outdoor): apart from the "Casina di Raffaello", the park is a perfect location for young children: you can rent bikes and rickshaws, even a boat to row on the small lake. A light train service is offered and drives across the whole garden. You can arrange a picnic and spend the warmest hours of summer days under the shady trees. 
Gianicolo Hill (outdoors): on top of this beautiful terrace overlooking Rome (which will delight grown-ups!) you can still enjoy a traditional puppet show on Sunday mornings: it's in Italian, but usually young kids like it anyway! And – at noon sharp (every day, rain or shine!) – a cannon shots a ball to mark the time: you will be surrounded by several Italian children with their grandparents!
EXPLORA (indoors): check the website for the updated activities, opening times, prices and services of the "Museum of the Children". It is within walking distance from Piazza del Popolo (Flaminio stop on metro line A or tram line).
Swimming pool (outdoors): during summertime many hotels open their pools to external guests (Parco dei Principi, Aldrovandi, ES, Exedra, Hotel del Gianicolo, Hotel Villa Pamphili, Waldorf Cavalieri…) and this could be a refreshing break for your children. There are also public pools such as the Piscina delle Rose in EUR district (B line of the Metro, Palasport stop) or the amusing water park Hydromania leaving the city.
Public playgrounds (outdoors): apart from the public parks (Villa Pamphili, Parco degli Acquedotti, Villa Ada, Villa Glori, Villa Torlonia…) there are several nice playgrounds around the city. We like the one at the back of the Auditorium (tram line n° 2 from Piazza Risorgimento till the end in Piazza Mancini)
Libraries and bookshops (indoors): usually young kids like relaxing in the quiet atmosphere of a library or a bookshop. In the city centre we recommend the children public library "Biblioteca Centrale dei Ragazzi" closed on Saturday p.m., Sundays and Mondays and located within walking distance of Campo dei fiori (Via San Paolo alla Regola 15-18). 
From 7 to 12.
All the above activities can still be interesting to older children and we also add the following: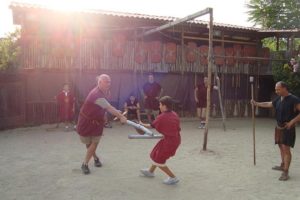 Teens.
Chose the suitable activities of the previous lists (for instance, the school of the gladiator usually appeals at any age, even dads like it!) and here you have some extra ideas:
Capuchin Friars Crypt (indoors): not far from the Spanish Steps and Trevi fountain there is a creepy ghostly crypt that teenagers usually find fascinating: five little rooms used as a cemetery and praying chapels by the Franciscan monks are completely decorated with the real bones of the deceased friars! The surreal atmosphere should not distract from the miraculous preservation of the bones and the spiritual significance of this unusual decoration. 
Technotown (indoors): nothing compared to huge Science Museums in other major capitals of the world, but if your children like technology, this might be a suitable break from main tours. It is located in a beautiful park (Villa Torlonia) along the Nomentana (and we offer an off-the-beaten-path tour over there, even by bike) and it is open every day except Mondays, for children over 8.
The Museum of Video Games: Vigamus is a small museum, but the selection of vintage video games is amazing and you can try them all. Video games are part of contemporary culture and art, therefore learning about their evolution can be a break from all the "ancient stuff" and "church stuff" your kids will be exposed to during a trip in Italy…
A day at the beach (outdoors): if your teens love the seaside, you can treat themselves with a day at the beach. The sea around Rome is not spectacular, but beaches are fun! You can eat fresh fish, play beach volley, meet new friends and wait for a sunset drink or a night of dancing! As I've often been told by foreign friends, no trip to Italy is complete without a day on the beach, such is its unique atmosphere! The closest beach is Ostia Lido, which might be a nice relaxing time after a visit to the excavations in Ancient Ostia. Otherwise you can pick from Santa Marinella, Fregene, Anzio, Nettuno or the clean waters in Circeo National Park.    
Last part of this blog post is what we can do for you during your stay in Rome with young travellers: tours, activities and experiences tailored on these age ranges are collected here.