Good to know....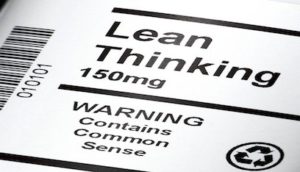 [revised November 2021]
I just finished reading an essay about contracts and negotiations ("Extreme Contracts"). The main reason I read it – honestly – is because it was written by a friend, Jacopo Romei, but I'm always surprised  by the way any source of new knowledge can be applied to any field, including the market of tours. I learnt that the  management model called "Lean Thinking" is one of the most appreciated in recent years, as it  produces excellent results in terms of quality, efficiency and productivity. Lean thinking is a management philosophy which is oriented to maximize the customer value and to minimize any kind of waste. Although derived from manufacturing, Lean Thinking principles have been successfully applied to the service industry, from Healthcare to Tourism (keeping in mind the main features of the  service industry itself are intangibility of services and  production and consumption at the same time).
Lean Thinking is something more than a method for process improvement. It is a philosophy and a mindset aiming to cut waste and simplify processes.  Five steps are the pillars of this philosophy:
Identify value from the standpoint of the end customer
Identify all the steps in the value stream
Make the value-creating steps occur in tight sequence so the product will flow smoothly toward the customer
As flow is introduced, let customers pull value from the next upstream activity
Seek perfection
Well, what has all this to do with us, guides leading tours in an old city like Rome?
In ten years of  providing tours to independent travellers, we built the awareness we are not simply giving you information about a famous church (called St. Peter's basilica) or a groups of ruins (called "the Forum")… We are sharing time with you, your family and friends during your valuable holiday, making your time count and giving you resources to enjoy your spare time in a foreign city in the best possible way. We share contacts and tips, we provide ground information to understand the city, its history and its buildings. And buildings, artworks, urban structures are the reflection of  past ages and historical events. In the best scenario, you might leave Rome with a better understanding of  mankind… on top of some great pictures and a few extra pounds gained over gelato and pizza!
We hope our guests felt this value and their expectations have been fulfilled. It seems so, from their nice words on private messages and public reviews. We can consider step 1 reached, then.
Steps 2, 3 and 4: the way we provide this value is as informal as possible, from an easy and fast communication over emails up to the meeting points (close to the sites when easy to reach in order to let you save time and money OR at your place when it's easier and more convenient).
We prefer not to use sales portals and automated booking engines (which would seems very "un-lean" ) because we want to get in touch with you prior to our meeting: "choose a standard tour>click a button >insert card details >DONE" sounds very efficient, but erases all the "relationship value" of the communication prior  to the tour. This is the phase when you tell us this is your long waited trip or your honeymoon, when we learn about your children being fans of Percy Jackson, when husbands ask how they can celebrate their wife's birthday during the trip, when  you express your "devotion" for Italian food and wine and especially when we create *together* your perfect trip, something personal and unique just for your party.
When plan is set, we wait for you here in Rome. And then we finally meet you, happy to share few hours or few days of your holiday, leaving space to an unforeseen detour on the program, adapting to your pace and needs, acknowledging  what you like and pointing out more details you might appreciate, sometimes eating with you and talking about our different habits, learning from you and your homeland or previous trip experiences.
When you leave, we stay in touch: social media help us and we comment your pictures while you go on with your trip, we receive your nice feedback with great pleasures and  sometimes we welcome you again  some years later and are happy to give you contacts and suggestions for your next Italian destination.
The process is smooth, it's exactly like the correspondence with a friend living in another country, that's what we aim to be, here in Rome, for you. Our name is a sign… you know… "nomen omen", as the Romans used to say. And the lean philosophy preaches that YOU pull this process and value. We do not want to oversell activities and tours, we try to accommodate your needs about timings as much as possible,  we keep the experience private to be really personal, even if we might earn more from "small group tours" as many companies do.
Last steps (5) is about perfection: we know we are far from that, but lean thinking means  targeting for perfection, not exactly reaching it!  We do question ourselves, we share opinions among our team of tour guides  and even with competitors and counterparts in other cities, we ask for feedbacks to our guests, we invest in ourselves with lectures, educational trips, books (OMG how many books we want  to read!!!), inspections, exhibits… And above all, we are content, but never satisfied and look always for new projects and experiences.
From this reading, I reinforced my opinion about the importance of respect, trust and fairness in business:
easy-going  long-term relationships with guests, suppliers and colleagues based on clear communications and simple ground rules, talking directly with the decision makers and abolishing mediations  when they do not add value (which implies, reduced costs).
full trust in our team, leaving everybody free to express his/her own potential in his/her own way, listening to any opinion about what we do and how we do it. Maximum effort to deserve the trust of  our guests by being accurate, cheerful and flexible.
Improving services through experience, feedbacks  and even mistakes. Being ready to innovate and invest. Honest fees and clear communication about timings and  extra costs. Easy negotiation which continues until the day of the tour: we don't send long emails with tons of infos and clauses, our agreement is undefined on purpose to leave everybody the freedom to play it by the ear on the day of the tour (you might be tired and longing for a smooth tour, the weather can be too hot or rainy, you might have discovered something more interesting to you than what we  had planned to visit, the Pope might decide to celebrate mass in St Peter's making it off limits …. we need and want to be flexible)
In the end, as Jacopo Romei mentions often in his book, everything can be summed up by the expression "skin in the game" : we are not "selling" a service, we are cooperating to obtain a common result. Having a good time together, creating a fulfilling day is a mutual benefit: you'll have great memories and the desire to come back and  we will feel proud of our job and motivated to create more  great days with other guests to come, in a virtuous circle.