Good to know....
[revised November 2021]
Rome offers a lot to families with children: many open-air attractions, the food every child loves, curiosities for any interest or age, and professional guides with a special attitude with kids (yes, that's us!)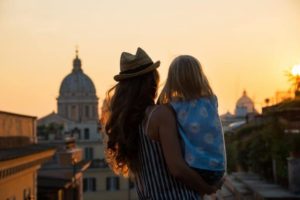 At A FRIEND IN ROME we do not offer standard kids tours, but a selection of itineraries and well prepared tour guides who have the experience and good will to manage a tour for a whole family, keeping the youngest involved. 
We rely on your help: you know your children better than anyone else and we need your support to interact and keep them interested. Before coming to Rome, let us know if there are special needs and interests in your family, so we can be prepared. And we recommend reading this other post, with suggestions on family trips from Conde Nast Traveller magazine
It's important to prepare your children with books, stories, cartoons or movies about our city, our artworks and history: they will be curious to see what they have been introduced to and eager to learn more. 
This is what we can do for you: 
we help you planning: we know how much time and effort every activity/visit requires, we know distances, best accommodations and restaurants for families, how to celebrate a birthday during the trip or any special day… Just contact us at info@afriendinrome.it , we are here to help!
we can give you several suggestions on how to spend your spare time with kids in Rome, see this special post divided by age groups 
we offer here a list of tours and activities especially planned for families with children or teens, divided by age groups