Good to know....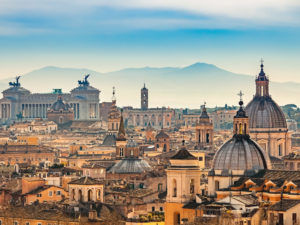 Sometimes what better defines you, is what you are NOT. For instance: we do not lead big groups, we do not put together strangers in the same tour, we do not offer segway tours. And now we do not offer virtual tours.

Nothing against many of my colleagues who are doing it, each one in a slight different way and with their own personality. I personally was hosted in some webinars about Rome, I would define them "virtual talks" more than tours, and I especially like the Q&A sections of those deiced to planning future trips to Rome! 
But after a long "meditation" on the subject, consulting friends and experts, I personally decided not to proceed in this direction. And the final decision came from our "origins": always go back to the roots when you feel unstable… our roots are in our name: A. Friend. In. Rome.
A: one. One person, one guide, one friend. Your guide-slash-friend. We offer a personal relationship, one at the time, no strangers, a significant exchange of views and moments. Virtual tours imply larger parties. 
Friend: yes, this is a job for us, because we take it seriously and we have "all the right stuff" to do it. But still we maintain a friendly approach, honest and authentic. Which means that our personal profit moves to the background. And your benefit now is to stay safe and healthy at home and keep dreaming about your future trips, maybe exactly to Rome. A friend waits for you and sends pictures, informations, ideas waiting for the time you'll be able to travel 
In: not just a preposition here. "In" means a presence, it means a physical location, it means you *have to* be here!
Rome: this is the main ingredient. This city is not just its history and all the stories and symbols we can tell across a screen. Rome is its light, its colours, its flavours and sounds. Rome is the steaming espresso standing at the bar, is the cobblestone making you stumble, the heat of the summer, the delicious smell of the pizza coming out from the wood oven, the sunset a picture will never convey. The magic of Rome is a live experience and we are not lecturers, but travel companions.
A Friend in Rome only exists when you are in Rome. Therefore we'll wait for you here and we'll prepare ourselves to be the most welcoming hosts you can ever have!