Foodies & Shopaholics
Food can be a divisive subject, something so personal and "ancestral" that we immediately notice when somebody has different eating habits from us.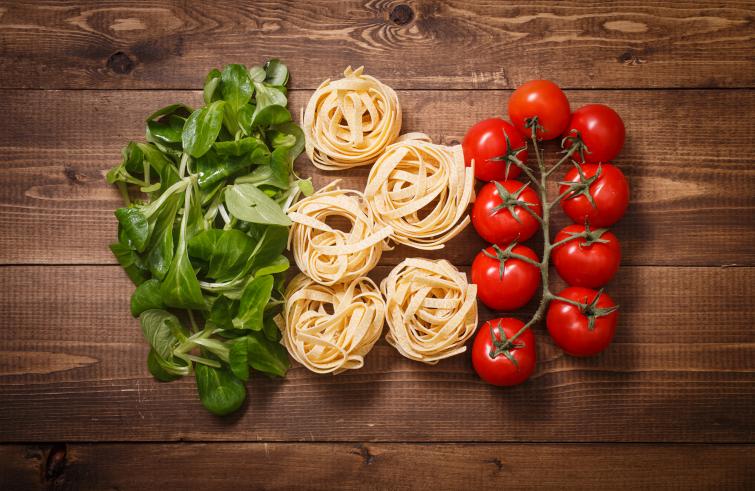 So, it was fun to collect some of the aspects that make us, Italians, seem weird to the eyes of people coming from another continent:
we usually eat lunch and dinner preferably at the same time, which means late! In summer we can easily have dinner at 9.30 or 10 pm, even when children are involved (at least in Rome and in the southern regions)
we mostly eat Italian food *all the time* ! Yes, we are fond of our gastronomy and eating "ethnic cuisine" is usually a special occasion. This is changing, though: new generations like fusion food and the spread of delivery services made Italians more familiar with different options.
We eat one kind of food at a time: only exception is the main course (fish or meat) with its side vegetables, but you never combine pasta and salad, for instance.
The reason for the previous point is probably connected with the presence of many fresh ad quality ingredients in our culinary tradition, which are better appreciated if they are "alone" or just in the good and well explored combination (tomatoes and mozzarella, for instance). We give a lot of importance to acronymous like DOP, DOC, IGT… What do they mean? For food, the best guarantee is DOP (a denomination of protected origin): it means the environment has a special influence in the creation of that product and the whole process must happen in a determined location. The easiest examples are Parmigiano Reggiano or Parma Ham, but we have 167 products in Italy with this special recognition, no other European country can say the same! A step below is the IGP products: we have 130 of these examples and it means at least one phase (growing, transforming or making the final product) happens in a specific geographical area. We care a lot for these quality marks and we appreciate genuine single flavours: in the end, a good hand sliced prosciutto only needs some focaccia and a glass of wine to be a perfect meal!
To continue this little "lesson" on food acronymous, best wines are labelled as DOCG, which means that their denomination is "controlled" and "guaranteed" by a commission. Not only they have to follow a disciplinary code during the production and can only be produced in a specific territory (as the DOC wines are), but they have to maintain this quality level for at least 10 consecutive years and be tested mechanically AND by a human analysis. Of course all this attention raises the price of the wine, but if you want to taste a good wine without spending a fortune be sure that it is a least an IGT (the territory is not too restricted, but the vines have to be carefully selected and indicated, without mixing too much)
pizza doesn't come pre-cut. And we order one pizza each, it's an individual dish, not something you share, at least not when you are sitting down in a pizzeria
salad is not served as an entree, but as a side dish with the main course. And the only dressing option is olive oil, salt and – for those who like it – vinegar or lemon juice. This seasoning is personally done, the restaurant is never serving an "already dressed" salad.
Fettuccine Alfredo, spaghetti and meatballs, chicken parmesan, pepperoni pizza... you won't find these recipes listed in Italian restaurants in Italy! If you like the pizza with spicy sausage, ask for a "pizza con salame piccante", and instead of those "movies pastas", order "tonnarelli cacio e pepe" or "fettuccine al ragù". Chicken is usually served here with peperoni (i.e. non spicy peppers) or grilled, while you will surely enjoy eggplant parmesan, really delicious!
coffee is better tasting at a bar instead of restaurants: so, it is usually better (and cheaper!) to ask for the bill before coffee and have a healthy walk to the first good bar (yes, the bar here serves coffee, not alcool… at least, not only) and drink your espresso standing … "as the Romans do"
we usually have gelato on a cone, generally two or three flavours at the time (same price!) and we eat it while we walk in our errands or during a promenade
cookies for breakfast are not a treat, it's totally normal. While eggs for breakfast are extremely rare in an Italian house.
Do you know other weird aspect of Italian eating habits? Let us know with an email to info@afriendinrome.it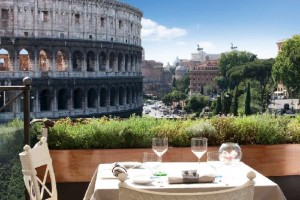 There is such a wide choice of places and options to eat in Rome: street food? A gelato? A fancy restaurant with a view? A traditional trattoria? A wine-bar for fine tastings? Midnight cornetto?)… It's impossible to list them all… We are "out there" everyday and we constantly ask for feedbacks from our guests (and we also do "quality checks" ourselves, ehehehe!), so here you find the links to our blogposts about food and drinks to let you plan your gourmet breaks in Rome!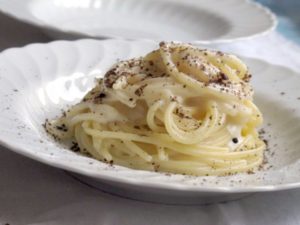 We are sure one of the reasons to plan a trip to Italy is food, and we agree: it's a damn good reason!
Food is an important "ingredient" in a lifestyle and indulging in a good meal or in a new taste will be a long-lasting memory of your holiday. Italian  cuisine is one of the most popular in the world, but few visitors know that every area of Italy has its own traditions and recipes,  creating a great regional diversity. This is a list of local specialities you have to try in Rome:
pasta: cacio e pepe (cheese and pepper), carbonara (egg, bacon, cheese and pepper), amatriciana (tomato sauce and bacon), gricia (cheese, pepper and bacon), arrabbiata (literally "angry", with spicy tomato sauce),  with Roman broccoli during the winter months
pasta e fagioli: pasta and beans soup enriched with pork fat and skin (cotiche)
gnocchi alla Romana: semolina baked in the oven with butter and cheese
the offal, known as "the fifth quarter", i.e. the innards and least expensive parts of beef and lamb or mutton. From tripes to tails, there is a long list of recipes to try, for the very brave! An easier combination could be the pasta with pajata sauce (small intestine of an unweaned calf cooked with tomato sauce)
saltimbocca (literally "leap-in-the-mouth"): veal escalopes cooked with a slice of ham and sage
abbacchio: roasted new-born lamb, usually served with potatoes. And also lamb chops i.e. abbacchio a scottadito ("burning your finger")
porchetta: slow-roasted pork stuffed with aromatic herbs and served cold, usually with the local bread from Genzano
fried mix: fillets of baccalà (salt cod),  courgette flowers stuffed with mozzarella and anchovies, both fried in a light batter. And of course supplì, fried rice balls stuffed with mozzarella.
artichokes Jewish style (carciofi alla giudia) deep fried in olive oil or Roman style (alla romana) i.e. stewed
pizza:  of course, we have great pizza here, Roman style which means paper-thin and crunchy. Also pizza bianca, white pizza just dressed with olive oil and salt, a plain appetiser or a perfect base for a "sandwich" with mortadella or figs and cured ham.
pastries: the traditional maritozzo (a soft roll filled with whipped cream), bignè di San Giuseppe (fried choux buns filled with cream, on sale during the month of  March when we celebrate Father's Day), crostata di  ricotta e visciole (sour cherry and ricotta tart)
grattachecca: only in the hot summer days you can find this refreshing dessert invented in the late XIX century and still served in these kiosks next to the river Tiber. It is  a cup of "grated ice" dressed with syrups, fruit juices and fruit salad
Go back to  "Eating in Rome" section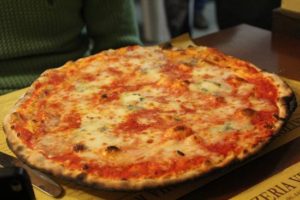 When in Rome….. eat at least a pizza a week!
And if you want to keep up with the locals, remember to order fritti as a starter – from supplì (the roman rice ball hors d'oeuvre) to fillets of baccalà (salt cod) to fiori di zucca (zucchini flowers stuffed with an anchovy and mozzarella). Here is a non-exhaustive list of my favorite pizza places:
Any great discovery you wish to add? Let us know by mail to info@afriendinrome.it . And if you wish to learn the difference between Roman pizza and Neapolitan pizza, watch this video!
To go back to the eating options, click here.
(revised August 2020) Well, we know gelato is a great attraction, but we have many alternatives in the "dessert field" and here are some good addresses for every sweet tooth coming to Rome:
And to conclude… if you wish to satisfy your gluttony and your hunger late at night, maybe after a long walk or a bit of clubbing, you can join the young Romans in this little ritual, the "night cornetto"! Bakeries (or better said cornetterie, which only bake cornetti, not bread) work all night to prepare cornetti for the following day and you can buy them hot, when they are just out of the oven and filled in many different ways (Nutella filling is the most popular, but try also the wholemeal cornetto with honey!) You will surely meet young "urban tribes" chatting and indulging in this whim out of those places:
Go back to  "Eating in Rome" section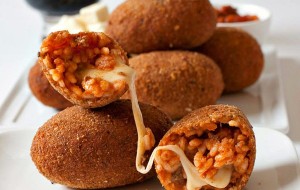 It's the trend of the moment, appreciated in the most important cities of the world and becoming the new gastronomic hit  in Rome too. During your sightseeing walks or just for a quick lunch break, this new habit is giving you the chance to try a kind of food you might not easily find in traditional restaurants. Be aware, these shops usually do not have seats for you and it is not easy to find an empty bench in Rome…. But! There is a special place in Rome called "Il Vinaietto" (Via del Monte della Farina, 38 – near Campo dei Fiori. Tel 066806989) where you can simply order a glass of wine and take your own food with you, exactly like the Romans used to do in the past in the "osterie".
Help us with your own tips: write to info@afriendinrome.it !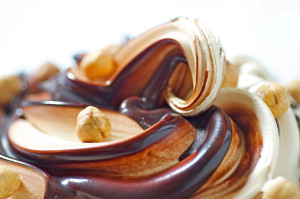 Shall we explain why gelato is good? I don't think so… Gelato is part of our culture, like pizza or pasta, fashion, soccer, wine… These are not commonplaces, but  statements about our everyday life. In Italy there are more than 35.000 gelateria and Italians eat an average of 75 cups of gelato each year (6 kilos!). This implies we know how to judge a good gelato and how to skip tourist traps. Here is our selection divided by areas, but suggest your discoveries!
In any case, do not line for a gelato longer than 5 minutes! We have so many gelato shops and no one can be considered " the best in town"… Gelato is a pleasure, if you have to queue too long, part of the pleasure is lost already!
And do not forget our local tradition in Rome, the "grattachecca"!!! It is the best relief for the hot summer days and if you have to queue for that, well, this is an experience and you'll feel like a real Roman! My favorite is "Sora Maria", the kiosk along Via Trionfale, near the Vatican, but you have several other opportunities (Piazzale Ponte Milvio, where the summer movida is! Or Piazza del Porto di Ripetta near the Spanish Steps, or "Fonte D'Oro" and "Sora Mirella" near Trastevere and finally, Porta Cavalleggeri just next to St. Peter's square).
Remember… "You can't buy happiness, but you can buy ice cream. And that's kind of the same thing!"
PS. Do not forget we offer the Gelato Tasting Tour in the centre (children love to evaluate best gelato while sightseeing!) and we can arrange a "Gelato Making Class" for you! 
To go back to eating options, click here
"Unsurprisingly, she knows all the best places to eat in Rome, including a gelateria that serves a frozen rice pudding (and if they don't serve this kind of thing in heaven, then I really don't want to go there.) She took me out to lunch the other day, and what we ate included not only lamb and truffles and carpaccio rolled around hazelnut mousse but an exotic little serving of pickled lampascione, which is –as everyone knows—the bulb of the wild hyacinth."
Just one quote from the novel "Eat, Pray, Love" by Elizabeth Gilbert. The first part of the book – which is "Eat"! – is all set in Rome and the main character goes to Italy to, one, learn the beautiful language and two, to eat to her heart's desires.
Once you are here you'll understand you can never (never!) starve in Rome, there is always a place around the corner serving food. Of course, not all restaurants are alike, not every trattoria is unforgettable and prices aren't always as reasonable as we'd hope for. However, there are lots of choices and sometimes picking one place from such an embarassement of options is hard. Lately there are plenty of updated websites, blogs and forums to help you out. But if you do not have time to surf the web, we have here a little list of places we like, just for a last minute reference:
And if you are not hungry yet… watch this video and you'll be soon !
To go back to the general "menu" for eating experiences, click here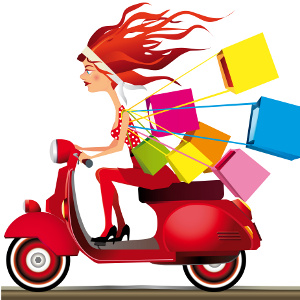 In Rome the retail trade is still carried on at street level rather than in impersonal malls, and there are still chances to find unique shops run by local craftsmen, where you can find that special gift that you just can't find elsewhere.
If you're looking for bargains, note that the winter and summer sales begin on the first Saturdays of January and July, and run for around a month.
We do not want to provide a complete list of shops for each category/item/area…. internet is full of them… But we will list here some addresses of nice shops we like and we visit while touring with friends or buying gifts for our family or popping in during a relaxed stroll in the centre. Do not hesitate to suggest your own favorite shops!
Fabriano boutique:  quality paper (Michelangelo used the paper produced by their paper mills!) and stationary items. Near the Spanish Steps.
Archeo Roma : replicas of ancient Roman artifacts from jewellery to gladiators' weapons… Near Piazza Venezia.
I colori di dentro : delicate watercolors by Maria Grazia Luffarelli. Near Campo dei Fiori.
Negozio Benedettino: in the beautiful garden of S.Anselmo church, on Aventino hill (Piazza Cavalieri di Malta, 5. Closed on Mondays). You'll find an herbalist shop, spirits and craft beers produced by the monks, cosmetics and religious items.
Bartolucci: pine-wood hand-made toys and gifts for your children. Near the Pantheon.
La Bottega del Marmoraro : located along the street of the artists (Via Margutta 53B), a tiny workshop where you can buy a pseudo-Roman tablet with an inscription of your choice for a very reasonable price.
Cravatte D'Angelo: tailored made ties, something unique for a very personal souvenir. In Trastevere.
Polidori: leather bags, each one is an original creation of the owner Federico Polidori (Via Piè di Marmo, 7). Near the Pantheon.
Ibiz: well-priced colorful leather goods (wallets, bags, belts and sandals). Near Campo dei Fiori.
Fabi38: tiny narrow shop at Via Frattina 38 selling quality purses and leather accessorises  for a honest price.
WeBag Lab & Shop: handcrafted leather bags and accessories. They can also customise your bag. Just a few steps from the Pantheon.
Patrizia Corvaglia Jewelry: her creation are metal ideas, unique shapes carved just for you in the ancient technique of the "lost wax" process. On Via dei Banchi Nuovi, between Castel S.Angelo and Piazza Navona
Spazio IF: IF stands for Irene Ferrara, the Sicilian designer of unique models of bags and accessories (belt, jewels, scarfs but also some clothing) . Really hand made "cool stuff", have a look! It's on Via dei Coronari 44.
L'Artigianato: just on Piazza Navona, a good stop for your souvenirs (they also ship items worldwide), from toys to homeware articles, traditional pottery or Murano glass (if you forgot to buy that last gift in Venice!) and main Made in Italy brands (what about a Bialetti Moka?)
Andrea 925: handmade jewellery in silver, telling stories and sharing memories. something unique for you and your friends.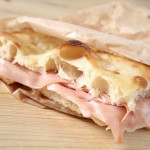 " In every major city in the Western world, some things are always the same. (…) But some things are only in Rome. Like the sandwich counterman so comfortably calling me "beautiful" every time we speak. You want this panino grilled or cold, bella?" – Eat, Pray, Love by Elizabeth Gilbert
While it is usually easy to find a good pizza or a hot dish of pasta in every trattoria in Rome, it is not so easy to get a good healthy fresh "panino" (sandwich). Therefore we decided to list here some good addresses near the touristic areas. And we welcome your suggestions to keep the list updated:
Fresco: few seats to rest a bit while eating a gourmet "panino" prepared in front of you,  some dishes of a day, a healthy salad and great wine. Not far from Piazza Navona.
Roscioli: not only bread and pizza to take away here, but the famous "pizza bianca e mortadella", a typical alternative to a sandwich in Rome (in the picture). Near Campo dei Fiori. We are sorry for vegetarians!
PaPo Bistrot  few steps away from the Spanish Steps, great unusual sandwiches, smoothies and comfort. And here you can also sit down at a real table!
Vero: sandwiches, but also salads and sushi. A good spot to sit down, rest with a cake and mug of hot tea or a frozen milkshake depending on the season. Mid way between the Vatican and Piazza del Popolo.
If you want to go back to the eating options, click here