On your own
Rome is the capital of Christendom, but I rarely sense the spirituality of this city of martyrs and saints in the most celebrated basilicas. Nevertheless, a lot of travellers come here in reason of their faith, maybe it's not the only push, but an important one. Therefore we ought to provide a list of activities and places to incorporate in your Roman holiday to nourish your spirituality: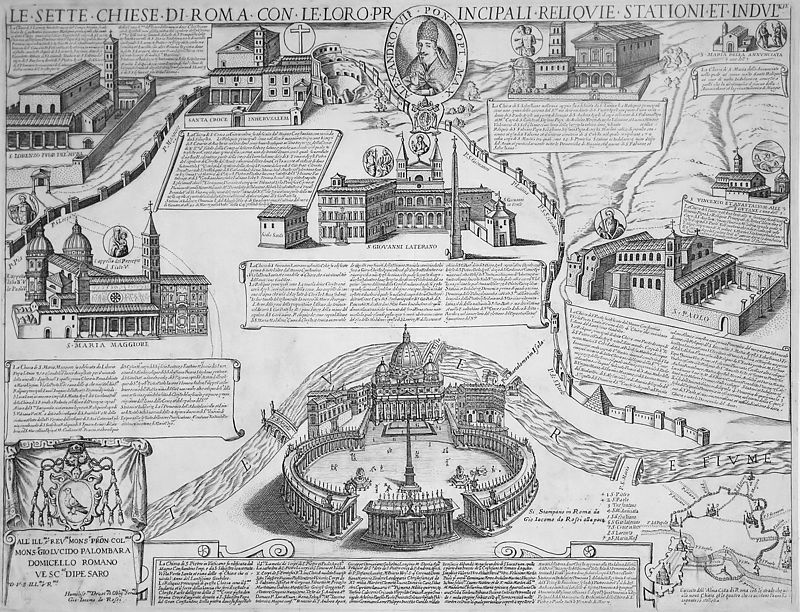 the place I prefer to go for this purpose is the Abbey of the Three Fountains: here Saint Paul received his martyrdom. According to the legend, when the apostle was beheaded, his head bounced three times and three springs of water came out from the ground. Three fountains were built over this holy place and they are still visible inside the baroque church. Leaving aside the art and historical values of this location, the feeling I always have as soon as I walk through the so-called "Arch of Charlemagne" is peacefulness: simplicity, silence, a synergy between art and nature, harmony. For men, and for a maximum of 6 days, you can even reside there and live the life of the monks, sleeping in the Foresteria.
Just next to the entrance of this abbey there is a small convent run by nuns called the "Petites Soeurs de Jesus", the order started by Charles de Foucauld. There is a little wood chapel in the garden, where everybody is welcome: no precious paintings, no comfortable seats, nothing that we are used to admire in a Roman church. Just your soul and blessed silence
If you wish to experience a traditional pilgrimage (with songs and prayers), every Saturday night from Easter to October you can join a group of local pilgrims and walk from Piazza di Porta Capena (Circus Maximus) to the Sanctuary of Divine Love. They meet at midnight and the whole night is needed to reach the sanctuary where you celebrate mass at dawn. Think ahead on how to come back and bring some water and food with you, the path is 15 km long!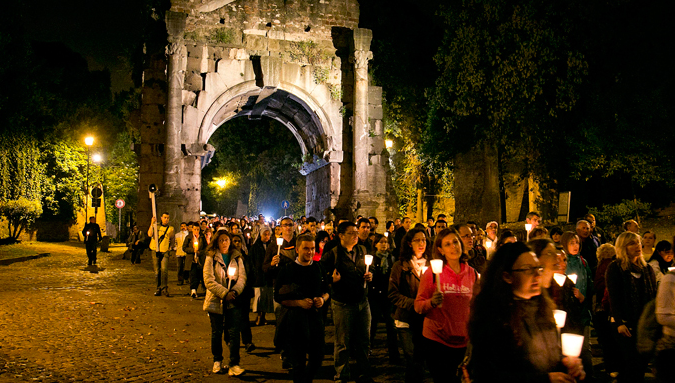 A different kind of pilgrimage to do with us is the "Seven Churches Path", but by bike. In the old times, it was possible to walk pleasantly from one church to another, mostly in the countryside, for the 16 miles needed. But today traffic and chaotic urban life make this path less enjoyable on foot. Still, the spiritual significance of these seven basilicas and the symbolism of the path are worth a tour: we suggest by bike in order to spare time for a prayer and some artistic appreciation.
The Holy Stairs are a staircase which Christ is said to have ascended to be sentenced to crucifixion by Pontius Pilate According to tradition, the steps were brought to Rome in 326 AD by St Helena, mother of Emperor Constantine. The stairs, located opposite the Archbasilica of St John Lateran in Piazza di S. Giovanni in Laterano, have to be climbed on knees as a form of respect, praying during the devotional ascension. The staircase leads to a chapel known as the Sancta Sanctorum, or Holiest of Holies, the ancient private chapel of popes.
In the medieval beautiful church SS. Quattro Coronati (not far from the Colosseum) the Augustinian nuns celebrate the Liturgy of the Hours from 6.30 in the morning to 6.30 pm and anybody can join. They also offer hospitality for few days if you seek silence and solitude. The convent boasts a fascinating cloister and the frescoed chapel of St. Silvester, therefore a visit is well paid in any case.
Catacombs are usually in the top list of visits for a christian tourist and you find our infos on this visit here. Internal tours are provided, it is rather easy go on own.
In the same link you find infos on the Papal Audience, that you can easily attend on own, provided that you have reserved. Remember, it is free, do not pay somebody for this, it's a fraud otherwise. The Angelus prayer with the Holy Father takes place almost every Sunday at noon sharp in Piazza San Pietro and you do not need a reservation.
Attending mass in Rome is the easiest thing to do, but you probably prefer an English "version" which is offered for instance in San Giorgio al Velabro, Saint Patrick, San Clemente (which definitely deserves a visit, especially the amazing excavations) or Caravita Oratory. If you look for a sung mass, you can head to Santa Cecilia in Trastevere, Basilica of Santa Maria Maggiore, Sant'Agnese in Agone on Piazza Navona. Very close to this famous piazza, you also have the Church of Jesus' Nativity where the Congolese community animates the service with their typical style.
There are special days of the liturgical calendar when you might appreciate being in Rome: Christmas period is of course a magical moment with the Nativity and Christmas tree in St. Peter's square and in most Roman churches, the Midnight Mass (book well in advance for St. Peter's mass, while you can join any service in "normal churches"), Te Deum on Dec 31st (after the Vespers the Pope visits the Nativity scene on the piazza, no need to reserve for this "meeting") and the Epiphany on January 6th, celebrated with an historical cortege following the Three Wise Men along Via della Conciliazione. On January 21st the church of St. Agnes outside the Walls, over homonymous catacombs, hosts the "blessing of the lambs", a very old and complicated tradition we will be happy to explain when you come here! During Lent the main moment for a visitor is the Pope's Via Crucis at Colosseum on Good Friday's night. And check the date of Pentecost to be at the Pantheon and assist to the "red petals shower" through the oculus of the dome, symbolising the descent of the Holy Spirit. During summer the main event is the miraculous snowfall of Santa Maria Maggiore on Aug 5th, which recalls the event of the foundation of the basilica.
"Eternal Rome" means that the jewel box of antiquity also has a very modern soul that will surprise you. Here is a list of areas, museums and venues we recommend, if you are looking for the contemporary aspect of Rome: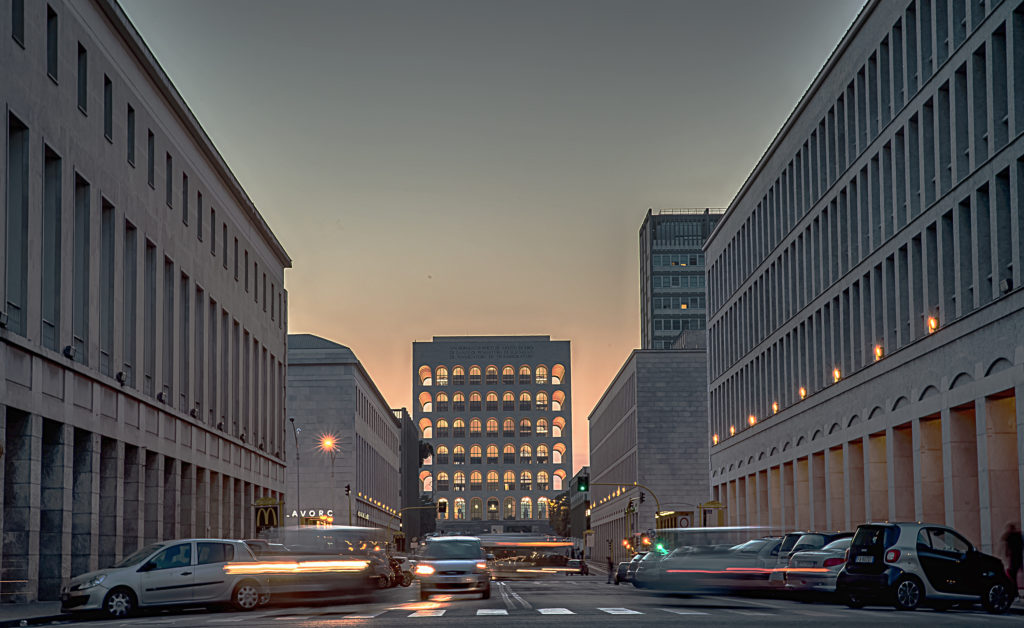 EUR district was the rationalist project that should have been hosting the EXPO of 1942, cancelled for WW2. Great buildings surround the area such as the Palazzo della Civiltà del Lavoro (also called "squared Colosseum"), the former Palace of Congress and the new version, Fuksas' Cloud, the artificial lake and the stele dedicated to Guglielmo Marconi, the huge domed church of St. Peter and St. Paul, meant originally as a mausoleum for Mussolini. We are happy to take you there for a guided visit, if you wish.
Interesting churches are Santo Volto di Gesù in Portuense area and the so called "Church of the Sails" by Richard Meier in Tor Tre Teste. Also faacinating is Paolo Portoghesi's Mosque, accessible upon request on some days.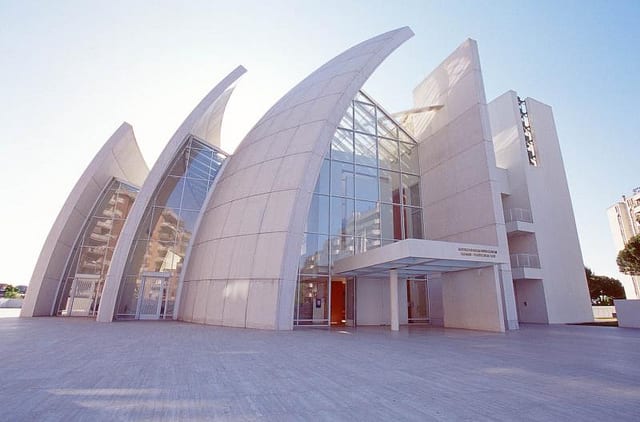 Street art is everywhere in Rome right now: Quadraro, Ostiense, San Lorenzo, Trullo, Pineta Sacchetti, Torpignattara, San Basilio, Rebibbia, Garbatella, Pigneto, Tormarancia… You can easily get lost and even accurate maps get old soon. We strongly recommend to visit these suburban districts with us, even better to rent a bike or a Vespa and get the highlights of Rome street art in a day…

Foro Italico is another creation of the Fascist age, with Mussolini's obelisk, the great stadium "Dei Marmi", the sport districts for tennis, swimming, diving and fencing and the nearby Ministry of Foreign Affairs.
Not far from Foro Italico there is the Park of Music, anticipated by the recent "Bridge of Music" that leads to the MAXXI museum by Zaha Hadid and to Renzo Piano's Auditorium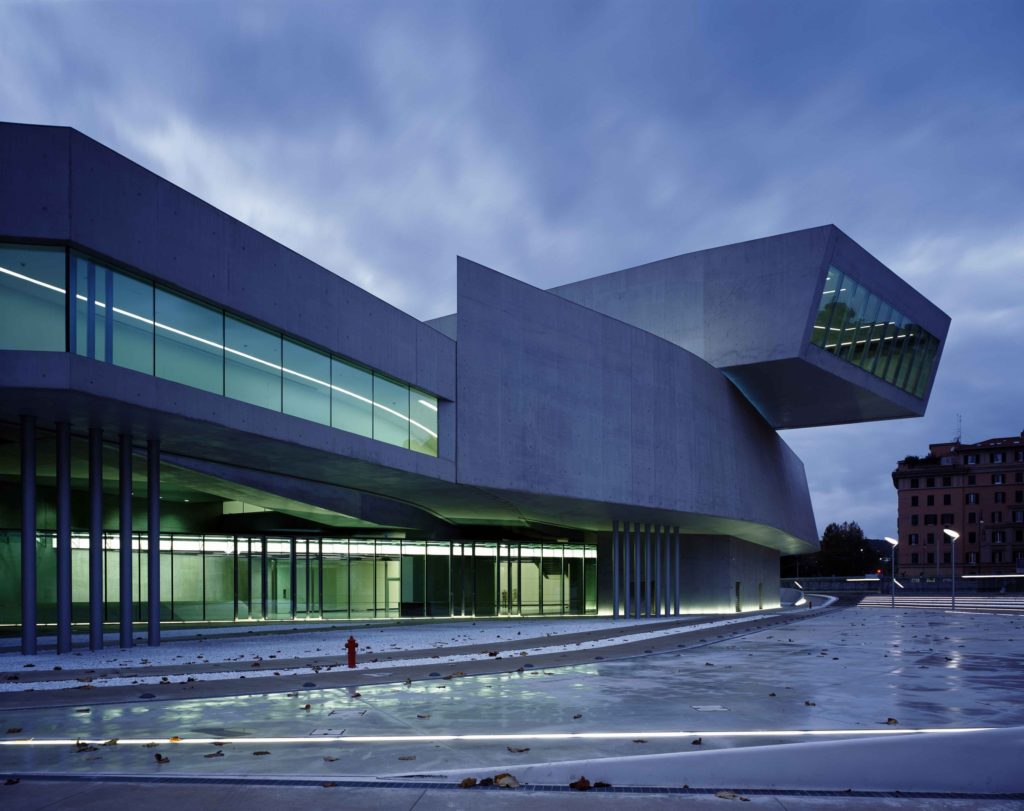 Other interesting museums dedicated to contemporary art are the MACRO, the National Gallery, the Civic Collection of Modern Art and the very unconventional MAAM Museo dell'Altro e dell'Altrove, a "museum of the Other and the Elsewhere", a squat in a factory only accessible to visitors on Saturdays.
In a time in which traveling is restricted, everybody is looking for alternatives, from staycations to any town activity that makes you feel "on holiday".
For instance enjoying the sunset with a drink from the rooftop of a smart terrace. And, let's admit it, when the view is the skyline of Rome, the trick is done!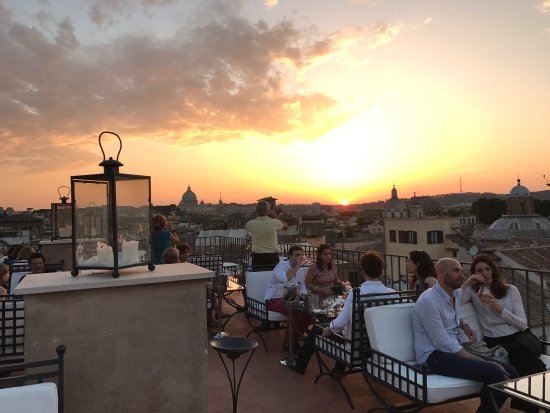 Thanks to the suggestions of some friends who are actively "researching" and testing, we have here now a list of cool places for aperitivo with a view which will come useful when you are able to join us again from abroad.
If you have suggestion to add to this list, send us a mail to info@afriendinrome.it
Following our post about how to best arrange a family trip in Rome when young travellers are involved, here we collected several suggestion on how to spend your spare time with kids in Rome, divided by age groups:
Up to 6 year old.
Casina di Raffaello (indoor): it is a game room located in the Borghese Park. It's open everyday except Mondays. It's free for babies up to 3 y.o. (a ticket applies to older children). Check their website for workshops, special events and updated infos. A nice playground area is just outdoors
Borghese Park (outdoor): apart from the "Casina di Raffaello", the park is a perfect location for young children: you can rent bikes and rickshaws, even a boat to row on the small lake. A light train service is offered and drives across the whole garden. You can arrange a picnic and spend the warmest hours of summer days under the shady trees.
Gianicolo Hill (outdoor): on top of this beautiful terrace overlooking Rome (which will delight grown-ups!) you can still enjoy a traditional puppet show on Sunday mornings: it's in Italian, but usually young kids like it anyway! And – at noon sharp (every day, rain or shine!) – a cannon shots a ball to mark the time: you will be surrounded by several Italian children with their grandparents!
EXPLORA (indoor): check the website for the updated activities, opening times, prices and services of the "Museum of the Children". It is within walking distance from Piazza del Popolo (Flaminio stop on metro line A or tram line).
Swimming pool (outdoor): during summertime many hotels open their pools to external guests (Parco dei Principi, Aldrovandi, ES, Exedra, Hotel del Gianicolo, Hotel Villa Pamphili, Waldorf Cavalieri…) and this could be a refreshing break for your children. There are also public pools such as the Piscina delle Rose in EUR district (B line of the Metro, Palasport stop) or the amusing water park Hydromania leaving the city.
Public playgrounds (outdoors): apart from the public parks (Villa Pamphili, Parco degli Acquedotti, Villa Ada, Villa Glori, Villa Torlonia…) there are several nice playgrounds around the city. We like the one at the back of the Auditorium (tram line n° 2 from Piazza Risorgimento to the end in Piazza Mancini)
Libraries and bookshops (indoor): usually young kids like relaxing in the quiet atmosphere of a library or a bookshop. In the city centre we recommend the children public library "Biblioteca Centrale dei Ragazzi" closed on Saturday p.m., Sundays and Mondays and located within walking distance of Campo dei fiori (Via San Paolo alla Regola 15-18).
From 7 to 12.
All the above activities can still be interesting to older children and we also add the following:
Teens.
Chose the suitable activities of the previous lists (for instance, the school of the gladiator usually appeals at any age, including dads!) and here you have some extra ideas:
Capuchin Friars Crypt (indoor): not far from the Spanish Steps and Trevi fountain there is a creepy ghostly crypt that teenagers usually find fascinating: five little rooms used as a cemetery and praying chapels by the Franciscan monks are completely decorated with the real bones of the deceased friars! The surreal atmosphere should not distract from the miraculous preservation of the bones and the spiritual significance of this unusual decoration.
Technotown (indoor): nothing compared to huge Science Museums in other major capitals of the world, but if your children like technology, this might be a suitable break from main visits. It is located in a beautiful park (Villa Torlonia) along the Nomentana (and we offer an off the beaten path tour over there, even by bike) and it is open every day except Mondays, for children over 8.
The Museum of Video Games: Vigamus is a small museum, but the selection of vintage video games is amazing and you can try them all. Video games are part of contemporary culture and art, therefore learning their evolution can be a break from all the "ancient stuff" and "church stuff" your kids will be exposed to during a trip in Italy…
A day at the beach (outdoor): if your teens love the seaside, you can treat themselves to a day at the beach. The sea around Rome is not spectacular, but beaches are fun! You can eat fresh fish, play beach volley, meet new friends and wait for a sunset drink or a night of dancing! As I've often been told by foreign friends, no trip to Italy is complete without a day on the beach, such is its unique atmosphere! The closest beach is Ostia Lido, which might be a nice relaxing time after a visit to the excavations in Ancient Ostia. Otherwise you can pick from Santa Marinella, Fregene, Anzio, Nettuno or the clean waters in Circeo National Park.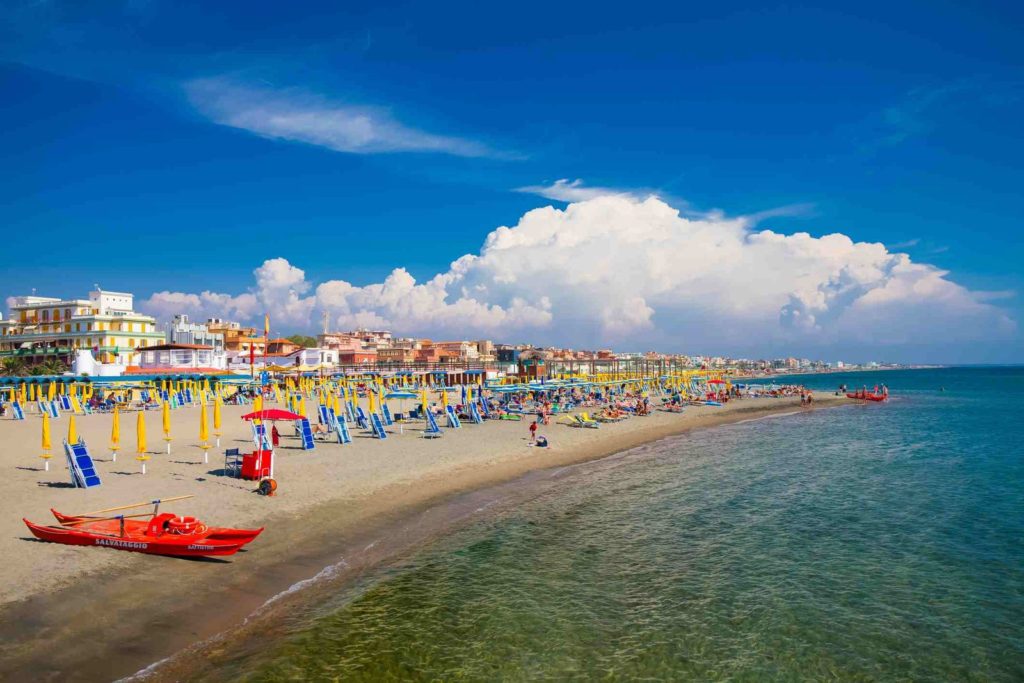 Last part of this blog post is what we can do for you during your stay in Rome with young travellers: tours, activities and experiences tailored on these age ranges are collected here.
In time of Covid-19 and waiting for phase two to start after a long lockdown, we are clearly aware international travel will not start very soon. We will be more than ready to welcome you in Rome as soon as it will be safe and pleasant to move around again, but in the meantime we have to wait and dream.
Ever heard of the "Grand Tour"?  It was a "travel habit" of the bygone days, just reserved to upper classes (and mostly male travellers!), an educational rite of passage before starting the proper adult life, a journey through the main "attractions" of Europe for the sake of curiosity and learning, but especially to touch with hands what have been learnt for years only on books and prints.
In these days we have to go back to this idea of  "tourism" (the modern concept of tourism comes in fact from this ancient European custom) when the learning phase comes first, followed by a long planning phase and finally the journey is a crowning achievement! It might be a good exercise to start traveling with more awareness and appreciation, following our deep interests and enjoying the planning moment a lot more. 
So here is a series of tips to start preparing your trip to Rome (I know you have no idea when this will happen, but you can start planning any moment. And BTW, here is our post about planning which might be interesting to read on the subject):
When you are ready to plan your trip, have a look also at our posts about "the perfect Roman Holiday" and the churches of Rome… they can help you to make a list of priorities.
And now our gift to you (or any of your friends you want to recommend us to): from now until July 2020, we are available for a free planning session by video call (or any other practical means you prefer), with no commitment to book a tour with us. We just like our city and wish to see "her" full of people from all over the word again soon, as it has always been!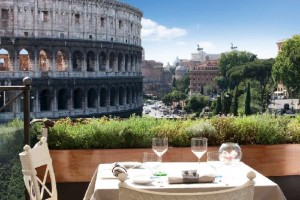 There is such a wide choice of places and options to eat in Rome: street food? A gelato? A fancy restaurant with a view? A traditional trattoria? A wine-bar for fine tastings? Midnight cornetto?)… It's impossible to list them all… We are "out there" everyday and we constantly ask for feedbacks from our guests (and we also do "quality checks" ourselves, ehehehe!), so here you find the links to our blogposts about food and drinks to let you plan your gourmet breaks in Rome!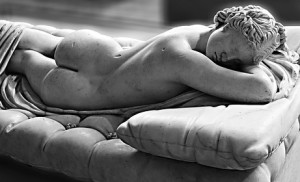 There are thousands of different options for your accommodation in Rome and it is quite impossible to have a full updated list of all the hotels, B&Bs, hostels, religious institutions, campings, apartments… we simply recommend caution in the choice of location, especially if you are visiting Rome for the first time: lodgings' websites are often "deliberately fuzzy" about locations.
We are at your disposal to suggest or assist you in booking your accommodation in Rome and we enclose here a short list of hotels, B&Bs and apartments that we personally know and have "inspected" for you: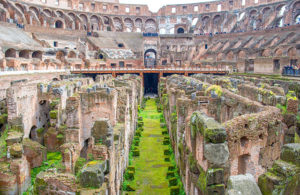 In the last years, the visit of the Colosseum has been enriched of new areas, i.e. the underground layer, the arena, the third tier and the "belvedere". Unfortunately the people interested in this kind of visit are more numerous than the available slots and the way these tickets are put on sale is not exactly "user friendly"!   We have tried in the past to assist our guests in securing these tickets, but every year it gets more difficult and frustrating. We understand the fascination of the dungeons and the attraction of exclusiveness,  but there are few things you should be aware of:
you can see the whole structure of the Colosseum even without this special access, from the ground level or second tier which are open to everybody with a standard ticket. It is mainly a matter of perspective.
right now (2019/2020) a major restoration campaign is going on in the underground areas, therefore this view is not so spectacular as usually is.
private slots are almost impossible to get and even a shared access is becoming more and more hard to buy: few tickets are on sale  and they are only released  once a  trimester.
There are several big companies which invest a lot of time and money (hiring staff only for this selling day and keeping them online and over the phones all day long) to buy the largest amount of tickets they can. They will resell  these tickets at higher price in conjunction with their tours. Of course this practice results into a lack of availability after few hours of the opening of sales. Finding a slot now is as hard as buying a ticket for the U2 concert!!!
Conclusions:
you can decide a standard tour of the Colosseum is enough, you will learn everything about the Colosseum in any case and we can combine the standard visit to an "Underground Rome" tour, including other sites nearby in order to  understand the stratification of Rome.
you can check the official website of the company managing the tickets of the Colosseum here:  www.coopculture.it. And you can try to secure the tickets on your own. They sell the simple access (in this case, if you wish to have a private guide with you, buy a 2 euro reservation with no ticket for your guide as well)  or you can buy the internal guided tour of the Colosseum (approx 75' long). If you are interested in a visit of the Forum/Palatine area (these sites are included in the ticket you buy for the Colosseum)  we can meet you later outside the Colosseum and tour these areas with you.
this internal company (Coopculture) has several guides at disposal, we know some of them, most are archaeologists and well prepared tour guides. It has to be said they reiterate this tour more than once a day and some days in a row. They know their stuff, but sometimes they lose freshness and enthusiasm.
Be informed and chose what's best for you!
A couple of extra notes: 
a little trick if you really want to "be there" even without an explanation, is to check the guided tours in Italian, they usually have more slots available. 
for the arena only we can be more helpful: as licensed guides we get some slots  to enter from there. We buy those tickets for you, but there will be a fee of 5 euro per persone on top of the admission cost.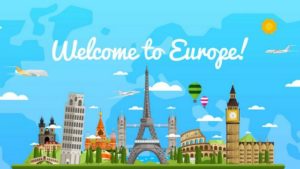 As you can imagine, we like travelling and we meet a lot of travellers here in Rome. Most of them had tours across Europe in the past and can share good contacts.  In order  to save  the best references for your  future trips, we are creating a list here below. We wait for your recommendation: do not hesitate and send  us your great tips!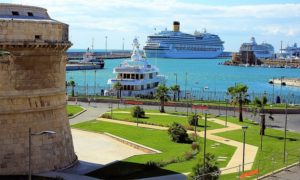 Many of our visitors are here on a cruise (or before/after a cruise) and need infos on how to reach the city from the harbour of Rome which is pretty far (approx 1,5 hr away form the city centre). Instead of creating a new blogpost, we are happy to share  here the useful infos provided by Linda of The Beehive Hostel & Hotel   on her page "Cross pollinate" about this subject.
With regards to our tours, we can meet you at the arrival of the train (two possible stations: Roma San Pietro or Roma Termini, depending on the itinerary we plan) or we can book a private transfer for you and coordinate with the driver to meet you in town at the first venue of our tour.
A good compromise to save some money is to take the train on the way into Rome and leave by private van. This is especially true in summer: in the morning is not hot and you still have plenty of energy to manage the port and the train, on the way back you are tired of the long day touring, the day temperature can reach 100 F and an air-conditioned transfer can be a good treat. Not to forget you cannot allow yourself being late and miss the train. And the ship!
Now that you have infos and tips, it's up to you to decide, according to your needs and budget.