Good to know....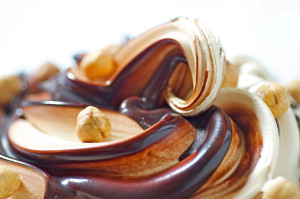 Shall we explain why gelato is good? I don't think so…
Gelato is part of our culture, like pizza and pasta, fashion, soccer, wine … These are not commonplaces, but true statements about everyday life in Rome. In Italy there are more than 35 thousands "gelateria" and Italians eat an average of 75 cups or cones of gelato each year (six kilos!). This implies we know how to judge a good gelato and how to skip tourist traps. Here is our selection for you (divided by areas), but feel free to suggest us new entries !
In any case, do not line for a gelato more than 5 minutes! We have so many gelato shops and no one can be considered " the best in town"… Gelato is a pleasure, if you have to queue too long, part of the pleasure is lost already!
And do not forget our local tradition in Rome, the "grattachecca"!!! It is the best relief for the hot summer days, and if you have to queue for that, well, this is an experience and you'll feel like a real Roman! My favorite is "Sora Maria" , the kiosk along Via Trionfale, near the Vatican, but you have several other opportunities (Piazzale Ponte Milvio, where the summer movida is! Or Piazza del Porto di Ripetta near the Spanish Steps, or "Fonte D'Oro" and "Sora Mirella" near Trastevere and finally, Porta Cavalleggeri just next to St. Peter's square).
And remember… "You can't buy happiness but you can buy ice cream. And that's kind of the same thing!"
PS. Do not forget we offer the Gelato Tasting Tour in the centre (children love to evaluate best gelato while sightseeing!) and we can arrange a "Gelato Making Class" for you!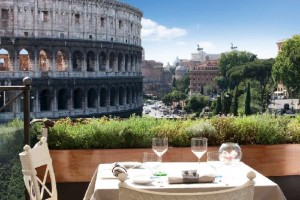 There is such a wide choice of places and options to eat in Rome (…Just some street food? A gelato? A fancy restaurant with view? Traditional trattoria? A wine-bar with some snacks? Midnight cornetto?) that it is impossible to list them all … We are "out there" everyday and we constantly ask for  feedbacks from our guests (and we do "quality checks" ourselves too, ehehehe!), so here you find the links to our blogposts about food and drinks to let you plan your gourmet breaks in Rome!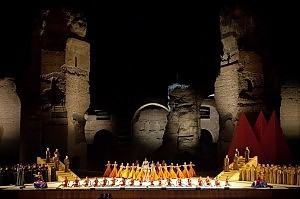 Rome's Opera House holds its summer opera and ballet season framed by the incredible ruins of the Baths of Caracalla (Terme di Caracalla), where you can enjoy opera under the stars. The performances feature the orchestra, chorus and the ballet company of the "Teatro dell'Opera di Roma" as well as international stars.
For over 70 years the monumental archaeological site has been a wonderful stage for unforgettable shows  set up in a magical frame of antiquity: in fact it was the year 1937 when the Teatro dell'Opera set up its summer season at the Caracalla Baths for the first time!
The Baths of Caracalla were among one of the major spa complexes in ancient Rome, maybe the richest for its splendid decoration. The baths were in use until 537 when Vitige, King of the Goths, cut the aquaeducts during the siege of Rome. In the first half of the 19th century the palaestra was rediscovered and mosaics of athletes and sporting judges were removed (you can now admire them in the Vatican Museums). Since then, non stop excavations have contributed to our knowledge of the monument revealing recently the underground galleries and a mitreum.
Opera was invented in the Renaissance Florence by a group of intellectuals who aimed to recreate the Greek drama combining poetry and music: the "sung theatre" (il recitar cantando) was originally just poems read aloud to the accompaniment of few chords. Opera flourished during the Baroque era, becoming a real business, a new world populated impresarios, librettists, divas and "castratos" (male singers who were evicted at the age of 8 to prevent their voice from breaking during puberty and giving them a great vocal extension from sopranos to tenor voices… This cruel practice was illegal but perpetrated among the poor who hoped their children would make good money from Opera).
In Rome the Counter Reformation stopped the development of the Opera which was only accepted in the 19th century when it had reached every social class, not only aristocracy. The Torre Argentina theatre (still in operation!) became the centre of the city's musical life and here Rossini performed his first "Barber of Seville" in 1816, followed by Verdi's "Trovatore" in 1853. The Rome Opera House opened in 1880, under the name of Teatro Costanzi from his patron, an hotelier. It became a public theatre in 1926 and was massively restored, boasting a wide stage and the largest Murano crystal chandelier in Europe.
If you are not in Rome during the Summer Festival, check the Opera House program and do not hesitate to book a seat if your read "Tosca" on it: it is the most Roman of all operas, a story of jealousy, obsession and lost love set in Rome during the tense period of the French Revolution and the fall of the first Roman Republic. The plot is played out over 24 hours in three important Roman monuments as backdrops, which can be the stops of a nice walk in the centre: the church of Sant'Andrea della Valle, Palazzo Farnese and Castel Sant'Angelo.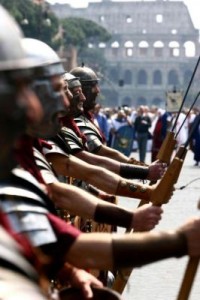 Every April 21st the "Eternal city" gets older!
Even this year there will be the historical parade along Via dei Fori Imperiali, just in front of the Colosseum, ending at Circus Maximus (the ancient chariot race track) where  the ritual ceremony of the "digging of the trench", a ri-evocation of the foundation of Rome, will take place: Romulus, Remus, the Vestal Virgins, the she-wolf…the whole tale will be much clearer afterwards!
PS. The historical group arranging the parade is also offering our activity-tour "Gladiator for a day", a fun way to learn about ancient history!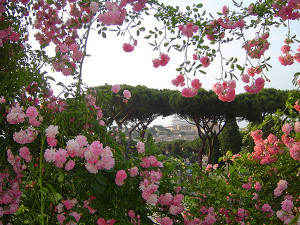 Maybe you've never heard about it, but since many years there is a special contest which takes place here during springtime, it is the Rome Prix for roses!
On the slope of the romantic Aventino, a municipal Rose Garden  is located.
Every year approximately 100 varieties of roses from all over the world are on show and the most beautiful is awarded. The Garden is open for free every day from April to June (exact opening and closing day depending on weather conditions and blossom season) and everybody can enjoy the perfumes and amazing colours of the queens of  flowers. This might be a nice break while touring the Aventino hills, one of our favorite areas in Rome!
Spring is definitely a great season to visit Rome, it might be crowded, but if you follow our off-the-beaten-track tips, you'll enjoy Rome a lot!
In fact we always recommend to visit Rome at least twice!
The first time is meant to  get acquainted, visit the must-sees and taste a bit of this Eternal City. For this kind of trip the winter months are the best, as you can explore the Vatican Museums, the Colosseum, the Forum, the Pantheon without a thousand people around you and maybe you can even find a good spot to throw the coin into the Trevi fountain without queueing to take that iconic picture.
Once the ritual of the coin has been accomplished, you can be sure you'll be in Rome again!!!
That 's when Spring is a great season! Leave the crowds to the main attractions you already know (you will catch up at night with the charming ruins of the Forum and the familiar arches of your "old friend", the Colosseum…) and start exploring the city where the Romans still live, work,  eat, drink, love and enjoy life!
When you plan a trip to Rome, you might need the following links: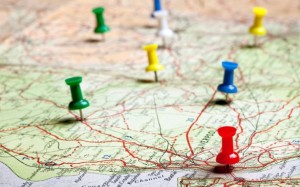 We firmly believe a trip starts when you start planning it. That said…the sooner, the better!
But it is also true you cannot reserve everything too much in advance. Make your reservations well ahead of time, chosing the best period for you/your family to travel. Consult local experts (like us!) concerning how many nights you should spend in each location, possible accommodations, transportation between one city and another and so on… Once a plan is in place and you have your flights and accommodations booked, you can finalize details on tours. Most of the attractions in Rome are just there for you to enjoy: the outdoors, the city itself are THE attractions and this allows you to be flexible and change your mind closer to the date of the trip. Keep in mind that some museums/sites/events require pre-booking.
Here we go: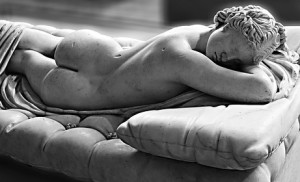 There are thousands of different options for your accommodation in Rome and it is quite impossible to have a full updated list of all the hotels, B&Bs, hostels, religious institutions, campings, apartments… we simply recommend caution in the choice of location, especially if you are visiting Rome for the first time: lodgings' websites are often "deliberately fuzzy" about locations.
We are at your disposal to suggest or assist you in booking your accommodation in Rome and we enclose here a short list of hotels, B&Bs and apartments that we personally know and have "inspected" for you:
"Unsurprisingly, she knows all the best places to eat in Rome, including a gelateria that serves a frozen rice pudding (and if they don't serve this kind of thing in heaven, then I really don't want to go there.) She took me out to lunch the other day, and what we ate included not only lamb and truffles and carpaccio rolled around hazelnut mousse but an exotic little serving of pickled lampascione, which is –as everyone knows—the bulb of the wild hyacinth."
Just one quote from the novel "Eat, Pray, Love" by Elizabeth Gilbert. The first part of the book – which is "Eat"! – is all set in Rome and the main character goes to Italy to, one, learn the beautiful language and two, to eat to her heart's desires.
Once you are here you'll understand you can never (never!) starve in Rome, there is always a place around the corner serving food. Of course, not all restaurants are alike, not all the trattoria are unforgettable, and prices aren't always as reasonable as we'd hope for. However, there are lots of choices and sometimes picking one place from such an embarassement of options is hard. Lately there are plenty of updated websites, blogs and forums to help you out.
But if you do not have time to surf the web, we have here a little list of places we like, just for a last minute reference:
Antico Arco: elegant atmosphere, international cuisine, prepared staff, far from the crowd (Gianicolo hill, perfect for a romantic stroll after dinner)
Il Bocconcino: next to the Colosseum, a restaurant following the "zero mile" rules and the "slow food" philosophy…
Ai Bozzi: in Trastevere, serving local cuisine with a pleasant "dehors". good choice of fish recipes, not so easy to find in Rome.
La Cabana: cozy restaurant mid way between Trevi Fountain and Piazza Venezia. Fresh fish, grilled meat, homemade pasta and desserts, kind professional staff.
Cavour 313: a refined wine bar near the Colosseum. You go there for the wine but food is damn good as well!
Il Chianti: next to Trevi fountain, a cozy place where a buffet is served for lunch and Tuscan specialities are the hit of the dinner menu.
I Clementini: next to Basilica di San Clemente church (do not miss it!) and few steps away from the Colosseum, a cozy Hostaria serving traditional food with great attention to quality of the ingredients.
Colline Emiliane: a gourmet experience in a family run restaurant, not far from Trevi fountain and Piazza Barberini. Handmade pasta is the specialty of the house, but every dish is a pleasant surprise!
Costanza: local cuisine served in an "archaeological attraction", the ruins of the Theatre of Pampey (next to Campo dei Fiori)
Cul de Sac: if you are tired of pasta and pizza, a more french-style bistrot cuisine and thousands of wines at the glass. Near Piazza Navona.
Ditirambo : traditional cuisine and cozy atmosphere. Near Campo dei Fiori.
Taverna dei Fori Imperiali: mid way between Piazza Venezia and the Colosseum, in the Rione Monti. A family run restaurant serving good quality food and a cozy atmosphere suitable to a quiet chat
La Gensola: elegant restaurant in Trastevere, next to the Isola Tiberina.
Trattoria Gino: if a restaurant can survive in the XXI century with no website, it means the food is really good! Here some Tripadvisor reviews where you find the contacts (it is located in Vicolo Rosini, 4, next to the Italian Parliament)
Gigetto: try the Jewish-Roman cuisine in the former Jewish Ghetto. Do not miss the fried artichokes!
Gusto: where you find a bit of everything, from pizza, to Sunday brunch, to fusion cuisine. Near the Corso.
Il Fico: local specialties in a relaxing setting, just in the middle of the Roma's movida (Piazza Navona side alleys)
I Sanpietrini: not far from St. Peter's square (where is harder to skip tourists traps!) a cozy restaurant with some tables outdoor for the summer, a bit of innovation combined with tradition.
Interno 92 : not for veggies! You will find a meat counter at the entrance and a butcher recommending the best cuts to be prepared in four ways: raw, grilled, fried or pan-baked. Near the Vatican, Borgo Vittorio 92.
Maccheroni: between Piazza Navona and the Pantheon, a warm atmosphere welcomes you to relax and eat Italian specialties, above all pasta, of course.
Il Margutta: not so easy to find a vegetarian restaurant in Rome! Located not far from the Spanish Steps, it also offers brunch and the bistrot formula to snack at any time.
Merulana: one of the rare cases in Rome where you can eat at any time! Near San Giovanni basilica.
Obicà: a mozzarella bar overlooking the lively piazza Campo dei Fiori. Perfect for people-watching and for a light meal.
Osteria Margutta: lovely restaurant and seasonal recipes not far from the Spanish Steps.
Passaguai: a meeting place, near the Vatican, open for lunch, dinner and in between!
Porto Fluviale: trattoria, pizzeria, small tastings, aperitivo, brunch….everything! In the young setting of the "trendy" district of Ostiense.
Romolo: traditional dishes in the garden where Raffaello used to meet his lover "la Fornarina"…soooo romantic!
San Teodoro: elegant restaurant with a pleasant dehors for a romantic dinner, in a quiet area (Velabro) not far from the Campidoglio
Spirito Divino: genuine products, homemade cuisine, "slow food" philosophy and an incredible cellar filled with wine AND history! Ask the owners about the archeological excavations….In the quiet side of Trastevere.
Taverna degli Amici : in an intimate and silent piazza next to the chaotic   Piazza Venezia, enjoy a traditional roman menu and a good glass of wine
Da Teo: in Trastevere, but the quiet side! A seasonal menu, some tables outdoors and friendly ambient
Al Tettarello: traditional restaurant and pizzeria in Monti, warm atmosphere
Trattoria Monti: near S.Maria Maggiore basilica, not easy to see, not cheap, but it's worth the effort!
Vecchia Roma: since 1916, a traditional trattoria near Santa Maria Maggiore Basilica
And if you are not hungry yet… watch this video and you'll be soon !