Good to know....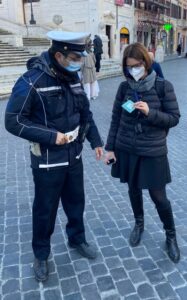 Let's admit it: the problem with tourist services is that you rarely need them more than once, or surely not very often. Booking a tour is not like buying milk everyday and making your choice based on your own daily experience.
You have to make an investment without really seeing nor testing what you are buying.
Surely, it it not the end of the world if the tour comes out less interesting or valuable than you had hoped for, but still… it's a loss of money and time, holiday time, which is not refundable!
That's why we consider very important our reviews (see TripAdvisor about us) and especially the word of mouth of your relatives, friends, colleagues, neighbours… These are all real people who experienced our tours and were satisfied. So satisfied that they are recommending our tours even after many years. We are very grateful for that, and very proud.
But this post is to add some more infos in order to build this trust:
background: I'm the founder of A Friend in Rome, my name is Silvia Prosperi, and I devoted my working life to tourism, more specifically to "incoming services". I worked for 13 years in the travel services of American Express, contracting local suppliers for American travellers who visited Italy. I traveled extensively in Italy and learnt so much about the travel industry in those years. Then I focused on Rome and its region Lazio, and I became a tour guide for my area. I also wrote a book (with Bill Richards) about "103 Other Adventures in and around Rome" to go beyond "the biggies".
license: everyone in "A Friend in Rome" team has a license to be a tour guide. We know not every country in the world considers this certification a must for our job, but this is the law in Italy and we comply to it. We passed an exam and we are professional tour guides, which means this is our full time job all year around.
guidebooks: we are listed in the Lonely Planet guide book, the Rough guide and some travel magazines (Time Out, Italia!…)
co-ops: we cooperate with many small travel companies in the US, we love small companies because we like to keep it "familiar" and friendly. They sent here hundreds of families and still do, in the last 15 years. Travel Addicts, Triple R, Ships and Trips, Gero Travel are some of these agencies.
we work for several companies in the business travel sector: team building trips, conferences and events often include tours. For instance we led tours for Ericsson, Microsoft, ACI, Miller Brands…
we also cooperate with foreign Universities, Italian schools, local associations (the British Expats Association, Roma Slow Tours, Explore Rome group…) and this help us to make our tour portfolio wide and varied. And we volunteered for some causes like Emergency and Muri Sicuri
What else might be useful in your opinion to create a trustworthy base in the tourist sector?