Good to know....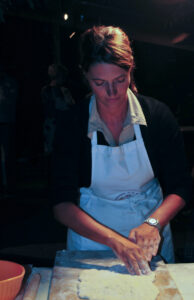 Do you know when supermarkets started to exist in the commercial world?
In 1830 the so-called "Magazines de Nouveautés" opened in France. Soon later Macy's opened in New York. Food stores opened in the US during WW1 and the traditional habit of single shops for different items waned after millennia.
It's easy to understand why, the new malls did offer several benefits:
speed: you can buy everything in the same place and pay by card just once at the end

parking: soon this became an issue, and the comfort of having a car trunk at hand made everything effortless

better prices: the big malls can be more competitive and obtain better rates from suppliers

wider choice: for every item you find a variety of options and can select what's best for you without looking in different shops

special offers: the malls attract new customers with periodical offers, and this way they maintain the loyalty of the old ones
For a small bakery just selling bread, for instance, it is difficult to stay in business.
Undoubtedly their bread is fresher, tastier, served with a smile and a chat with the nice owner.
But they have no parking outside and sometimes you have to wait in line to be served, or the bread you prefer is finished or expensive. And you need other stuff, so you have to go to a supermarket in any case, better to buy bread there too, isn't it?
Why am I telling you all this? Because our tours are like that bread.
We know is smooth and faster to just go to an OTA platform like Viator, Get Your Guide. Musement or ToursbyLocals and buy everything there in a click. In one evening at your laptop, you book your tour in Pompeii, your Vatican guide with tickets included, a wine trip in Chianti and the pizza class for the kids. Maybe it is cheaper too (not always, though!). And canceling is a piece of cake! You prepay everything by card and you do not have to worry anymore about your holiday.
Worry???
Since when planning a trip became a pain in the arse? Where the pleasure of savoring a trip before leaving ended up? Taking a map, selecting an itinerary, sending messages on the other side of the world and getting in touch with a driver, a host, an hotel manager, and *your* tour guide…. Explaining your wishes, exchanging ideas, getting suggestions…. We still believe in this travel experience. We love the connection created before meeting that makes all the difference when you land in Rome.
We understand exchanging emails, booking tickets, sending data is time consuming. But we still believe this is part of the (good) experience.
When you go grocery shopping for a normal week, you go to the mall. When you are cooking for a birthday dinner maybe you select your products with extra care and ask for suggestions to the shop assistant, maybe you are prepared to go to another shop if they sell that spice you need to make your meal special.. am I right?
We still consider your holiday in Rome a special treat that deserves time and care, the quality of an artisanal product and the extra touch of human relationship to flavor it all. If you think the same, you are in the right place.