Good to know....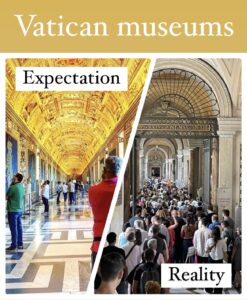 When I began as a tour guide – 15 years ago – I wouldn't say the Vatican Museums were ever empty, they were definitely busy, yet bearable and occasionally even pleasant. There are unique masterpieces in the collections, and I'm not just talking about the Sistine chapel: we also have Raphael, Botticelli, Perugino, Caravaggio, all the way up to Van Gogh and Francis Bacon, not to mention the classical statues and the amazing mosaics beneath our feet…. and more and more, from coins to carriages, Egyptian mummies to Etruscan gold jewels…. I could go on for too long, you got the idea!
But year after year, the situation has worsened:
The number of visitors is rocketing. In high season there are days when numbers hit 30 000 (I'm not so sure safety standards are respected in those narrow spaces)
Big groups, up to 5o people per guide. And there is a growing number of guides who are not so skilled at taking care of large parties, they obstruct the path of other visitors and become irritable and impolite.
Mandatory radio sets are only provided by one internal company (chosen by the Vatican). This leads to technical problems like interference and poor sound quality
There is a restricted path through the museums: you cannot go back, you cannot skip a section, you know at what time you enter but never at what time you leave!
Furthermore, booking an official ticket on the Vatican website is becoming a lottery: sales open at midnight 60 days prior to your requested date and 5 minutes later all the tickets are gone!
This results in all sorts of tricks to find tickets, adding services you are not interested in (breakfast, a garden tour, an aperitivo or lunch….) just to enter, and leaves guests doing acrobatic scheduling to fit the Vatican tour into their limited time in Rome (touring from 7.00 am in the morning to 10.00 pm at night).
Many "secondary ticketing" companies have been created, adding extra frustration and confusion: they buy up all the tickets as soon as they become available and you are forced to book through them at higher prices with some limitations (some tickets for instance do not allow us to lead a tour). It's a vicious cycle!
Unfortunately it has become pretty clear that love of art, personal enrichment and faith are no more part of the picture.
A huge number of guides continue to lead tours at the Vatican. What they will not admit is that we all feel the same and have begun to really dislike going there, but we grin and bear it as we are professionals and know that guided tours are extremely helpful. There is much demand, this is our job, and it's difficult to turn it down.
However, from January 2024 we will no longer be offering Vatican tours.
We want to continue to have a smile on our faces during our tours because we are genuinely happy to share these moments with you. We want to be part of the beautiful experience of art and history without having to conceal frustration and resentment with every step. Rather than spend hours on the phone or email just to explain how to buy a ticket for the Vatican, we can now spend time focusing on devising alternative itineraries which are much more pleasant, family-friendly, enriching and suitable for you.
Because hey, you are on holiday, not on a Marine Training Camp! Going to a museum should be enjoyable, not stressful!
So, what's next? We know you still want to go to the Vatican Museums and hope that you will find the best possible way to do that. But why not consider some of the exquisite alternatives like Galleria Borghese, Palazzo Colonna, Galleria Pamphili, Villa Farnesina? Otherwise, we will happily recommend a couple of great colleagues who can lead you at the Vatican Museums, or you can easily join the group tours of the Vatican Museums.
We hope our decision will not sound snobbish. It's the result of a soul searching started several years ago which is at the point where I do not see a valid solution anymore. My respect and admiration go to all my colleagues who are still able to make the most of it, despite the increasing obstacles.
(edit by Silvia Prosperi, A Friend in Rome, May 2023)