Good to know....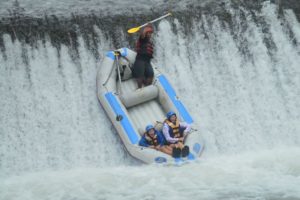 Last "meditation" about travelling (see n° 1 and n° 2)  is coming from my personal experience as a  mother of a 14 year old boy and as a tour guide meeting a lot of families with children: when your travel companion is a teenager,  you just have to keep in mind they do not have the same urge of "seeing it all".
You are travelling across the planet, you know how much this costs to you in terms of money and time and you are aware you might not have the chance to be there again soon. Of course this feeling is not shared by your children, they have their life ahead and they just want to enjoy their holiday (despite the presence of their parents, eheheheh!)
What I learnt about this specific situation is the following:
the program of the day should not be packed, plan just one main activity and be sure there will be enough time to relax in the hotel or at the beach/pool… (of course there must be free wifi signal there!)
better to plan the main activity in the morning, otherwise they will never get out of bed (but – if possible – do not plan a very early start, it is physically harder for them to wake up)
teens get easily bored if they just have to stand in front of something or slowly walk and listen, listen, listen to a guide. They need to *do* something in order to feel involved: plan a trekking, a rafting (BTW the picture above is my rafting in Bali with my son, summer 2017), a bike tour, an art lab, a food tour or a cooking class if they like eating and are curious about food …whatever keeps them active. In any case this would not be a waste of time for you: it is a chance to see a country from a different prospective, meet more people (both local and other travellers), going places you haven't considered which might turn out to be wonderful
check if there are interactive museums, virtual reality experiences and everything exploiting modern technologies (check our blog post  about what Rome offers): teens generally appreciate these venues and it can be  a good break during a sightseeing day
Do you have any other tips? Let's transform this post into a Decalogue, send  a mail to info@afriendinrome.it and I'll be glad to update it.