Good to know....
"Unsurprisingly, she knows all the best places to eat in Rome, including a gelateria that serves a frozen rice pudding (and if they don't serve this kind of thing in heaven, then I really don't want to go there.) She took me out to lunch the other day, and what we ate included not only lamb and truffles and carpaccio rolled around hazelnut mousse but an exotic little serving of pickled lampascione, which is –as everyone knows—the bulb of the wild hyacinth."
Just one quote from the novel "Eat, Pray, Love" by Elizabeth Gilbert. The first part of the book – which is "Eat"! – is all set in Rome and the main character goes to Italy to, one, learn the beautiful language and two, to eat to her heart's desires.
Once you are here you'll understand you can never (never!) starve in Rome, there is always a place around the corner serving food. Of course, not all restaurants are alike, not all the trattoria are unforgettable and prices aren't always as reasonable as we'd hope for. However, there are lots of choices and sometimes picking one place from such an embarassement of options is hard. Lately there are plenty of updated websites, blogs and forums to help you out.
But if you do not have time to surf the web, we have here a little list of places we like, just for a last minute reference:
And if you are not hungry yet… watch this video and you'll be soon !
To go back to the general "menu" for eating experiences, click here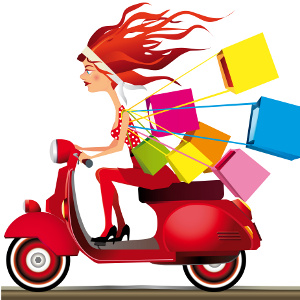 In Rome the retail trade is still carried on at street level rather than in impersonal malls, and there are still chances to find unique shops run by local craftsmen, where you can find that special gift that you just can't find elsewhere.
If you're looking for bargains, note that the winter and summer sales begin on the first Saturdays of January and July, and run for around a month.
We do not want to provide a complete list of shops for each category/item/area…. internet is full of them… But we will add – from time to time – some addresses of nice shops we like and we visit while touring with friends or buying gifts for our family or popping in during a relaxed stroll in the centre.
And you are welcome to suggest your own favorite shops!
Fabriano boutique:  quality paper (Michelangelo used the paper produced by their paper mills!) and stationary items. Near the Spanish Steps.
Angelo Di Nepi : fashion for women, a local independent stylist. Several boutiques in Rome.
Archeo Roma : replicas of ancient Roman artifacts from jewellery to gladiators' weapons… Near Piazza Venezia.
I colori di dentro : delicate watercolors by Maria Grazia Luffarelli. Near Campo dei Fiori.
Negozio Benedettino: in the beautiful garden of S.Anselmo church, on Aventino hill (Piazza Cavalieri di Malta, 5. Closed on Mondays). You'll find an herbalist shop, spirits and craft beers produced by the monks, cosmetics and religious items.
Bartolucci: pine-wood hand-made toys and gifts for your children. Near the Pantheon.
La Bottega del Marmoraro : located along the street of the artists (Via Margutta 53B), a tiny workshop where you can buy a pseudo-Roman tablet with an inscription of your choice for a very reasonable price.
Cravatte D'Angelo: tailored made ties, something unique for a very personal souvenir. In Trastevere.
Polidori: leather bags, each one is an original creation of the owner Federico Polidori (Via Piè di Marmo, 7). Near the Pantheon.
Ibiz: well-priced colorful leather goods (wallets, bags, belts and sandals). Near Campo dei Fiori.
Fabi38: tiny narrow shop at Via Frattina 38 selling quality purses and leather accessorises  for a honest price.
WeBag Lab & Shop: handcrafted leather bags and accessories. They can also customise your bag. Just a few steps from the Pantheon.
Patrizia Corvaglia Jewelry: her creation are metal ideas, unique shapes carved just for you in the ancient technique of the "lost wax" process. On Via dei Banchi Nuovi, between Castel S.Angelo and Piazza Navona
Spazio IF: IF stands for Irene Ferrara, the Sicilian designer of unique models of bags and accessories (belt, jewels, scarfs but also some clothing) . Really hand made "cool stuff", have a look! It's on Via dei Coronari 44.
L'Artigianato: just on Piazza Navona, a good stop for your souvenirs (they also ship items worldwide), from toys to homeware articles, traditional pottery or Murano glass (if you forgot to buy that last gift in Venice!) and main Made in Itay brands (what about a Bialetti Moka?)
Chez Marcel: on Via Canestrari 7, just outside that Piazza Navona where Marcel used to perform for decades his original show of "dancing fingers", you find now his tiny shop selling unique souvenirs with his own drawings on every kid of support.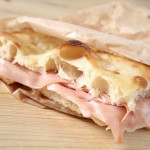 " In every major city in the Western world, some things are always the same. (…) But some things are only in Rome. Like the sandwich counterman so comfortably calling me "beautiful" every time we speak. You want this panino grilled or cold, bella?" – Eat, Pray, Love by Elizabeth Gilbert
While it is usually easy to find a good pizza or a hot dish of pasta in every trattoria in Rome, it is not so easy to get a good healthy fresh "panino" (sandwich). Therefore we decided to list here some good addresses near the touristic areas. And we welcome your suggestions to keep the list updated:
If you want to go back to the eating options, click here
Once you have spent the full day touring Rome, you might be willing to relax for the night. First option, we know, is always a very nice dinner in a traditional trattoria or in a gourmet restaurant, and of course you have plenty of choices. But maybe you wish to change for a night and enjoy great music!
These are some suggestions to plan a concert night during your Roman holiday:
Auditorium: the best place to listen to music in Rome, a great variety of events and festivals, including ballet, cinema, and very interesting lectures. On top, a nice atmosphere for a drink before the show mingling with locals!
Teatro dell'Opera : check if there is a concert or a ballet at the Opera House in Rome. And during summertime the stage is moved under the stars among the charming ruins of Caracalla Baths.
Concerti del Gonfalone: a prestigious location (a manneristic "Oratory" with splendid frescoes) for a rich program of concerts performed by a chamber music ensable and a professional choir specialising in baroque music.
Concerti del Tempietto: classical music under the stars and just next to a theatre of the 1st century BC! During summertime you can enjoy this magical atmosphere quite everynight. And before the concert they offer you a visit inside Marcello roman theatre, which is otherwise unaccessible to visitors.
Accademia Santa Cecilia : the historical Music Academy in Rome, since 1585, is Santa Cecilia. It is located a few steps from St. Peter's square and their concerts' program is rich and always "high profile".
Roma Opera Omnia : if you like the idea of a mix, i.e. touring and appreciating ancient music in a historical site, follow the proposals of Opera Omnia. Galleria Pamphili or S. Agnese in Agone are just some of the palaces and churches housing this "olistic" experience!
I Virtuosi : a bit touristy, but cheap and always available. You can enjoy the most famous opera "arie" in the church of S.Paolo within the Walls (Via Nazionale, near Termini station and Repubblica metro stop)
For those that love a different kind of music, we suggest some of the most famous music clubs in town. check them out and enjoy!!!
When you travel, you often want to devote most of your time to visits and experiences… food is surely an experience, but a full meal can easily "use" more than an hour of your precious time abroad… that's why many people ask for quick lunch options, but they do not look for just a "panino" (we have another blog post just for that!). Bars selling sandwiches or "pizza al taglio" (pizza to take away) do not have enough room to sit and rest, which is another need, after walking for hours in town. Nevertheless Rome is one of the best places to just sit outdoor and people-watching while nibbling away at a cornetto&cappuccino or enjoying a glass of wine with cold cuts and local cheese…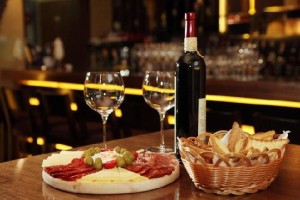 Here a short list of addresses to relax and have a bite which is not a proper meal:
And to conclude… if you wish to satisfy your gluttony and your hunger late at night, maybe after a long walk or a bit of clubbing, you can join the young Romans in this little ritual, the "night cornetto"! Bakeries (or better said "cornetterie", which only bake cornetti, not bread) work all night to prepare cornetti for the following day and you can buy them hot, when they are just out of the oven and filled in many different ways (Nutella filling is the most popular, but try also the wholemeal cornetto with honey!). You will surely meet young "urban tribes" chatting and indulging in this whim out of those places:
To go back to the eating options, click here.
There are so many  parks in Rome, it would be a pity not to enjoy one, at least!
Buy a ball, rent a bike and "live" the cheerful atmosphere of the gardens next to the Roman families.
Why not to buy some freshly baked  (warm!) bread or "white pizza" (we do not say "focaccia" in Rome, but "pizza bianca"), mortadella, salumi or your favorite cheese, a bottle of wine, a good  crostata or the unforgettable Pompi tiramisu' (find the new central shop in Via della Croce)  and go to Villa Borghese? After your pic-nic and a nap under the trees, you have several cultural options. You are in the "Park of the Museums" and you can chose among the important Borghese Painting Gallery, the interesting Etruscan Museum housed in the Renaissance Villa Giulia, the Modern Art museum La Galleria Nazionale  or just a pleasant quick look at the House of the Artist-workshop-museum Pietro Canonica dedicated to an Italian sculptor of the XIX century.
And remember… Relax, you are on holiday!
Many visitors reach Rome by plane and Fiumicino airport is the first approach to a new country, a new currency and a new language… after an intercontinental flight this might result into an exhausting experience and all you really want is a safe, easy way to reach the city centre and a comfortable bed in your hotel or B&B!
Of course, there are always cabs. Just line up outside the airport in the designated queue and you'll get a flat rate. A fast train (Leonardo express) or several private shuttle services are also available.
If you'd prefer a private limo service, we recommend the company "CONCORA"  which can always offer you a Class E car or van, even if you have not reserved one (in this case, you'll just have to wait a bit and they will arrange your transfer).  They have a desk inside the airport and will never charge you for any flight delays upon arrival.
If you book a transfer with them, here's how to find them once you arrive: as soon as you leave the Customs area, you should already be in Terminal T3 (International flights) and you'll find their desk right in front of you!
 If you exit from Terminal T1 (National flights),  just walk towards your right and you'll find T3.  You'll see there is a photo of their desk, so it should not be difficult to find them. But in case you can't, here are their phone numbers: +390665012069 or +39066507266.
There are also special promotions should you decide to book the transfer back to the airport: you can enquire and settle directly with them.
WELCOME TO ROME!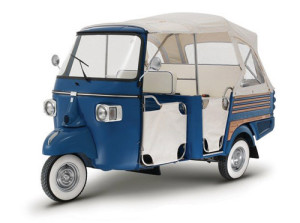 What's a "calessino"? The Piaggio commercial states:"…the folding top and the four seats make the Calessino ideal for a leisurely drive, perhaps with a picnic hamper in the back".
Yes, why not? All the tours we can offer you by bike, by scooter or on foot can be much more relaxing with a driver and a calessino at your disposal, don't you agree?
Have a look at this  video: this is not in Rome of course, you will film the ride in Rome, ok?
Your Friend in Rome always prefers to meet you directly at your place in Rome, especially on the first day of tours. But sometimes this is not possible…Maybe you are staying far away from the centre or we meet in the afternoon and you'll  be in the centre already. Or simply you wish to find your way in town and meet us in front of the main sites.
In those occasions, we prefer to give you exact information on where to meet for the two main attractions which are often crowded, i.e. the Vatican Museums and the Colosseum.
For the Vatican Museums we always recommend pre-booking tickets, which allows you preferential entry, just along Viale Vaticano and easily identified by  a special brown sign. We will be there!
For the Colosseum and Roman Forum, we'll meet you just outside the METRO B "Colosseo" stop, to the right, where the Newsstand is located. We will show a sign reading "A Friend in Rome" with our logo.
See you soon in Rome!
In summer we can hit 40°Celsius some days, so we post this "survival" advice to travellers  who plan a trip in the warmest months of the year. If your hotel or B&B has no private pool (which is more likely, as this is not a common feature in Rome), you can enjoy some public open-air pools. This is surely the best way to spend a few hours during the summertime after a cool early morning tour of the city's attractions.
Piscina delle Rose (Viale America, 20.Transport:  Metro B to EUR Palasport): an Olympic-size swimming pool that the public can use for nominal fee. Visit on weekdays to get the most bang for your buck.

Sporting Club Ostiense (Via del Mare, 128. Transport: Metro B to Marconi): an outdoor pool that's part of a larger sports club,  in EUR district.

Belle Arti (Via Flaminia 158. Transport: Metro A Flaminio) Well worth a mention for its fantastic central location tucked behind a church on Via Flaminia. A quiet atmosphere makes it good for those with very young children.
Grand Hotel Gianicolo    (Via delle Mura Gianicolensi 107) Part of a luxury hotel, this pool is located in elegant surroundings with palm trees and views of Trastevere from the Gianicolo hill. Lunch and dinner served at pool-side restaurant. Of course many other deluxe hotels have pool facilities but a much higher rates.
Hydromania (Casal Lumbroso 33 – Aurelio). If you prefer a water park with slides and wave pools, this is the place to go. A discounted rate if you go only for the afternoon. Not so easy to reach, Metro A to Cornelia and then a cab ride is probably the best way. Your teens will thank you!