Good to know....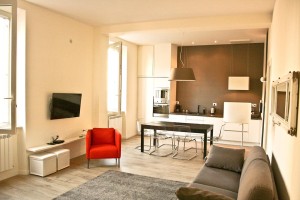 Apartments are a great solution for families with kids, parties of several people and in general when you spend more than a couple of days in town and you really want to experience the local life. This way you can even save a bit (especially if you waive a very central location) or bargain the best value for your money renting a flat (we all live in flats in Rome, forget that wonderful private villa you booked once in Tuscany!) in an historical building overlooking a charming narrow street of the Renaissance district.
There are many good companies specializing in the short-let business, we just recommend the "locally based", as they have the chance to help you out in case of need and they test the apartments on a regular basis. We personally know the founders of the B&B Association of Rome (specialising in both BB and apartments) and RomePower.
But we also have some friends renting their own property without intermediation of a company. This option lets you less chances of finding the flat available on the chosen date, but better deals if you are lucky. Here they are:
Go back to "Sleeping in Rome" section.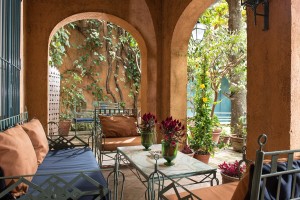 Under the concept of "Bed and Breakfast" you can expect many different experiences, from the original idea of sharing your time and space with a local family (this does not happen often in Rome) to a sort of small hotel where you will be checked in, provided for keys and be free to move about until your departure.
The number of authorised B&B is growing every next day, here you have a few suggestions:
Go back to "Sleeping in Rome" section.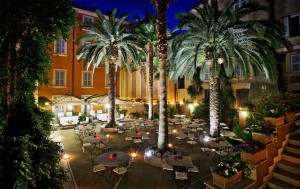 Hotels in Rome range from humble "pensione" (a simple boarding house) to top-end properties in historical buildings and rates vary a lot accordingly. Rates usually lower significantly during the winter months (from November to March). Always check for special promotions and look for the facilities you really need (for instance a car park or the air-conditioning) and the kindness of the staff (which is what makes the difference when you are in a foreign country and you might need assistance. In fact this is the main reason to chose an hotel instead of an alternative accommodation: a reliable 24 hr service at your disposal!)
Go back to "Sleeping in Rome" section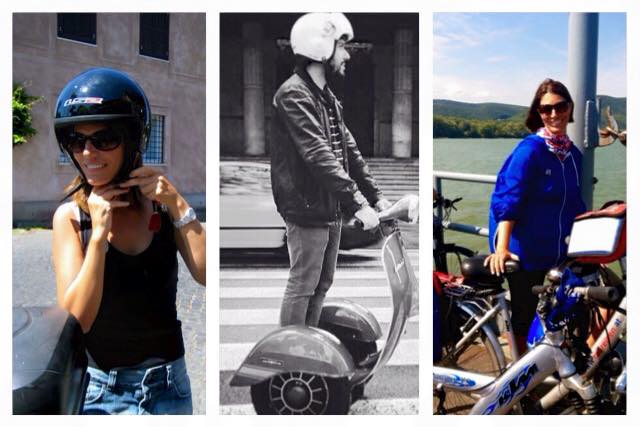 We decided to offer you authentic local experiences  only and you will never see a Roman on a Segway in Rome! We offer bike and scooter tours as we regularly go on bikes and scooters ourselves.
Moreover in Rome there are steps, holes, cobbled stones and crazy traffic jams, therefore a Segway can be hard to ride and dangerous. When in Rome, do as the Romans do !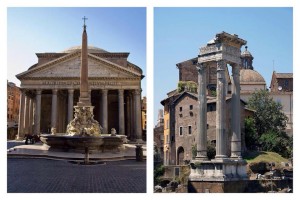 On Tripadvisor for each city you have a list of "attractions" (988 in Rome, for instance). We are now used to those "lists of things to do ", but I recently realised (while travelling to a foreign city) that when it comes to a CITY this approach has no meaning. Is the Pantheon more "important" or  "interesting" than (for example) the three columns of Apollo Sosiano's temple? They have exactly the same value as witnesses of the past, witnesses of an ended era which is still reflected every single day in our life, in our way of thinking, in our paths.
When you visit a city like Rome, so rich in history and transformations, you cannot understand it just by exploring single elements, without walking or biking/riding/driving yourself…. at least you have to be well focused when you are driven from one place to another and look well what is there in between two "attractions", and ask many questions and put everything on a timeline in your mind…. That's the only way to appreciate a city like Rome, always putting in relationship "before" and "after", always wondering WHY that road has that name and is bending like that and the wall is painted in that colour….
Living and working as a tour guide in a city like Rome, I decided several years ago that the only way to really enjoy it would have been in small or private parties, with a guide at your disposal maximising your (always too) short time and moving around: no big groups, no set itineraries with long transfers from one side to another of the city, no "attractions" just as a background for a good picture. A city is not a "theme park" where each element is a "line to skip – picture to take – tick on a must-see list…."
A city is a place to live and you need a mentor to understand it once you get here: only after a first introduction, a short orientation, you can decide to wander on your own, enter churches, museums, galleries, shops, just sit at a café in a piazza, eat local specialities, go to the beach or to the mountains around, spend a night at a concert… Best tip:travel slow, with a local… and come back!
P.S. Do not forget to travel in a sustainable way
Rome's skyline is unique and magic, you cannot miss a general overview of the city from the top of a famous monument or terrace.  And you have plenty of options here! We recommend to take a stroll in one of these "belvedere" in a sunny day and possibly at the end of your Roman holiday…you will be able to identify several attractions that you have visited during your holiday.
Let's start with a short list of  free-of-charge panoramic locations: the Garden on top of the Aventino (Giardino degli Aranci), the promenade of the Janiculum hill or the Pincio Garden offer nice terraces from where you can take unforgettable pictures, especially at sunset!
Just investing few euros you can climb the dome of St. Peter's (the tallest building in town): there is a lift but just to half way, then you have to climb 300 steps!  Less steps to go for the terrace of Castel S.Angelo, and you will enjoy St.Peter's dome itself from there.
If you are not ready for the steps, chose the terrace of the Vittoriano, the big white monument overlooking Piazza Venezia. The lift will take you to the top in few seconds and Rome will embrace you!
Finally, if you can afford a deluxe meal in one of the 5 star hotels in town, you will enjoy a holystic experience pampering all your senses from a roof top restaurant. Among the best terraces we suggest the GH De la Minerve, the Bernini Bristol and the Pergola at Waldorf Astoria Cavalieri, especially by night.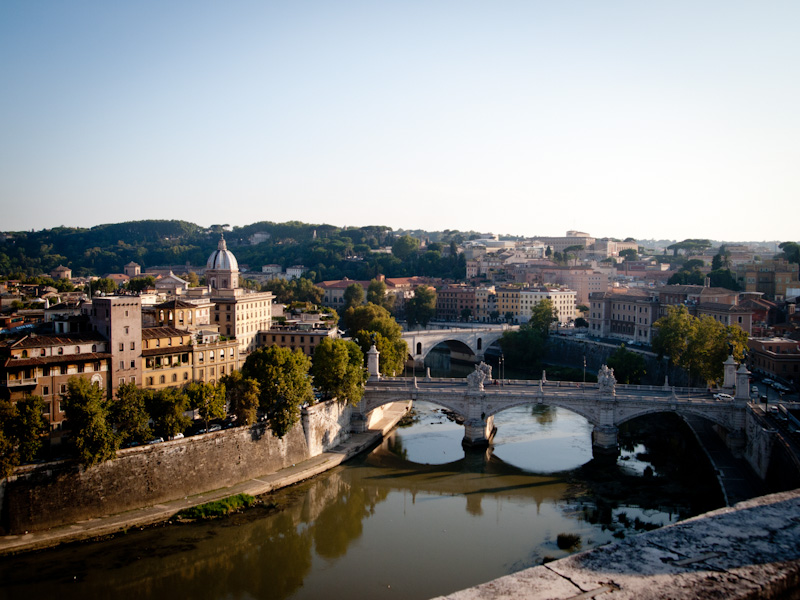 View over the Tiber from Castel S.Angelo and a video  (click) with 360° view from the Vittoriano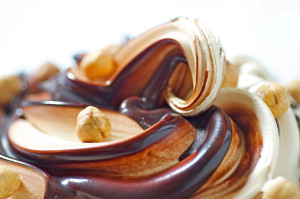 Shall we explain why gelato is good? I don't think so…
Gelato is part of our culture, like pizza and pasta, fashion, soccer, wine … These are not commonplaces, but true statements about everyday life in Rome. In Italy there are more than 35 thousands "gelateria" and Italians eat an average of 75 cups or cones of gelato each year (six kilos!). This implies we know how to judge a good gelato and how to skip tourist traps. Here is our selection for you (divided by areas), but feel free to suggest us new entries !
In any case, do not line for a gelato more than 5 minutes! We have so many gelato shops and no one can be considered " the best in town"… Gelato is a pleasure, if you have to queue too long, part of the pleasure is lost already!
And do not forget our local tradition in Rome, the "grattachecca"!!! It is the best relief for the hot summer days, and if you have to queue for that, well, this is an experience and you'll feel like a real Roman! My favorite is "Sora Maria" , the kiosk along Via Trionfale, near the Vatican, but you have several other opportunities (Piazzale Ponte Milvio, where the summer movida is! Or Piazza del Porto di Ripetta near the Spanish Steps, or "Fonte D'Oro" and "Sora Mirella" near Trastevere and finally, Porta Cavalleggeri just next to St. Peter's square).
And remember… "You can't buy happiness but you can buy ice cream. And that's kind of the same thing!"
PS. Do not forget we offer the Gelato Tasting Tour in the centre (children love to evaluate best gelato while sightseeing!) and we can arrange a "Gelato Making Class" for you!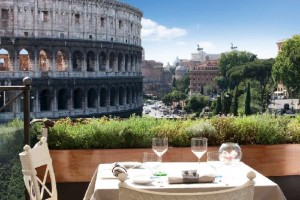 There is such a wide choice of places and options to eat in Rome (…Just some street food? A gelato? A fancy restaurant with view? Traditional trattoria? A wine-bar with some snacks? Midnight cornetto?) that it is impossible to list them all … We are "out there" everyday and we constantly ask for  feedbacks from our guests (and we do "quality checks" ourselves too, ehehehe!), so here you find the links to our blogposts about food and drinks to let you plan your gourmet breaks in Rome!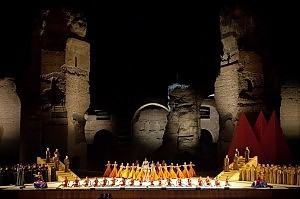 Rome's Opera House holds its summer opera and ballet season framed by the incredible ruins of the Baths of Caracalla (Terme di Caracalla), where you can enjoy opera under the stars. The performances feature the orchestra, chorus and the ballet company of the "Teatro dell'Opera di Roma" as well as international stars.
For over 70 years the monumental archaeological site has been a wonderful stage for unforgettable shows  set up in a magical frame of antiquity: in fact it was the year 1937 when the Teatro dell'Opera set up its summer season at the Caracalla Baths for the first time!
The Baths of Caracalla were among one of the major spa complexes in ancient Rome, maybe the richest for its splendid decoration. The baths were in use until 537 when Vitige, King of the Goths, cut the aquaeducts during the siege of Rome. In the first half of the 19th century the palaestra was rediscovered and mosaics of athletes and sporting judges were removed (you can now admire them in the Vatican Museums). Since then, non stop excavations have contributed to our knowledge of the monument revealing recently the underground galleries and a mitreum.
Opera was invented in the Renaissance Florence by a group of intellectuals who aimed to recreate the Greek drama combining poetry and music: the "sung theatre" (il recitar cantando) was originally just poems read aloud to the accompaniment of few chords. Opera flourished during the Baroque era, becoming a real business, a new world populated impresarios, librettists, divas and "castratos" (male singers who were evicted at the age of 8 to prevent their voice from breaking during puberty and giving them a great vocal extension from sopranos to tenor voices… This cruel practice was illegal but perpetrated among the poor who hoped their children would make good money from Opera).
In Rome the Counter Reformation stopped the development of the Opera which was only accepted in the 19th century when it had reached every social class, not only aristocracy. The Torre Argentina theatre (still in operation!) became the centre of the city's musical life and here Rossini performed his first "Barber of Seville" in 1816, followed by Verdi's "Trovatore" in 1853. The Rome Opera House opened in 1880, under the name of Teatro Costanzi from his patron, an hotelier. It became a public theatre in 1926 and was massively restored, boasting a wide stage and the largest Murano crystal chandelier in Europe.
If you are not in Rome during the Summer Festival, check the Opera House program and do not hesitate to book a seat if your read "Tosca" on it: it is the most Roman of all operas, a story of jealousy, obsession and lost love set in Rome during the tense period of the French Revolution and the fall of the first Roman Republic. The plot is played out over 24 hours in three important Roman monuments as backdrops, which can be the stops of a nice walk in the centre: the church of Sant'Andrea della Valle, Palazzo Farnese and Castel Sant'Angelo.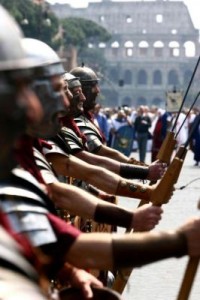 Every April 21st the "Eternal city" gets older!
Even this year there will be the historical parade along Via dei Fori Imperiali, just in front of the Colosseum, ending at Circus Maximus (the ancient chariot race track) where  the ritual ceremony of the "digging of the trench", a ri-evocation of the foundation of Rome, will take place: Romulus, Remus, the Vestal Virgins, the she-wolf…the whole tale will be much clearer afterwards!
PS. The historical group arranging the parade is also offering our activity-tour "Gladiator for a day", a fun way to learn about ancient history!