Good to know....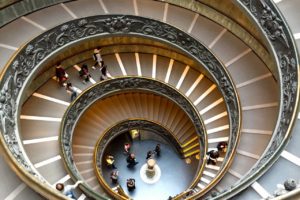 [November 2023]
A tour at the Vatican is probably the first line in your "to do list" for a trip to Rome (which is ironical, in fact, as the Vatican is not in Rome, neither in Italy… It's a foreign country! But you already know that, right?)
There is a lot to know about Vatican tours, as this site is overwhelming and you need guidance, at least to chose the right tour for you and your traveling companions (especially if they have special needs, like children, seniors or disabled visitors). We decided not to offer Vatican tours anymore in 2024 and here is why. We leave here some general info which might be useful to look for your best option:
first of all, you DO NOT necessarily need a guide to skip lines. You  simply book your ticket on the official website of the Vatican Museums, where you can also reserve a group tour or a private tour led by internal guides. This is what we recommend. If all the tickets are sold out, you might easily find a spot in a tour offered online by big companies or even the simple tickets. They will be surely more expensive, but above all this means that day at the Vatican will be extra crowded. If you wish to have a private tour with a guide we recommend, contact our dear colleague Rossella > rossellanatalino@hotmail.it
Ask yourself if the Vatican Museum (which includes the Sistine Chapel) is really so meaningful to you and your family, ask it twice if your kids are younger than 14…maybe you have already been and you just want them to see it as well: trust me, they do not really care so much and when they do, they will be able to be back at an older age. The Vatican Museum can be a real hell for the little ones: their eyes are at the height of the adults' waist and they do not see a lot.
best or worst time? Many people ask about the "early entrance" because this is largely advertised. But our reply is always the same: the early entrance is no longer so convenient as there are a lot of group companies buying slots for the  special admissions of 7.30 and 8 a.m. which results in galleries almost as crowded as in the rest of the day, having paid a higher price. We only recommend this early entrance if you need to leave Rome early on the same day (maybe for a cruise). An alternative is the ticket called "breakfast at the Vatican": you are allowed to enter the museum at 7.45 a.m. and have a buffet breakfast served in the courtyard of the Pinecone during the good days. We do not recommend this option in the cold months, as breakfast is served in the cafeteria and this is not scenic at all. If you do not plan to spend a long time in the museum, but just want to hit the "must sees", an entrance at 4.00 or 4.30 p.m. is probably the smarter idea.
night openings: in 2024 on Fridays and Saturdays and in some special weeks (like Easter or Ferragosto weeks) the museum will close one hour later, at 8 p.m. instead of 7 pm. Night openings have been cancelled.
St. Peter's basilica: we still offer the tour of the basilica, it doesn't require a booking, but lines can be long. Depending on the season, we can suggest the best timing in case you decide to visit it with us and it can be easily combined with a tour of Castel Sant'Angelo nearby.
The Vatican Gardens: are really interesting, but cannot be visited in a standard tour, only a limited number of visitors per day can drive across them onboard of a "safari minibus" which allows guests to enjoy the landscape and take pictures. This bus tour lasts approx 1 hr and it is an occasion to see the most significant buildings of the Vatican City State. It includes an audioguide in your language on the bus and the Vatican Museum ticket. Not available for kids under the age of 6 or people on wheelchairs. The Vatican Gardens can also be visited on a walking tour of about 2 hrs only led by internal guides.
The Vatican undergrounds: there are two underground sites in the Vatican City. The most famous is the so called "excavations" (offered by the Vatican "ufficio scavi") i.e. where the tomb of St. Peter's is located and you find all infos  and the form to reserve this tour here. Important to know is that you need to book well in advance (6 months ahead are recommended), children under the age of 16 are not allowed and the visit is not available on Sundays and religious holidays. Not expensive at all.  Much easier is usually the access to the necropolis of the Via Triumphalis discovered in 2003 during the construction of the new parking lot of Santa Rosa in the Vatican City State. This tour is led by internal Vatican guides only (approx 90′) and the ticket also enables the access to the Vatican Museums and Sistine Chapel.
Seeing the Pope: some agencies sell tours for this request, we find it a robbery as you can book and go on own and the Vatican doesn't ask for any money for this pass: they only require a reservation for audiences and masses with the Pope. You find the calendar and infos here. For the Papal blessing on Sundays at noon in St. Peter's square no reservation is needed. Just go there. It lasts usually 15 minutes.
If you have any other query about the Vatican, let us know and we will be happy to make researches and improve this post for everybody's benefit!