Good to know....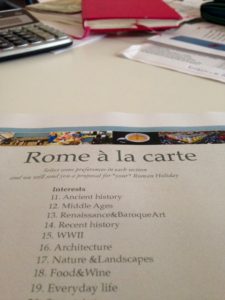 [revised Nov 2023]
Planning a trip is not easy: you always want to make the most of your time, you feel compelled to cover some "must sees" and you do not have time to dedicate to the planning because… well, generally you have a job, a family and some errands everyday…. That's why we are here for you! We can let you save a lot of time and worries about details such as booking everything at the right moment and spend only what is really needed for what you  wish to do and see.
In order to help you planning your perfect "Roman holiday" (not only Princess Anne deserved that!) we created a short menu to give you some ideas and a bit of inspiration. In Rome there is more than what you expect and we are here to assist you and transform a dream into a real experience.
In more than 10 years we helped parents to spend quality fun time with their children of any age, honeymooners to flash up together, husbands or wives to prepare a special moment for their life partners… we love to help you build a lifetime memory and  "go the extra mile" with you.
Ergo… when you contact us, we will send you this "Rome à la carte menu" and you will indicate some of  your preferences by numbers (like ordering from a take away!) : this will facilitate our job in sending you the right proposals.
For us it's always useful to know if you have already been to Rome, if there are children, teens or seniors in your party and how many days at disposal do you have. And of course, give us enough time to plan together: better to contact us from two months to two  weeks ahead of your trip (even earlier if you prefer, we like advance bookings). And happy planning!