Good to know....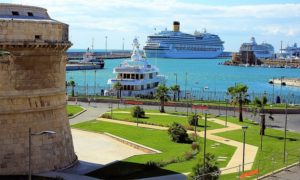 [revised December 2021]
Some of our visitors are here on a cruise (or before/after a cruise) and need infos on how to reach the city from the harbour of Rome which is not "around the corner" (approx 1,5 hr away from the city centre). Instead of creating a new blogpost, we are happy to share  here the useful infos provided by Linda of The Beehive Hostel & Hotel   on her page "Cross pollinate" about this subject.
With regards to our tours, we can meet you at the arrival of the train (two possible stations: Roma San Pietro or Roma Termini, depending on the itinerary we plan) or we can book a private transfer for you and coordinate with the driver to meet you in town at the first venue of our tour.
A good compromise to save some money is to take the train on the way into Rome and leave by private van. This is especially true in summer: in the morning is not hot and you still have plenty of energy to manage the port and the train, on the way back you are tired of the long day touring, the day temperature can reach 100 F and an air-conditioned transfer can be a good treat. Not to forget you cannot allow yourself being late and miss the train. And the ship!
Now that you have infos and tips, it's up to you to decide, according to your needs and budget.