Good to know....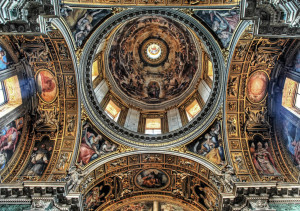 Can you guess how many churches are there in Rome? Nobody really knows, but rumours say more than 900 (and nobody has seen them all, despite what they say!)
The problem is that you don't have enough time to visit them all and they all contain incredible treasures, from a fascinating crypt to a masterpiece of a great artist just hanging there in a side chapel! Rome churches come in all shapes and sizes, from the IV to the XXI century, they are all free and generally a calm place to sit down far from crowd and heat, so do not hesitate to sneak in when you see one open in front of you (they usually close at lunchtime between noon and 3 p.m.), just remember to be compliant with the dress code (covered shoulders and knees) and respectful behaviour (do not eat and drink indoors, check  if you are allowed to take pictures, respect the silence).
All that said, our job as tour guides is exactly to help you maximise your time in Rome and suggest the best visits, according to your interest and taste. I checked with several of my expert colleagues to make a "top 10 list", but it was impossible to cut the story so short. So I ended up with a list of 10 types of churches and my advice is to touch base with one of each category. Let's start!
St Peter's basilica: ok, I know,  you knew that already, but in fact this is a MUST. The biggest and most incredible church in the entire world… of course you cannot miss that while you are here. BUT (there is a but!) crowd is becoming hard to cope with, security check are making lines very long so best advice is to go early in the morning (from 7.00 a.m.) or late in the afternoon (after 5 p.m.). Sometimes there are special events going on at the Vatican during your stay and the church will be off limits for special celebrations (sometimes with no pre-notice, e.g. for a Cardinal's funeral….). In case you cannot visit St Peter's for any reason see point 2.
Another Papal Basilica: yes, we have other 3 major basilicas in Rome, i.e. St. Paul,  St. John and S.Mary Major. They are all rich in history, relics and masterpieces. St. John is in fact the cathedral of Rome and the oldest official church of the Christian history, St. Paul was redone after a huge fire (1823) and  – despite being the newest – it is the most preserved (it was reconstructed exactly as it was in the IV century), St. Mary Major has dazzling ancient mosaics… So, even if you did have the chance to visit St. Peter's already, I think you should include one of these three in your itinerary.
 a paleo-Christian church: hidden charming simple churches preserving the atmosphere of the first centuries of the Christian faith. They are my favorite and I recommend Santo Stefano Rotondo on the Coelian Hill (10′ away from the Colosseo), Santa Sabina on the Aventino, San Giorgio al Velabro (just at the back of the Forum, but amazingly quiet), San Saba (you will be surely alone in there!) or – a bit farer from the centre – San Lorenzo outside the walls (a good opportunity to go off-the-beaten-path)
If you are into mosaics, you will be embarrassed: San Clemente (also famous for its 3 layers explaining the whole history of Rome in one block!), Santi Cosma e Damiano, Santa Prassede, Santa Pudenziana, S.Maria Maggiore, S.Maria in Trastevere, Santa Cecilia…. And a bit farer from the centre the hidden jewel of  Costanza's mausoleum!
Santa Maria Sopra Minerva, a stone's throw from the Pantheon (which, BTW, is a church but I do not consider it in this list as – to me – this is first of all the best preserved monument of Ancient Rome… another spot you cannot miss!) is considered the only gothic church in Rome: in fact it has a dark interior with unusual stained glass windows, but above all it's an art museum for free! To enjoy a bit of the medieval atmosphere which is often lost in Rome, I also suggest you a visit to the Abbey of the "Tre Fontane": the proof will be in the pudding!
For those of you who are fond of Renaissance architecture and  miss Florence so bad… well, we have pretty nice stuff here too: Santa Maria degli Angeli, Santa Maria della Pace, San Pietro in Montorio and its perfect Temple of Bramante nearby, Santa Maria del Popolo and Sant'Agostino so, if you become a fan of Caravaggio's paintings in there, go and visit also San Luigi dei Francesi…ohi ohi, the list is getting longer and  longer!
And now the period which is mostly representative of Rome, the Baroque. So many churches in this category, but I would say you can't miss the jesuit  Chiesa del Gesù or Sant'Ignazio (interesting "3D effects" in the paintings in both churches), Sant'Agnese in Agone on Piazza Navona, Sant'Andrea al Quirinale (if you like Bernini) or San Carlino (if you prefer Borromini)….
Something unusual is a neo-gothic church built in the XIX century district of Prati: it is called Sacro Cuore del Suffragio, but also known as "the small duomo of Milan"… you enter the main nave and you forget you are in Rome!
After so many historical churches, you can understand how hard it can be for a contemporary architect to plan something new in the field, and still worth seeing (and worth a long trip to the suburbs!), but I think the Church Dives in Misericordia by Richard Meier reached the goal.
Last but not least, remember in Rome there are places of worship for everybody, from non -catholic christian churches (like the interesting St. Paul within the Walls) to the Jewish Synagogue (with an interesting museum) and a Great Mosque.