Good to know....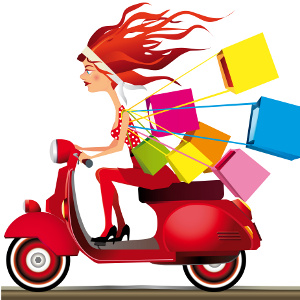 [revised December 2021]
In Rome the retail trade is still carried on at street level rather than in impersonal malls, and there are still chances to find unique shops run by local craftsmen, where you can find that special gift that you just can't find anywhere else.
If you're looking for bargains, note that the winter and summer sales begin on the first Saturdays of January and July, and run for around a month.
We do not want to provide a complete list of shops for each category/item/area…. internet is full of them. But we list here some addresses of nice shops we like, those that we visit while touring with friends or where we buy gifts for our family. Do not hesitate to suggest your own favorite shops!
Fabriano boutique:  quality paper (Michelangelo used the paper produced by their paper mills!) and stationary items. Near the Spanish Steps.
I colori di dentro : delicate watercolors by Maria Grazia Luffarelli. Near Campo dei Fiori.
Negozio Benedettino: in the beautiful garden of S.Anselmo church, on Aventino hill (Piazza Cavalieri di Malta, 5. Closed on Mondays). You'll find an herbalist shop, spirits and craft beers produced by the monks, cosmetics and religious items.
Bartolucci: pine-wood hand-made toys and gifts for your children. Near the Pantheon.
La Bottega del Marmoraro : located along the street of the artists (Via Margutta 53B), a tiny workshop where you can buy a pseudo-Roman tablet with an inscription of your choice for a very reasonable price.
Cravatte D'Angelo: tailored made ties, something unique for a very personal souvenir. In Trastevere.
Polidori: leather bags, each one is an original creation of the owner Federico Polidori (Via Piè di Marmo, 7). Near the Pantheon.
Ibiz: well-priced colorful leather goods (wallets, bags, belts and sandals). Near Campo dei Fiori.
Fabi38: tiny narrow shop at Via Frattina 38 selling quality purses and leather accessorises  for a honest price.
WeBag Lab & Shop: handcrafted leather bags and accessories. They can also customise your bag. Just a few steps from the Pantheon.
Patrizia Corvaglia Jewelry: her creation are metal ideas, unique shapes carved just for you in the ancient technique of the "lost wax" process. On Via dei Banchi Nuovi, between Castel S.Angelo and Piazza Navona
Spazio IF: IF stands for Irene Ferrara, the Sicilian designer of unique models of bags and accessories (belt, jewels, scarfs but also some clothing) . Really hand made "cool stuff", have a look! It's on Via dei Coronari 44.
L'Artigianato: just on Piazza Navona, a good stop for your souvenirs (they also ship items worldwide), from toys to homeware articles, traditional pottery or Murano glass (if you forgot to buy that last gift in Venice!) and main Made in Italy brands (what about a Bialetti Moka?)
Andrea 925: handmade jewellery in silver, telling stories and sharing memories. something unique for you and your friends.
Glauco Cambi: a jewellery, but more than that. The goldsmith here is an artist creating jewels and explaining all the process if you like to know more. He can show you the atelier and can even personalise the jewel just for you!