Good to know....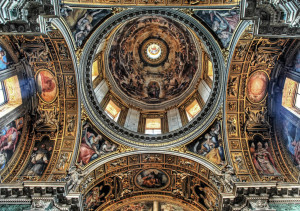 Can you guess how many churches are there in Rome? Nobody really knows, but rumours say more than 900 (and nobody has seen them all, despite what they say!)
The problem is that you do not have enough time to visit them all and they all contain incredible treasures, from a fascinating crypt to a masterpiece of a great artist just hanging there in a side chapel! Rome churches come in all shapes and sizes, from the IV to the XXI century, they are all free and generally a calm place to sit down far from crowd and heat, so do not hesitate to sneak in when you see one open in front of you (they usually close at lunchtime between noon and 3 p.m.), just remember to wear an appropriate dress code (covered shoulders and knees) and behaviour (do not eat and drink indoor, check  if you are allowed to take pictures, respect the silence).
All that said, our job as tour guides is exactly to help you maximise your time in Rome and suggest the best visits, according to your interest and taste. I checked with several of my expert colleagues to make a "top 10 list", but it was impossible to cut the story so short. So I ended up with a list of 10 types of churches and my advice is to touch base with one of each category. Let's start!