Good to know....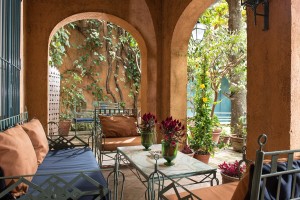 Under the concept of "Bed and Breakfast" you can expect many different experiences, from the original idea of sharing your time and space with a local family (this does not happen often in Rome) to a sort of small hotel where you will be checked in, provided for keys and be free to move about until your departure.
The number of authorised B&B is growing every next day, here you have a few suggestions:
Bed & Breakfast Association of Rome: this is a network of B&Bs and apartments, just focusing on Rome's accommodation, which ensure you they have a dirct control and recurrent quality check on the listed partners. Booking through a network would save you a lot of time, especially in high season, because they will be able to offer alternative solutions if your selected property is fully booked.
Angelina's Home: five romantic rooms located in Piazza Cavour, mid way between the Vatican and Piazza del Popolo, close to Lepanto metro station. Intimate atmosphere, stylish decor and all modern comforts.  And if you prefer the trendy district of Testaccio and a self-catering apartment, ask for their "La Corte".
Day by Day B&B: perfect location  a few steps from the Vatican, Piazza del Popolo and two metro stops. But above all, a warm welcome from Tiziana who will pamper you during your stay!
Guest House Arco dei Tolomei: nestled in the heart of medieval Trastevere, the guest house has been lovely restored preserving the charme of the bygone days. Breakfast is served in an elegant dining room with fresh specialties every day.
Buonanotte Garibaldi: luxurious guest house in the fascinating district of Trastevere, with a charming patio, an elegant living room and dining room at your disposal, refined bedrooms in a oasis of peace.
Nicolas Inn: a stone's throw from the Colosseum and the Roman Forum. Four elegant rooms and two apartment suites with all facilities and WI FI service
Best B&B Pantheon: bright spacious rooms right in the hearth of Rome, few metres from the Pantheon and Piazza Venezia. All rooms are tastefully decorated and have the ensuite bathroom. Breakfast is served in your room.
Daphne Inn: a deluxe B&B with a total of 11 rooms and a great location near Piazza Barberini (Metro A Barberini stop). Spotless, with all modern comforts including WI FI.
Casale Altavilla: a quiet villa 4 km away from St. Peter's basilica, enjoying a pleasant garden with private pool! If you reach Rome by car, this is perfect for you: free parking and a cheap corner of paradise. 
Le Fate: a big apartment catering up to 12 persons in a typical Roman flat, which can be rented in full or by independent rooms with a private area for breakfast and and exclusive bathroom. The apartment is located in Monteverde district, not far from the tram n°8, a quick connection to the Piazza Venezia, core of the city. 
Zaccardi: if you wish to save money on accommodation the general rule is to renounce to quality or to a central location. Here you are just few bus stops away from the historical centre but you get a room comparable to a 4 star hotel for a very reasonable price. They have 7 rooms at disposals, therefore this is perfect for big families or friends' goups too.
Go back to "Sleeping in Rome" section.