Good to know....
When you travel, you often want to devote most of your time to visits and experiences… food is surely an experience, but a full meal can easily "use" more than an hour of your precious time abroad… that's why many people ask for quick lunch options, but they do not look for just a "panino" (we have another blog post just for that!). Bars selling sandwiches or "pizza al taglio" (pizza to take away) do not have enough room to sit and rest, which is another need, after walking for hours in town. Nevertheless Rome is one of the best places to just sit outdoor and people-watching while nibbling away at a cornetto&cappuccino or enjoying a glass of wine with cold cuts and local cheese…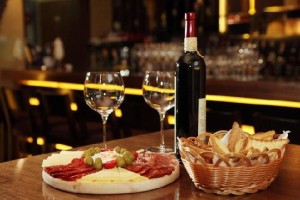 Here a short list of addresses to relax and have a bite which is not a proper meal:
And to conclude… if you wish to satisfy your gluttony and your hunger late at night, maybe after a long walk or a bit of clubbing, you can join the young Romans in this little ritual, the "night cornetto"! Bakeries (or better said "cornetterie", which only bake cornetti, not bread) work all night to prepare cornetti for the following day and you can buy them hot, when they are just out of the oven and filled in many different ways (Nutella filling is the most popular, but try also the wholemeal cornetto with honey!). You will surely meet young "urban tribes" chatting and indulging in this whim out of those places:
To go back to the eating options, click here.