Good to know....
When you travel, you often want to devote most of your time to visits and experiences… food is surely an experience, but a full meal can easily "use" more than an hour of your precious time abroad… that's why many people ask for quick lunch options, but they do not look for just a "panino" (we have another blog post just for that!). Bars selling sandwiches or "pizza al taglio" (pizza to take away) do not have enough room to sit and rest, which is another need, after walking for hours in town. And Rome is one of the best places to just sit outdoors and people-watching while nibbling away at a cornetto&cappuccino or enjoying a glass of wine with cold cuts and local cheese…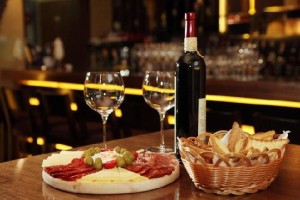 Here a short list of addresses to relax and have a bite which is not a proper meal:
Antica Salumeria: overlooking Pantheon square, this deli-shop also has a back room where you can sit down  and enjoy a tray of cold cuts and cheese with local bread and wine.
Babington's: a traditional English tearoom since 1893! Not cheap at all, but you enter another world and another age and forget the crowds and the noise…
Café Cafè: a bistro next to the Colosseum, where you can relax with an infuse or tea during the cold months or with a fresh smoothie when the day is hot. They serve a buffet lunch on Sundays and are open from 10 a.m. to late at night.
Canova Tadolini: posh cafeteria mid way between the Spanish Steps and Piazza del Popolo, formerly the atelier of a team of famous sculptors, Antonio Canova and his pupil Adamo Tadolini. You'll sip your cappucino surrounded by casts, statues and ancient tools!
Chiostro del Bramante: a unique cafeteria in a Renaissnace cloister designed by Bramante, few blocks away from Piazza Navona and offering a private special view over the fresco of "The Sybils" by Raffaello in the adjoining church of S.Maria della Pace. Just in Rome….!
Il Goccetto: a nice wine bar, not far from Campo dei Fiori. They serve a cold buffet and 800 labels of wines!
Magazzino Scipioni: a winebar of great quality, where you can taste some food to accompany your glass of wine. In the Vatican area.
Open Baladin: few steps from Largo Argentina and Campo dei Fiori, open from noon to late night and perfect for craft beer lovers!
Cantina Ripagrande: in Trastevere, a small "cellar" to drink some wine and snack cold dishes. Cozy atmosphere.
Tiepolo: a bistrot where you can enjoy a mediterranean creative cuisine, a lot of vegetarian options, a cozy warm atmosphere between Trastevere and the Pantheon/Piazza Venezia.
Ai Tre Scalini: "bottiglieria" i.e. a wide choice of beers, wines, spirits but also something to eat while drinking, look at the board for the menu of the day! In the nice 'hood of Monti, not far from the Colosseum.
Vivi Bistrot: Caffè Braschi is a new charming cafeteria serving lunch and dinner, but also delicious desserts for a break overlooking Piazza Navona.  Another location is in Villa Pamphili park where they also prepare cute little baskets for a pic-nic on the grass…
100% Bio: feeling tired of pasta, pizza, steaks, desserts…. ? Are you longing for an  informal healthy meal? This is the place for you, near the Pyramid (metro B Piramide), with a daily buffet serving 30 different dishes every day, mostly based on vegetables and organic food.
To go back to the eating options, click here.