Silvia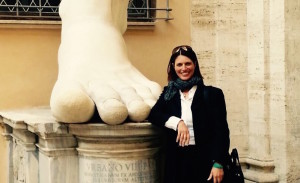 Ciao! I am Silvia and I was born in Rome in the Jubilee of 1975. I have always lived here because I cannot live anywhere else! Every day I find out a new hidden corner of Rome and I'll do my best to let you fall in love with my city.
I have a University Degree in Foreign Languages and I have been working in Tourism since 1996. I have written for several Italian travel magazines about events and attractions in Rome. In 2006 I decided to devote my expertise to independent travellers and I obtained my tour guide license.
During my spare time, I enjoy wandering around my city, walking or riding my bike or my inseparable scooter looking for new places, amusing anecdotes, unique shops and learning more about 3000 years of Roman history! I also love jogging, cooking and I sing in a choir. To relax I practise yoga and explore the surroundings of Rome on my brand new motorbike!
In 2003 my son Mattia was born: motherhood gave me new ideas to explore the city through the eyes of a child, check out our child-friendly tours!
With a few reliable collaborators, I founded A Friend In Rome, a group of friends each one skilled in a different field within the wide world of tourist services. Our goal? To provide all kinds of assistance, advice and ideas in a friendly personalised  way!