Good to know....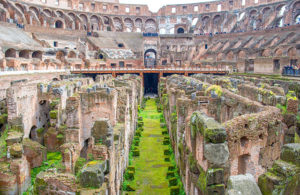 In the last years, the visit of the Colosseum has been enriched of new areas, i.e. the underground layer, the areas, the third tier and the "belvedere". Unfortunately the people interested in this kind of visit are more numerous than the available spots and the way these tickets are put on sale is not totally transparent nor "user friendly"!   We have tried in the last years to assist our guests in securing these tickets, but every year it gets more difficult and deceitful. We understand the fascination of the dungeons and the attraction of exclusiveness,  but there are few things you should be aware of:
you can see the whole structure of the Colosseum even without this special access, from the ground level or second tier which are open to everybody with a standard ticket. It is mainly a matter of perspective.
private slots are almost impossible to get and even a shared access is becoming more and more hard to buy: few tickets are on sale  and they are only released  once a  month in one specific day of the month before
There are several big companies which invest a lot of time and money (hiring staff only for this selling day and keeping them online and over the phones all day long) to buy the largest amount of tickets they can. They will resell  these tickets at higher price in conjunction with their tours. Of course this practice results into a lack of availability after few hours of the opening of sales. Recently finding one access is as hard as buying a ticket for the U2 concert!!!
Conclusions:
you can decide a standard tour of the Colosseum is enough, you will learn everything about the Colosseum in any case and we can combine the standard visit to an "Underground Rome" tour, including other sites nearby in order to  understand the stratification of Rome.
you can check the official website of the company managing the tickets of the Colosseum here:  www.coopculture.it. And you can try to secure the tickets on your own. They sell the simple access (in this case, if you wish to have a private guide with you, buy a 2 euro reservation with no ticket for your guide as well)  or you can buy the internal guided tour of the Colosseum (approx 75' long). If you are interested in a visit of the Forum/Palatine area (these sites are included in the ticket you buy for the Colosseum)  we can meet you the same or following day outside the Colosseum and tour these areas with you.
This internal company (Coopculture) has several guides at disposal, we know some of them, most are archaeologists and well prepared tour guides. It has to be said they reiterate this tour more than once a day and some days in a row. They know their stuff, but sometimes they lose freshness and enthusiasm.
Be informed and chose what's best for you!
A couple of extra notes: 
a little trick if you really want to "be there" even without an explanation, is to check the guided tours in Italian, they usually have more slots available. 
for the arena and belvedere only (not the underground which is more "popular",  we can be more helpful: they are still less required (it will change next year for sure) and as licensed guides we get some slots  to enter from the arena directly or to reach the attic (consider a lot of steps, no elevator available): we can give you instructions to buy those tickets, but you can only use them  if led by a guide. Not available last minute, 2 or 3 weeks ahead is a minimum amount of time to try get those tickets.