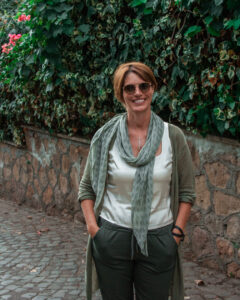 Ciao! I am Silvia and I was born in Rome in the Jubilee of 1975. I have always lived here because I cannot live anywhere else! Every day I find out a new hidden corner of Rome and I'll do my best to let you fall in love with my city.
I have a University Degree in Foreign Languages and I have been working in Tourism since 1996. I have written for several Italian travel magazines about events and attractions in Rome. In 2006 I decided to devote my "know-how" to independent travellers and I obtained my tour guide license. 
During my spare time, I enjoy wandering around my city, walking or riding my bike or my inseparable scooter looking for new places, amusing anecdotes, unique shops and learning more about 3000 years of Roman history! I also love jogging, cooking, reading… When I need to relax, I take some days off and  I hike along the ancient paths of the pilgrims. I have a son and I love traveling with him: now he is grown up, so I've seen all the different phases of travelling with kids and teens…. been there!
With a few trustworthy colleagues, I founded A Friend In Rome, a group of friends with different skills in order to provide all kinds of assistance, advice and ideas in a friendly personal  way!