Good to know....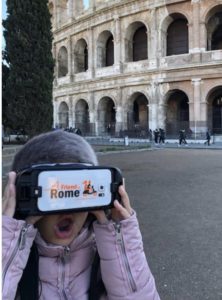 (Revised November 2022)
It is becoming more common to have a technological support during an archaeological tour to better understand the site: we have always exploited the power of images to give you an immediate view of the aspect of the Colosseum, the Forum, the Circus Maximus in the Imperial Age. Recently  immersive and multimedia experiences reached an incredible quality and we do recommend to book one of those "shows" during your stay to enjoy the brilliance of  marble floors, bright frescoes and glittering mosaic tiles of the luxurious interiors of the bygone days. According to us, this is not substituting the importance of a traditional guided tour, when you have an expert at your disposal to explain details in front of each monument and – above all – to interpret the historical, political and social importance of the buildings, which represent an "age" and a (lost) society with its vision of mankind.
In main archaeological museums of Rome you find now videos of virtual reconstructions, also on YouTube you find a lot (we have a dedicated playlist of good videos here), but if you are looking for the immersive experience, simply enquire and we can offer special tours "with goggles" in the city centre, at the Baths of Caracalla or Diocletian, at the Vatican. If you are traveling with children/teens this is definitely a good idea (and by the way, there is a videogame museum in Rome, not too far from the Vatican, which might be a good break for them: it is called Vigamus and our 13 year old "tester" approved it…He also approved all the following list for you!)
If you wish to experience virtual reality independently, book one of the following:
Viaggio nei Fori: only from April to November as  it is outdoors enjoying the breeze of the night and the imposing ruins of the Forum of Caesar and the Forum of Augustus. In the first one, you walk through the area for 55′  while in the Forum of Augustus you'll be sitting on a bench for approx 40′. A recorded audio explanation in several languages is provided and there are three shows each night. We loved both of them.
Domus of Palazzo Valentini: a fascinating path in a real ancient domus (noble residence) with virtual reconstructions and audio explanations. Not to be missed, your understanding of ancient Rome throughout the city will be increased a lot!
Scatola Archeologica: literally the "archeological box", first museum in the world inside a condominium, as they found several layers of ancient roman history while renovating the building over ground. This happens a lot in Rome, but here, in just two days per month, you can see it reconstructed with virtual effects (so far the recorded explanation is in Italian only, we hope they will expand the options of languages and days of visit soon)
SUPER tickets at the Palatine hill entitle you to book the VR experience inside the Domus Transitoria, the palace of Emperor Nero destroyed by the fire of 64 AD. Also you have access to video reconstructions on the domus of Livia and domus of Augustus, still at the Palatine (currently only the House of Augustus has been resumed after Covid-19 restrictions)
Welcome to Rome: a multimedia space where you can dive into 2700 years of history of the Eternal City. Through video projections on the walls, ceiling and floor accompanied by a narrative voice you will receive a first introduction to the city of Rome. After this 30' engaging video, we can meet you to start walking across the city centre. A great way to start your stay in Rome
VR bus: a drive on a modern bus where windows alternate the views of current city (Imperial Fora, Colosseum, Circus Maximus) and their visual reconstruction in ancient Rome. It has several departures a day from Piazza Venezia with explanations in Italian and English (check the correct time and buy the ticket online accordingly)
We appreciate your help to update this list as soon as new experiences appear and if you have a comment on these shows, we will be curious to know your opinion and feedback!