Good to know....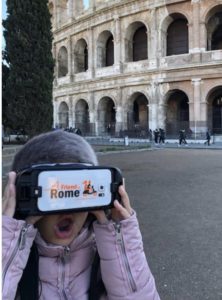 (Updated Jan. 2020)
It is becoming more and more common to have a technological support during an archaeological tour to better understand the site: we have always exploited the power of images to give you an immediate view of the aspect of the Colosseum, the Forum, the Circus Maximus in the Imperial Age.  Recently  immersive and multimedia experiences reached an incredible quality and we do recommend to book one of those "shows" during your stay to enjoy the brilliance of  marble floors, bright frescoes and glittering mosaic tiles of the luxurious interiors of the bygone days. According to us, this is not substituting the importance of a traditional guided tour, when you have an expert at your disposal to explain details in front of each monument and – above all – to interpret the historical, political and social importance of the buildings, which represent an "age" and a (lost) society with its vision of mankind.
In main archaeological museums of Rome you find now videos of virtual reconstructions, also on YouTube you find a lot (we have a dedicated playlist of good videos here), but if you are looking for the immersive experience, simply enquire us and we can offer you special tours "with goggles" in the city centre, at the Baths of Caracalla or Diocletian,  and we especially recommend the experience in ancient Ostia. If you are travelling with children/teens this is definitely a good idea (and by the way, there is a videogame museum in Rome, not too far from the Vatican, which might be a good break for them: it is called Vigamus and our 13 year old "tester" approved it…He also approved all the following list for you!)
If you wish to experience virtual reality independently, book one of the following:
We appreciate your help to update this list as soon as new experiences will appear and if you have a comment on these shows, we will be curious to know your opinion and feedback!