Good to know....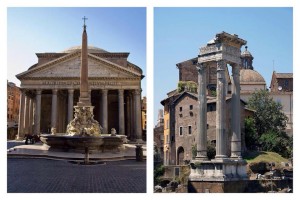 [revised November 2021]
On Tripadvisor for each city you have a list of "attractions". We are now used to these "lists of things to do", but I recently realised (while travelling to a foreign city) that when it comes to a *city* this approach has no meaning. Is the Pantheon more "important" or  "interesting" than (for example) the three columns of Apollo Sosiano's temple (in the picture)? They have exactly the same value as witnesses of the past, witnesses of an ended era which is still reflected in our daily life, in our way of thinking, in our paths.
When you visit a city like Rome, so rich in history and transformations, you cannot understand it just by exploring single elements, without walking or biking/riding/driving yourself…. at least try to be well focused when you are driven from one place to another, look what is there in between two "attractions", ask many questions and put everything on a timeline in your mind…. That's the only way to appreciate an historical city, always relating the "before" and  the "after", always wondering *why* that road has that name and is bending like that and the wall is painted in that colour (yes, these things really mean something in Rome!
Living and working as a tour guide in a city like Rome, I decided several years ago that the only way to really enjoy it would have been in private parties with a guide at your disposal maximising your (always too) short time and moving around: no big groups, no set itineraries with long transfers from one side to another of the city, no "attractions" just as a background for a good picture. A city is not a "theme park" where each element is a "line to skip – picture to take – tick on a must-see list"… A city is a place to live in and you need a mentor to understand it: only after a first introduction, a short orientation, you can enjoy to wander on your own, enter churches, museums, galleries, shops, just sit at a café in a piazza, eat local specialities, go to the beach or to the mountains around, spend a night at a concert… Easy tip: travel slow, with a local and come back!
P.S. Do not forget to travel in a sustainable way. Here a useful guide on Sustainable Tourism by Beeco Green and an interesting article with some travel proposals by Alandis Travel