Good to know....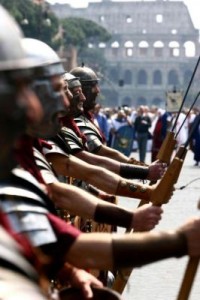 Every April 21st the "Eternal city" gets older!
Even this year there will be the historical parade along Via dei Fori Imperiali, just in front of the Colosseum, ending at Circus Maximus (the ancient chariot race track) where  the ritual ceremony of the "digging of the trench", a ri-evocation of the foundation of Rome, will take place: Romulus, Remus, the Vestal Virgins, the she-wolf…the whole tale will be much clearer afterwards!
PS. The historical group arranging the parade is also offering our activity-tour "Gladiator for a day", a fun way to learn about ancient history!