Good to know....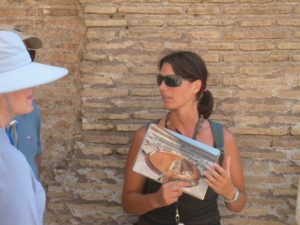 [revised November 2021]
We have to admit it: our job is wonderful! BUT…. it is not so easy as it might seem… From the list of 7 qualities you can read in this article, we especially believe in empathy and organisation skills… a tour guide is not a teacher, but someone who helps you to navigate and appreciate the city, the site, the museum you are visiting… We are a sort of reverse anthropologists in an urban safari, expert insiders who interpret our culture and city for uninformed outsiders.
That's why a tour guide has to be a local, someone living in the city you are visiting, probably born there, someone who has experienced this place since childhood and consequently able to tell you how the city has changed and "where it's going"…
We know where you can eat well, where we can park a Vespa during a tour on two wheels, how the school system works here, how valuable is that last exhibit, where are the clubs for dancing…. and we are happy to share our world with you in a genuine, friendly  and passionate manner.
In my personal opinion a tour guide is also a "sieve", someone screening for you everything which might be interesting in town, from the main attractions to the temporary exhibits, from gelateria to the good music festivals: commercials always show the best side of everything, but we have tested everything for you first and we can tell what is worth its reputation.
Going "local" is a must recently! Well, A Friend in Rome guides are all local, but *also* professional tour guides because your time is limited and precious and someone who is just "taking you around" as a hobby might waste your time lacking the correct preparation and familiarity with the sites. We tour every day, we know the schedules and obstacles, we can accommodate your needs maximising your time!
There is a big debate going on in Italy about licenses in the last years: can an exam really make a difference and safeguard you from frauds and incompetence? Which guarantee is really provided by the badge we wear? I personally had known unauthorised guides who were great and knowledgeable, and licensed guides who were dull and inept… so still you need to search reviews and feedbacks. But having passed an exam and all the fiscal obligations involves we take this job seriously, we invest every year in classes, lectures and inspections, we need to maintain a good reputation because this is how we make a living.
Recently licences are extended easily from one city to another, from one country to another… we totally disagree with this trend, as the history of Italy is complex and  made our country so different from one region to another, nobody can be an expert everywhere. Sometimes the language skills are considered more important than everything else, surely it counts a lot, but a mother-tongue guide who doesn't live in Rome will create you more problems than a wrong accent or a few mispronounced words. We work hard to speak your language well enough, on the other side we can teach you a bit of Italian and we can deal with local operators and suppliers much better than a foreigner.
In conclusion, select well your tour guide, even before booking your accommodation: we can be your local expert and add a lot to your travel experience!