Museums of Rome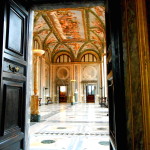 Do you know how many museums  there are in Rome? 83. Of course you can't visit them all and – between you and me!  – not all of them deserve a visit! Therefore you'll need help choosing which one might be most interesting to you and what to focus on, once you're in these huge collections. Gorgeous masterpieces can be found in empty art galleries and in hidden museums, far from the crowds.
First of all, ask yourself what you really like and if you are interested in:
History of the city: Musei Capitolini, Crypta Balbi, Castel Sant'Angelo,  Museum of the Liberation (IIWW)…
Ancient life and art: Etruscan Museum of Villa Giulia, National Roman Museum,  Centrale Montemartini, Museo Barracco…
Renaissance and Baroque art: Galleria Borghese, Vatican Museums, Galleria Doria-Pamphilj, Palazzo Barberini, Villa Farnesina alla Lungara…
Contemporary Rome: National Gallery, MACRO, MAXXI, a walk in the EUR district….
These are just suggestions of the best museums in town. Ask for more details and you'll discover places which will stay in your memory forever! Trust us … a guide is first of all a filter to pick what's best for you.