Arts and History
It is becoming more and more common to have a technological support during an archaeological tour to understand the site better: we have always exploited the power of the images to give you an immediate view of the aspect of the Colosseum, the Forum, the Circus Maximus (otherwise completely lost) in the Imperial Age. But recently  immersive and multimedia experiences are reaching an incredible level of quality and we do recommend to book one of those "shows" during your stay to enjoy the brilliance of the marble floors, bright frescoes and glittering mosaic tiles of the luxurious interiors of the bygone days. According to us, this is not substituting the importance of a traditional guided tour, when you have an expert at your disposal to explain details in front of each monument and – above all – to interpret the historical, political and social importance of the buildings, which represent an "age" and a (lost) society with its vision of mankind.
In main archaeological museums of Rome you find now videos of virtual reconstructions: at Palazzo Massimo, Trajan's Markets, Diocletian Baths, Capitoline Museums…. Honestly you find a lot also on YouTube (we have a dedicated playlist of good videos here) , but if you are looking for the immersive experience with special visors, this is the list of the attractions and how to book them. If you are travelling with children/teens this is definitely a good idea (and by the way, there is a videogame museum in Rome, not too far from the Vatican, which might be a break for them: it is called Vigamus and our 13 year old "tester" approved it…He also approved all the following list for you!)
We appreciate your help to update this list as soon as new experiences will appear and if you have a comment on these shows, we will be curious to know your opinion and feedback!
Ever heard about Caravaggio? He was not only a painter, he was a "rockstar"! His  life was full of adventures and his art was a revolution, therefore you can't miss some of his talent during your Roman holiday! He came to Rome in 1597-98 in search of fame and died, at the young age of forty in exile, banished by the Pope, after committing a murder. Caravaggio lived a short dramatic life and knew the city of Rome in all of its aspects, including the violent, sketchy and dangerous ones.
If you have some art background, a tour on the footsteps of Caravaggio, led by a Ph.D Art Historian guide will disclose a new side of Rome at the beginning of the XVII century. You will learn about his friends, his loves, the models he chose among the poorest in the city, his favorite restaurants and much more!
The works of Caravaggio are in the most important museums in the world such as the Louvre in Paris, the National Gallery in London … but for this tour you won't have to pay for any entrance tickets, or visit any museum…In this tour will see the Caravaggio's that are still exhibited in the places for which they were painted: three magnificent churches!
Realism, audacity, talent, love and the tragic life of that genius will turn you on to the Rome of the '600 and we are sure you will want to know even more!
Thanks to a great cooperation with exceptional colleagues in Rome, we are enlarging our network of professionals and are glad to suggest you the Art Historian guides of Joy of Rome for this special tour "On the trail of Caravaggio" : you'll be astonished by the hidden beauty of our city!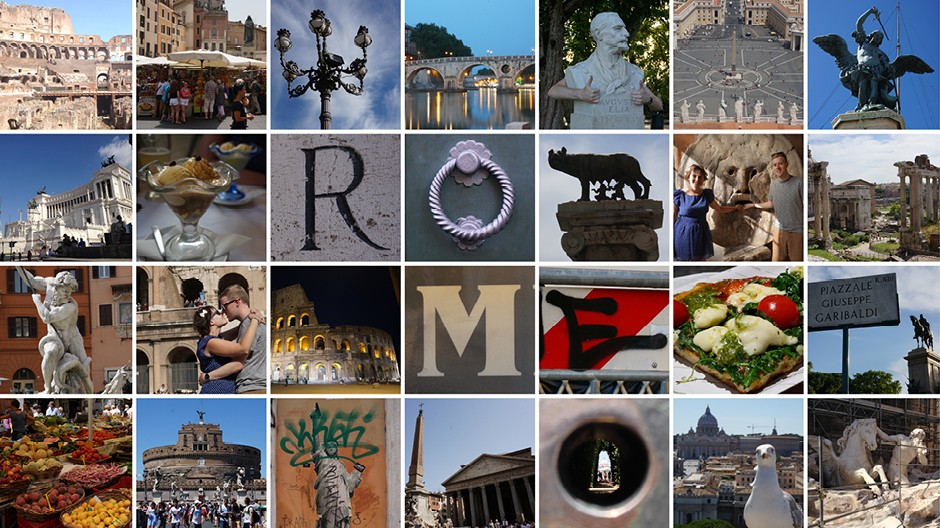 We love to give suggestions to travellers and when they ask "how long should we stay in Rome?" it is a bit embarrassing to reply what the proverb says,  "…a lifetime is not enough!"  I still have my list of not-yet-seen-spots which I'm planning to visit soon, during my days off. The list is in fact growing!
We understand you have limited time and want to focus on highlights. Ideally – and in order to keep a relaxing pace –  to  have a hint of all the ages that made Rome a three-millennia-old city, you need a full week and this might be your plan:
Ancient Rome : not only the Colosseum, but a nice walk including the Velabro (the crib of Rome!), Circus Maximus, Forum and Palatine, Capitol and Trajan's Markets and Column, Pantheon and one archaeological museum (chose between Palazzo Massimo and the Capitoline Museums)
Ancient Rome outside the walls : the Appian Way (and the catacombs) and/or Ancient Ostia, the harbour of Imperial Rome.
The Middle Ages through some of the most intriguing churches of the city (San Clemente, SS. Quattro Coronati, the cathedral of Rome S. Giovanni, Santa Maria Maggiore and its sparkling mosaics, S. Prassede and S. Pudenziana, the whole district of Trastevere and its masterpieces i.e. S.Cecilia and S. Maria in Trastevere)
Renaissance Rome: the frescoed villa Farnesina, Piazza Farnese, the lively Campo dei Fiori and its market, the Jewish Ghetto and the alleys of the "Tiber bend" district, Castel Sant'Angelo (with a wonderful panoramic terrace)
The Vatican: let's devote half day to the museums, Sistine Chapel, the breathtaking basilica of St. Peter and its piazza.
Barocco & the city! This was the second Golden Age of Rome and it's all around: Piazza Barberini and the Painting Gallery of Palazzo Barberini, San Carlino church and S.Andrea to compare the great artists Borromini  and Bernini, Piazza del Quirinale, the iconic Trevi fountain, the Spanish Steps, Piazza Navona ending the day with a baroque concert.
Contemporary Rome: we suggest to rent a Vespa and feel like a real Roman of nowadays exploring EUR fascist architecture, "LA Galleria Nazionale" of Modern Art, Renzo Piano's Auditorium, the MAXXI or the street art in Quadraro and Ostiense districts.
If you still have some time the program could be completed with a first day dedicated to the Etruscans (on the way from the airport you could stop at the fascinating necropolis of Cerveteri and then spend a couple of hours in Villa Giulia Etruscan museum in Rome). And several day trips around Rome might be interesting too: lakes (Bracciano, Nemi….), sanctuaries (Subiaco or San Nilo in Grottaferrata….), hilly towns (Castelli, Tivoli….)…
All that said, we know it is unlikely you'll have all these days at disposal just for Rome, but you can glean ideas and advices from the above list to turn your Roman days into your "perfect" Roman days!
Do not feel compelled to rooted itineraries, Rome is a many-sided city, explore the facets you like the most!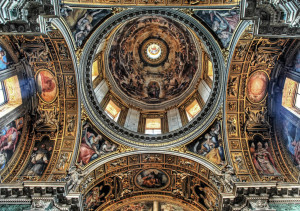 Can you guess how many churches are there in Rome? Nobody really knows, but rumours say more than 900 (and nobody has seen them all, despite what they say!)
The problem is that you do not have enough time to visit them all and they all contain incredible treasures, from a fascinating crypt to a masterpiece of a great artist just hanging there in a side chapel! Rome churches come in all shapes and sizes, from the IV to the XXI century, they are all free and generally a calm place to sit down far from crowd and heat, so do not hesitate to sneak in when you see one open in front of you (they usually close at lunchtime between noon and 3 p.m.), just remember to wear an appropriate dress code (covered shoulders and knees) and behaviour (do not eat and drink indoor, check  if you are allowed to take pictures, respect the silence).
All that said, our job as tour guides is exactly to help you maximise your time in Rome and suggest the best visits, according to your interest and taste. I checked with several of my expert colleagues to make a "top 10 list", but it was impossible to cut the story so short. So I ended up with a list of 10 types of churches and my advice is to touch base with one of each category. Let's start!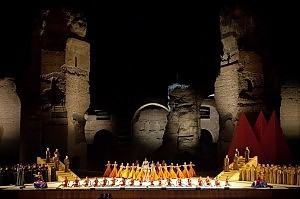 Rome's Opera House holds its summer opera and ballet season framed by the incredible ruins of the Baths of Caracalla (Terme di Caracalla), where you can enjoy opera under the stars. The performances feature the orchestra, chorus and the ballet company of the "Teatro dell'Opera di Roma" as well as international stars.
For over 70 years the monumental archaeological site has been a wonderful stage for unforgettable shows  set up in a magical frame of antiquity: in fact it was the year 1937 when the Teatro dell'Opera set up its summer season at the Caracalla Baths for the first time!
The Baths of Caracalla were among one of the major spa complexes in ancient Rome, maybe the richest for its splendid decoration. The baths were in use until 537 when Vitige, King of the Goths, cut the aquaeducts during the siege of Rome. In the first half of the 19th century the palaestra was rediscovered and mosaics of athletes and sporting judges were removed (you can now admire them in the Vatican Museums). Since then, non stop excavations have contributed to our knowledge of the monument revealing recently the underground galleries and a mitreum.
Opera was invented in the Renaissance Florence by a group of intellectuals who aimed to recreate the Greek drama combining poetry and music: the "sung theatre" (il recitar cantando) was originally just poems read aloud to the accompaniment of few chords. Opera flourished during the Baroque era, becoming a real business, a new world populated impresarios, librettists, divas and "castratos" (male singers who were evicted at the age of 8 to prevent their voice from breaking during puberty and giving them a great vocal extension from sopranos to tenor voices… This cruel practice was illegal but perpetrated among the poor who hoped their children would make good money from Opera).
In Rome the Counter Reformation stopped the development of the Opera which was only accepted in the 19th century when it had reached every social class, not only aristocracy. The Torre Argentina theatre (still in operation!) became the centre of the city's musical life and here Rossini performed his first "Barber of Seville" in 1816, followed by Verdi's "Trovatore" in 1853. The Rome Opera House opened in 1880, under the name of Teatro Costanzi from his patron, an hotelier. It became a public theatre in 1926 and was massively restored, boasting a wide stage and the largest Murano crystal chandelier in Europe.
If you are not in Rome during the Summer Festival, check the Opera House program and do not hesitate to book a seat if your read "Tosca" on it: it is the most Roman of all operas, a story of jealousy, obsession and lost love set in Rome during the tense period of the French Revolution and the fall of the first Roman Republic. The plot is played out over 24 hours in three important Roman monuments as backdrops, which can be the stops of a nice walk in the centre: the church of Sant'Andrea della Valle, Palazzo Farnese and Castel Sant'Angelo.
Did you know a large number of Roman masterpieces remain tentalizingly behind the gates of private palaces? Of all European cities, Rome has most of historical palaces and villas still in private hands, due to the papacy tradition. Every time a new Pope was elected, another family came to power and was able to commission wonderful buildings and collect major works of art.
Some of these palazzos were acquired by the governement, some others are still owned by the illustrious families, but in any case most of them can be visited now. Some examples?
Palazzo Barberini, which houses the exceptional "Galleria Nazionale di Arte Antica", but it would be a treasure even completely empty with its wonderful ceiling by Pietro da Cortona, the gardens, the staircases by Bernini e Borromini, the magical atmosphere of bygone days.
Or Palazzo Doria Pamphilj, preserving major works by Velasquez, Caravaggio and Raphael, but not only (it is one of the major private collections in Europe!)
Not to forget  Palazzo Colonna dating back to the XV century when the pope of the family, Martino V, started it.
A world of splendor and opulence will be revealed in front of your eyes while you enjoy incredible masterpieces far from the tourist crowd. If you wish to feel like home in a a palace, do not forget to include a visit to one of this sites during your next trip to Rome!