Foodies & Shopaholics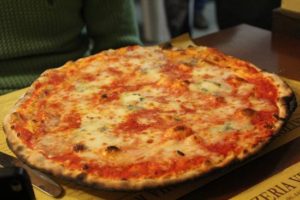 When in Rome….. eat as least a pizza a week!
And if you want to keep up with the locals, remember to order fritti as a starter – from supplì (the roman rice ball hors d'oeuvre) to fillets of baccalà (salt cod) to fiori di zucca (zucchini flowers stuffed with an anchovy and mozzarella). And no wine with pizza, but beer, or even a coke. Or gas water….Here is a non-exhaustive list of my favorite pizza places:
Any great discovery you wish to add? Let us know by mail to info@afriendinrome.it . And if you wish to learn the difference between Roman pizza and Neapolitan pizza, watch this video!
To go back to the eating options, click here.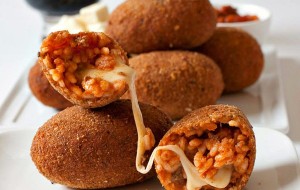 It's the trend of the moment, already appreciated in the most important cities of the world and becoming the new gastronomic hit even in Rome. During your sightseeing walks or just for a quick lunch break, this new habit is giving you the chance to try a kind of food you might not easily find in traditional restaurants. Be aware, these shops usually do not have seats for you and it is not easy to find an empty bench in Rome…. But… there is a special place called "Il Vinaietto" (Via del Monte della Farina, 38 – near Campo dei Fiori. Tel 066806989) where you can simply order a glass of wine and take your own food with you, exactly like the Romans used to do in the past in the "osterie".
Help us with your own tips: write to info@afriendinrome.it !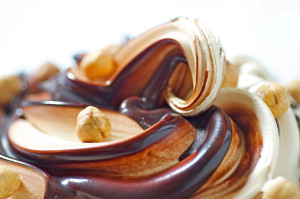 Shall we explain why gelato is good? I don't think so…
Gelato is part of our culture, like pizza and pasta, fashion, soccer, wine … These are not commonplaces, but true statements about everyday life in Rome. In Italy there are more than 35 thousands "gelateria" and Italians eat an average of 75 cups or cones of gelato each year (six kilos!). This implies we know how to judge a good gelato and how to skip tourist traps. Here is our selection divided by areas, but feel free to suggest us new entries !
In any case, do not line for a gelato more than 5 minutes! We have so many gelato shops and no one can be considered " the best in town"… Gelato is a pleasure, if you have to queue too long, part of the pleasure is lost already!
And do not forget our local tradition in Rome, the "grattachecca"!!! It is the best relief for the hot summer days, and if you have to queue for that, well, this is an experience and you'll feel like a real Roman! My favorite is "Sora Maria" , the kiosk along Via Trionfale, near the Vatican, but you have several other opportunities (Piazzale Ponte Milvio, where the summer movida is! Or Piazza del Porto di Ripetta near the Spanish Steps, or "Fonte D'Oro" and "Sora Mirella" near Trastevere and finally, Porta Cavalleggeri just next to St. Peter's square).
And remember… "You can't buy happiness but you can buy ice cream. And that's kind of the same thing!"
PS. Do not forget we offer the Gelato Tasting Tour in the centre (children love to evaluate best gelato while sightseeing!) and we can arrange a "Gelato Making Class" for you! 
To go back to eating options, click here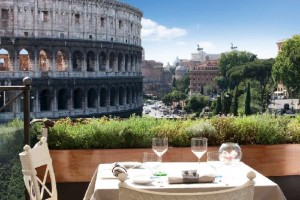 There is such a wide choice of places and options to eat in Rome (…just some street food? A gelato? A fancy restaurant with view? Traditional trattoria? A wine-bar with some snacks? Midnight cornetto?) that it is impossible to list them all … We are "out there" everyday and we constantly ask for  feedbacks from our guests (and we also do "quality checks" ourselves, ehehehe!), so here you find the links to our blogposts about food and drinks to let you plan your gourmet breaks in Rome!
"Unsurprisingly, she knows all the best places to eat in Rome, including a gelateria that serves a frozen rice pudding (and if they don't serve this kind of thing in heaven, then I really don't want to go there.) She took me out to lunch the other day, and what we ate included not only lamb and truffles and carpaccio rolled around hazelnut mousse but an exotic little serving of pickled lampascione, which is –as everyone knows—the bulb of the wild hyacinth."
Just one quote from the novel "Eat, Pray, Love" by Elizabeth Gilbert. The first part of the book – which is "Eat"! – is all set in Rome and the main character goes to Italy to, one, learn the beautiful language and two, to eat to her heart's desires.
Once you are here you'll understand you can never (never!) starve in Rome, there is always a place around the corner serving food. Of course, not all restaurants are alike, not all the trattoria are unforgettable and prices aren't always as reasonable as we'd hope for. However, there are lots of choices and sometimes picking one place from such an embarassement of options is hard. Lately there are plenty of updated websites, blogs and forums to help you out.
But if you do not have time to surf the web, we have here a little list of places we like, just for a last minute reference:
And if you are not hungry yet… watch this video and you'll be soon !
To go back to the general "menu" for eating experiences, click here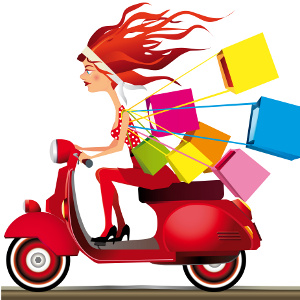 In Rome the retail trade is still carried on at street level rather than in impersonal malls, and there are still chances to find unique shops run by local craftsmen, where you can find that special gift that you just can't find elsewhere.
If you're looking for bargains, note that the winter and summer sales begin on the first Saturdays of January and July, and run for around a month.
We do not want to provide a complete list of shops for each category/item/area…. internet is full of them… But we will add – from time to time – some addresses of nice shops we like and we visit while touring with friends or buying gifts for our family or popping in during a relaxed stroll in the centre.
And you are welcome to suggest your own favorite shops!
Fabriano boutique:  quality paper (Michelangelo used the paper produced by their paper mills!) and stationary items. Near the Spanish Steps.
Angelo Di Nepi : fashion for women, a local independent stylist. Several boutiques in Rome.
Archeo Roma : replicas of ancient Roman artifacts from jewellery to gladiators' weapons… Near Piazza Venezia.
I colori di dentro : delicate watercolors by Maria Grazia Luffarelli. Near Campo dei Fiori.
Negozio Benedettino: in the beautiful garden of S.Anselmo church, on Aventino hill (Piazza Cavalieri di Malta, 5. Closed on Mondays). You'll find an herbalist shop, spirits and craft beers produced by the monks, cosmetics and religious items.
Bartolucci: pine-wood hand-made toys and gifts for your children. Near the Pantheon.
La Bottega del Marmoraro : located along the street of the artists (Via Margutta 53B), a tiny workshop where you can buy a pseudo-Roman tablet with an inscription of your choice for a very reasonable price.
Cravatte D'Angelo: tailored made ties, something unique for a very personal souvenir. In Trastevere.
Polidori: leather bags, each one is an original creation of the owner Federico Polidori (Via Piè di Marmo, 7). Near the Pantheon.
Ibiz: well-priced colorful leather goods (wallets, bags, belts and sandals). Near Campo dei Fiori.
Fabi38: tiny narrow shop at Via Frattina 38 selling quality purses and leather accessorises  for a honest price.
WeBag Lab & Shop: handcrafted leather bags and accessories. They can also customise your bag. Just a few steps from the Pantheon.
Patrizia Corvaglia Jewelry: her creation are metal ideas, unique shapes carved just for you in the ancient technique of the "lost wax" process. On Via dei Banchi Nuovi, between Castel S.Angelo and Piazza Navona
Spazio IF: IF stands for Irene Ferrara, the Sicilian designer of unique models of bags and accessories (belt, jewels, scarfs but also some clothing) . Really hand made "cool stuff", have a look! It's on Via dei Coronari 44.
L'Artigianato: just on Piazza Navona, a good stop for your souvenirs (they also ship items worldwide), from toys to homeware articles, traditional pottery or Murano glass (if you forgot to buy that last gift in Venice!) and main Made in Itay brands (what about a Bialetti Moka?)
Chez Marcel: on Via Canestrari 7, just outside that Piazza Navona where Marcel used to perform for decades his original show of "dancing fingers", you find now his tiny shop selling unique souvenirs with his own drawings on every kid of support.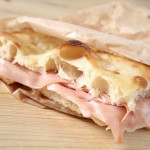 " In every major city in the Western world, some things are always the same. (…) But some things are only in Rome. Like the sandwich counterman so comfortably calling me "beautiful" every time we speak. You want this panino grilled or cold, bella?" – Eat, Pray, Love by Elizabeth Gilbert
While it is usually easy to find a good pizza or a hot dish of pasta in every trattoria in Rome, it is not so easy to get a good healthy fresh "panino" (sandwich). Therefore we decided to list here some good addresses near the touristic areas. And we welcome your suggestions to keep the list updated:
If you want to go back to the eating options, click here
When you travel, you often want to devote most of your time to visits and experiences… food is surely an experience, but a full meal can easily "use" more than an hour of your precious time abroad… that's why many people ask for quick lunch options, but they do not look for just a "panino" (we have another blog post just for that!). Bars selling sandwiches or "pizza al taglio" (pizza to take away) do not have enough room to sit and rest, which is another need, after walking for hours in town. Nevertheless Rome is one of the best places to just sit outdoor and people-watching while nibbling away at a cornetto&cappuccino or enjoying a glass of wine with cold cuts and local cheese…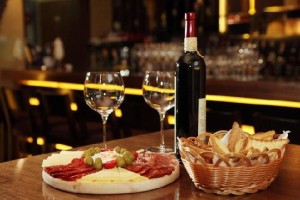 Here a short list of addresses to relax and have a bite which is not a proper meal:
And to conclude… if you wish to satisfy your gluttony and your hunger late at night, maybe after a long walk or a bit of clubbing, you can join the young Romans in this little ritual, the "night cornetto"! Bakeries (or better said "cornetterie", which only bake cornetti, not bread) work all night to prepare cornetti for the following day and you can buy them hot, when they are just out of the oven and filled in many different ways (Nutella filling is the most popular, but try also the wholemeal cornetto with honey!). You will surely meet young "urban tribes" chatting and indulging in this whim out of those places:
To go back to the eating options, click here.
The best souvenir you can take back home with you is a good "made in Italy" article: a dress for your parties, an elegant bag or pair of shoes, a silk tie, a little piece of art (a waterpainting for instance), a design furniture for your house…
Good shops selling nice manifactured products are quite everywhere and we would not know where to start in listing some of them, we just give you a short list of streets where you can find good shops:
the elegant Via Condotti for deluxe brands and stylist ateliers (but also the nearby Via delle Carrozze, Via Borgognona, Via Bocca di Leone, Via del Babbuino…)

Via del Corso for those who cannot spend 500 euros for a pair of shoes! (but also Via Frattina and Via della Croce)

Via dei Giubbonari near Campo dei Fiori where the atmosphere is cooler (and in little side streets you can still find handicraftsmen working in front of your eyes), or the Via del Governo Vecchio for emerging designers and vintage shops

Via Cola di Rienzo if you are staying in the Vatican area

Via Giulia, Via dei Coronari, Via dei Banchi Nuovi (all around Navona area) if you are looking for antiques

a nice venue to check is

Le Artigiane 

near the Pantheon: it is a store where you can find several temporary shops, they always change and you can find there from organic food to a new unique jewel produced just in 10 copies by a (still!) unknown Tuscan artisan girl