Children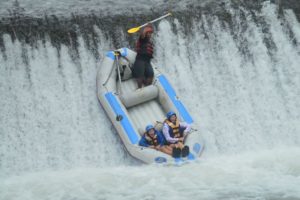 Last "meditation" about travelling (see the n° 1 and n° 2)  is coming from my personal experience  as a  mother of a 14 year old boy and as a tour-guide meeting a lot of families with children: when your travel companion is a teenager  you just have to keep in mind they do not have the same urge of "seeing it all". You are travelling across the planet, you know how much this costs to you in terms of money and time and you are aware you might not have the chance to be there again soon. Of course this feeling is not shared by your children, they have their whole life ahead and they just want to enjoy their holiday (despite the presence of their parents, eheheheh!)
What I learnt about this specific situation is the following:
the program of the day should not be packed, plan just one main activity and be sure there will be enough time to relax in the hotel or at the beach/pool… (of course there must be free wifi signal there!)
better to plan the main activity in the morning, otherwise they will never get out of bed (but – if possible – do not plan a very early start, it is physically harder for them than for adults to wake up)
teens get easily bored if they just have to stand in front of something or slowly walk and listen, listen, listen to a guide. They need to *do* something in order to feel involved: plan a trekking, a rafting (BTW the picture is about my rafting in Bali with my son, summer 2017), a bike tour, an art lab, a food tour or a cooking class if they like eating and are curious about food …whatever keeps them active. In any case this would not be a waste of time for you: it is a chance to see a country from a different prospective, meet more people (both local and other travellers), going places you haven't considered which might turn out to be wonderful
check if there are interactive museums, virtual reality experiences and everything exploiting modern technologies (check our blog post  about what Rome offers): teens generally appreciate these venues and it can be  a good break during a sightseeing day
Do you have any other tips? Let's transform this post into a Decalogue, send  a mail to info@afriendinrome.it and I'll be glad to update this post.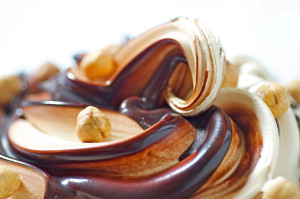 Shall we explain why gelato is good? I don't think so…
Gelato is part of our culture, like pizza and pasta, fashion, soccer, wine … These are not commonplaces, but true statements about everyday life in Rome. In Italy there are more than 35 thousands "gelateria" and Italians eat an average of 75 cups or cones of gelato each year (six kilos!). This implies we know how to judge a good gelato and how to skip tourist traps. Here is our selection for you (divided by areas), but feel free to suggest us new entries !
In any case, do not line for a gelato more than 5 minutes! We have so many gelato shops and no one can be considered " the best in town"… Gelato is a pleasure, if you have to queue too long, part of the pleasure is lost already!
And do not forget our local tradition in Rome, the "grattachecca"!!! It is the best relief for the hot summer days, and if you have to queue for that, well, this is an experience and you'll feel like a real Roman! My favorite is "Sora Maria" , the kiosk along Via Trionfale, near the Vatican, but you have several other opportunities (Piazzale Ponte Milvio, where the summer movida is! Or Piazza del Porto di Ripetta near the Spanish Steps, or "Fonte D'Oro" and "Sora Mirella" near Trastevere and finally, Porta Cavalleggeri just next to St. Peter's square).
And remember… "You can't buy happiness but you can buy ice cream. And that's kind of the same thing!"
PS. Do not forget we offer the Gelato Tasting Tour in the centre (children love to evaluate best gelato while sightseeing!) and we can arrange a "Gelato Making Class" for you!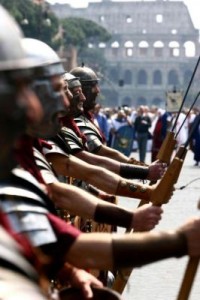 Every April 21st the "Eternal city" gets older!
Even this year there will be the historical parade along Via dei Fori Imperiali, just in front of the Colosseum, ending at Circus Maximus (the ancient chariot race track) where  the ritual ceremony of the "digging of the trench", a ri-evocation of the foundation of Rome, will take place: Romulus, Remus, the Vestal Virgins, the she-wolf…the whole tale will be much clearer afterwards!
PS. The historical group arranging the parade is also offering our activity-tour "Gladiator for a day", a fun way to learn about ancient history!
There are so many  parks in Rome, it would be a pity not to enjoy one, at least!
Buy a ball, rent a bike and "live" the cheerful atmosphere of the gardens next to the Roman families.
Why not to buy some freshly baked  (warm!) bread or "white pizza" (we do not say "focaccia" in Rome, but "pizza bianca"), mortadella, salumi or your favorite cheese, a bottle of wine, a good  crostata or the unforgettable Pompi tiramisu' (find the new central shop in Via della Croce)  and go to Villa Borghese? After your pic-nic and a nap under the trees, you have several cultural options. You are in the "Park of the Museums" and you can chose among the important Borghese Painting Gallery, the interesting Etruscan Museum housed in the Renaissance Villa Giulia, the Modern Art museum La Galleria Nazionale  or just a pleasant quick look at the House of the Artist-workshop-museum Pietro Canonica dedicated to an Italian sculptor of the XIX century.
And remember… Relax, you are on holiday!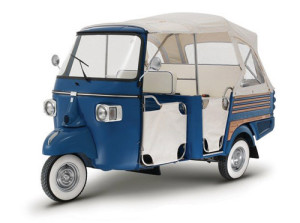 What's a "calessino"? The Piaggio commercial states:"…the folding top and the four seats make the Calessino ideal for a leisurely drive, perhaps with a picnic hamper in the back".
Yes, why not? All the tours we can offer you by bike, by scooter or on foot can be much more relaxing with a driver and a calessino at your disposal, don't you agree?
Have a look at this  video: this is not in Rome of course, you will film the ride in Rome, ok?
In summer we can hit 40°Celsius some days, so we post this "survival" advice to travellers  who plan a trip in the warmest months of the year. If your hotel or B&B has no private pool (which is more likely, as this is not a common feature in Rome), you can enjoy some public open-air pools. This is surely the best way to spend a few hours during the summertime after a cool early morning tour of the city's attractions.
Piscina delle Rose (Viale America, 20.Transport:  Metro B to EUR Palasport): an Olympic-size swimming pool that the public can use for nominal fee. Visit on weekdays to get the most bang for your buck.

Sporting Club Ostiense (Via del Mare, 128. Transport: Metro B to Marconi): an outdoor pool that's part of a larger sports club,  in EUR district.

Belle Arti (Via Flaminia 158. Transport: Metro A Flaminio) Well worth a mention for its fantastic central location tucked behind a church on Via Flaminia. A quiet atmosphere makes it good for those with very young children.
Grand Hotel Gianicolo    (Via delle Mura Gianicolensi 107) Part of a luxury hotel, this pool is located in elegant surroundings with palm trees and views of Trastevere from the Gianicolo hill. Lunch and dinner served at pool-side restaurant. Of course many other deluxe hotels have pool facilities but a much higher rates.
Hydromania (Casal Lumbroso 33 – Aurelio). If you prefer a water park with slides and wave pools, this is the place to go. A discounted rate if you go only for the afternoon. Not so easy to reach, Metro A to Cornelia and then a cab ride is probably the best way. Your teens will thank you!
"It's no longer automatic that a vacation with the kids means a week in Waikiki or four days at Disney. Increasingly, parents are figuring out how to bring the family along on trips to explore the world in all its complex glory"… this is  the incipit of  an article from Conde Nast Traveller published in March 2006.
We encourage you to plan a trip in Rome with your family and we'll help you through  blog posts, special tours and tips ready for your children !
Here some interesting  passages of the article:
Families that feel at home abroad raise children to have a global outlook.
A bored child is never a fun traveling companion. So, from a purely selfish point of view, you want to make sure you have an endless supply of age-appropriate tricks up your sleeve (or more likely in your bag or their backpacks) to keep the dreaded boredom at bay.
In the end, children are not very different from the rest of us. They appreciate lovely food and beautiful hotels, they prefer not to be bored and they like to be treated as reasonable human beings.
When you travel with your kids, you have the added delight of introducing them to all the places you love and watching as they, too, enjoy the ride.
Kids just wanna have fun. Ever notice that when a child is having fun, he/she doesn't get cold or hungry or tired? The moment the fun stops, the whining starts. Forget the goal-oriented adult approach.
The trick is to figure out not just where and when to go but also how to travel and what age the children should be. (…) make sure the destination and the activity are appropriate for your child's character and interests.
Street markets and grocery stores are good places to introduce kids to local culture, to find out what people eat, wear, make. When we hire a guide, we make it a habit to ask friendly questions about his or her family (…) Navigating a foreign subway system, eating at a restaurant where you can't read the menu, and calculating a strange currency all constitute adventures for kids, especially if you get them involved.
And finally…our favorite statement: "It goes without saying that travel feeds a child's curiosity and contributes to good citizenship by encouraging human contact and tolerance of cultural differences."