On your own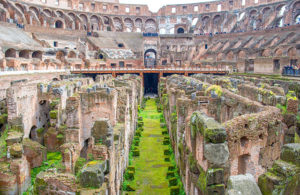 In the last years, the visit of the Colosseum has been enriched of new areas, i.e. the underground layer, the areas, the third tier and the "belvedere". Unfortunately the people interested in this kind of visit are more numerous than the available spots and the way these tickets are put on sale is not totally transparent nor "user friendly"!   We have tried in the last years to assist our guests in securing these tickets, but every year it gets more difficult and deceitful. We understand the fascination of the dungeons and the attraction of exclusiveness,  but there are few things you should be aware of:
you can see the whole structure of the Colosseum even without this special access, from the ground level or second tier which are open to everybody with a standard ticket. It is mainly a matter of perspective.
private slots are almost impossible to get and even a shared access is becoming more and more hard to buy: few tickets are on sale  and they are only released  once a  month in one specific day of the month before
There are several big companies which invest a lot of time and money (hiring staff only for this selling day and keeping them online and over the phones all day long) to buy the largest amount of tickets they can. They will resell  these tickets at higher price in conjunction with their tours. Of course this practice results into a lack of availability after few hours of the opening of sales. Recently finding one access is as hard as buying a ticket for the U2 concert!!!
Conclusions:
you can decide a standard tour of the Colosseum is enough, you will learn everything about the Colosseum in any case and we can combine the standard visit to an "Underground Rome" tour, including other sites nearby in order to  understand the stratification of Rome.
you can check the official website of the company managing the tickets of the Colosseum here:  www.coopculture.it. And you can try to secure the tickets on your own. They sell the simple access (in this case, if you wish to have a private guide with you, buy a 2 euro reservation with no ticket for your guide as well)  or you can buy the internal guided tour of the Colosseum (approx 75' long). If you are interested in a visit of the Forum/Palatine area (these sites are included in the ticket you buy for the Colosseum)  we can meet you the same or following day outside the Colosseum and tour these areas with you.
This internal company (Coopculture) has several guides at disposal, we know some of them, most are archaeologists and well prepared tour guides. It has to be said they reiterate this tour more than once a day and some days in a row. They know their stuff, but sometimes they lose freshness and enthusiasm.
Be informed and chose what's best for you!
A couple of extra notes: 
a little trick if you really want to "be there" even without an explanation, is to check the guided tours in Italian, they usually have more slots available. 
for the arena and belvedere only (not the underground which is more "popular",  we can be more helpful: they are still less required (it will change next year for sure) and as licensed guides we get some slots  to enter from the arena directly or to reach the attic (consider a lot of steps, no elevator available): we can give you instructions to buy those tickets, but you can only use them  if led by a guide. Not available last minute, 2 or 3 weeks ahead is a minimum amount of time to try get those tickets.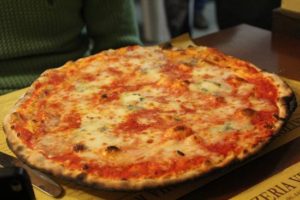 When in Rome….. eat as least a pizza a week!
And if you want to keep up with the locals, remember to order fritti as a starter – from supplì (the roman rice ball hors d'oeuvre) to fillets of baccalà (salt cod) to fiori di zucca (zucchini flowers stuffed with an anchovy and mozzarella). And no wine with pizza, but beer, or even a coke. Or gas water….Here is a non-exhaustive list of my favorite pizza places:
Any great discovery you wish to add? Let us know by mail to info@afriendinrome.it . And if you wish to learn the difference between Roman pizza and Neapolitan pizza, watch this video!
To go back to the eating options, click here.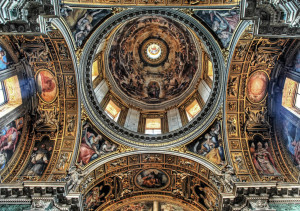 Can you guess how many churches are there in Rome? Nobody really knows, but rumours say more than 900 (and nobody has seen them all, despite what they say!)
The problem is that you do not have enough time to visit them all and they all contain incredible treasures, from a fascinating crypt to a masterpiece of a great artist just hanging there in a side chapel! Rome churches come in all shapes and sizes, from the IV to the XXI century, they are all free and generally a calm place to sit down far from crowd and heat, so do not hesitate to sneak in when you see one open in front of you (they usually close at lunchtime between noon and 3 p.m.), just remember to wear an appropriate dress code (covered shoulders and knees) and behaviour (do not eat and drink indoor, check  if you are allowed to take pictures, respect the silence).
All that said, our job as tour guides is exactly to help you maximise your time in Rome and suggest the best visits, according to your interest and taste. I checked with several of my expert colleagues to make a "top 10 list", but it was impossible to cut the story so short. So I ended up with a list of 10 types of churches and my advice is to touch base with one of each category. Let's start!
No tele-transporting invented yet… bugger! And I am not talking about webcams here (but there are very good ones if you wish to jump immediately into Rome's atmosphere). I just suggest you to start planning your trip some weeks ahead your departure to get into the right mood and have  the time to read something about your destination: it could be an essay, but also a novel set in the cities you are going to visit …. And if you have a short time at disposal, a movie can be enough: here you find a list of great movies set in Rome!
On Youtube you also find endless short videos about the history, the art, the food, the magic of Rome: this is also a good way to prepare your trip and receive inspiration on what you really wish for your holiday. You might find great ideas just surfing on the web:  to help you in this search, we have now a Youtube channel  with playlists of selected videos such as amazing reconstructions of the ancient sites, drone explorations, short tutorial or reportages about everyday life…. As usual, we welcome your own videos and suggestions: after your trip, you might be a great advisor for future travellers and we will be pleased to support your "movies"!
We believe the guidance of a local expert will make a big difference in your Roman Holiday, of course!
But we also believe  you need your *own* time to explore the city, to wander and wonder, to feel lost and find your way….
Moreover there are some sites where you will have an internal guide or audioguide service  included in your admission ticket and we are here also to help you  save some money and rather have an extra bottle of wine for dinner!
Here is the list of some palaces, museums and attractions where you do not need us and the link to reserve a visit or receive informations:
Enjoy Rome, with your Friend in Rome and on your own!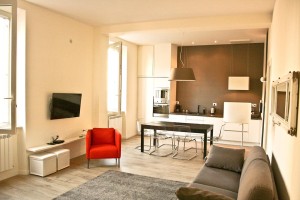 Apartments are a great solution for families with kids, parties of several people and in general when you spend more than a couple of days in town and you really want to experience the local life. This way you can even save a bit (especially if you waive a very central location) or bargain the best value for your money renting a flat (we all live in flats in Rome, forget that wonderful private villa you booked once in Tuscany!) in an historical building overlooking a charming narrow street of the Renaissance district.
There are many good companies specializing in the short-let business, we just recommend the "locally based", as they have the chance to help you out in case of need and they test the apartments on a regular basis. We personally know the founders of the B&B Association of Rome (specialising in both BB and apartments) and RomePower.
But we also have some friends renting their own property without intermediation of a company. This option lets you less chances of finding the flat available on the chosen date, but better deals if you are lucky. Here they are:
Go back to "Sleeping in Rome" section.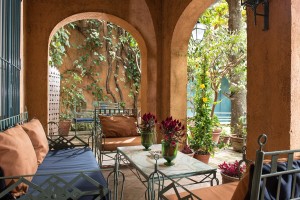 Under the concept of "Bed and Breakfast" you can expect many different experiences, from the original idea of sharing your time and space with a local family (this does not happen often in Rome) to a sort of small hotel where you will be checked in, provided for keys and be free to move about until your departure.
The number of authorised B&B is growing every next day, here you have a few suggestions:
Go back to "Sleeping in Rome" section.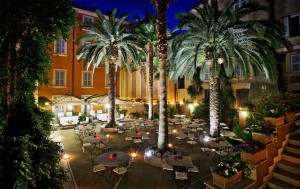 Hotels in Rome range from humble "pensione" (a simple boarding house) to top-end properties in historical buildings and rates vary a lot accordingly. Rates usually lower significantly during the winter months (from November to March). Always check for special promotions and look for the facilities you really need (for instance a car park or the air-conditioning) and the kindness of the staff (which is what makes the difference when you are in a foreign country and you might need assistance. In fact this is the main reason to chose an hotel instead of an alternative accommodation: a reliable 24 hr service at your disposal!)
Go back to "Sleeping in Rome" section
Rome's skyline is unique and magic, you cannot miss a general overview of the city from the top of a famous monument or terrace.  And you have plenty of options here! We recommend to take a stroll in one of these "belvedere" in a sunny day and possibly at the end of your Roman holiday…you will be able to identify several attractions that you have visited during your holiday.
Let's start with a short list of  free-of-charge panoramic locations: the Garden on top of the Aventino (Giardino degli Aranci), the promenade of the Janiculum hill or the Pincio Garden offer nice terraces from where you can take unforgettable pictures, especially at sunset!
Just investing few euros you can climb the dome of St. Peter's (the tallest building in town): there is a lift but just to half way, then you have to climb 300 steps!  Less steps to go for the terrace of Castel S.Angelo, and you will enjoy St.Peter's dome itself from there.
If you are not ready for the steps, chose the terrace of the Vittoriano, the big white monument overlooking Piazza Venezia. The lift will take you to the top in few seconds and Rome will embrace you!
Finally, if you can afford a deluxe meal in one of the 5 star hotels in town, you will enjoy a holystic experience pampering all your senses from a roof top restaurant. Among the best terraces we suggest the GH De la Minerve, the Bernini Bristol and the Pergola at Waldorf Astoria Cavalieri, especially by night.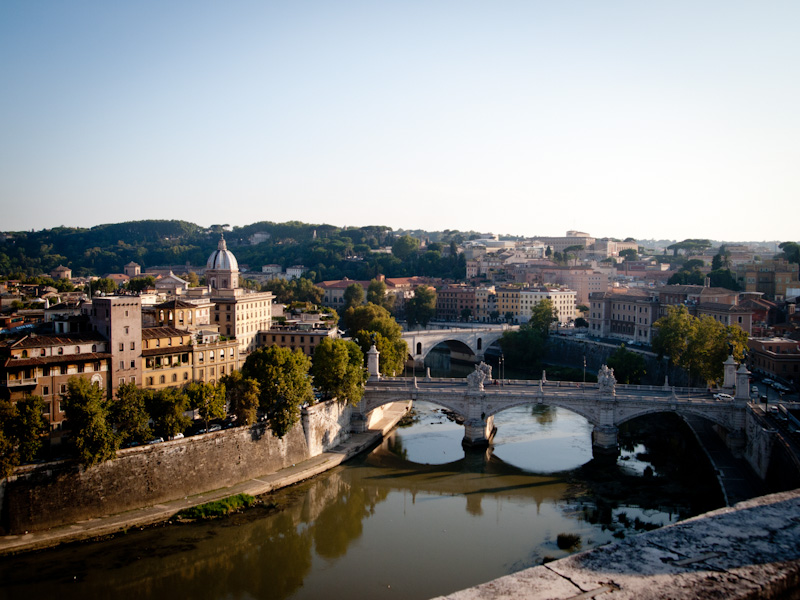 View over the Tiber from Castel S.Angelo and a video  (click) with 360° view from the Vittoriano
When you plan a trip to Rome, you might need the following links: